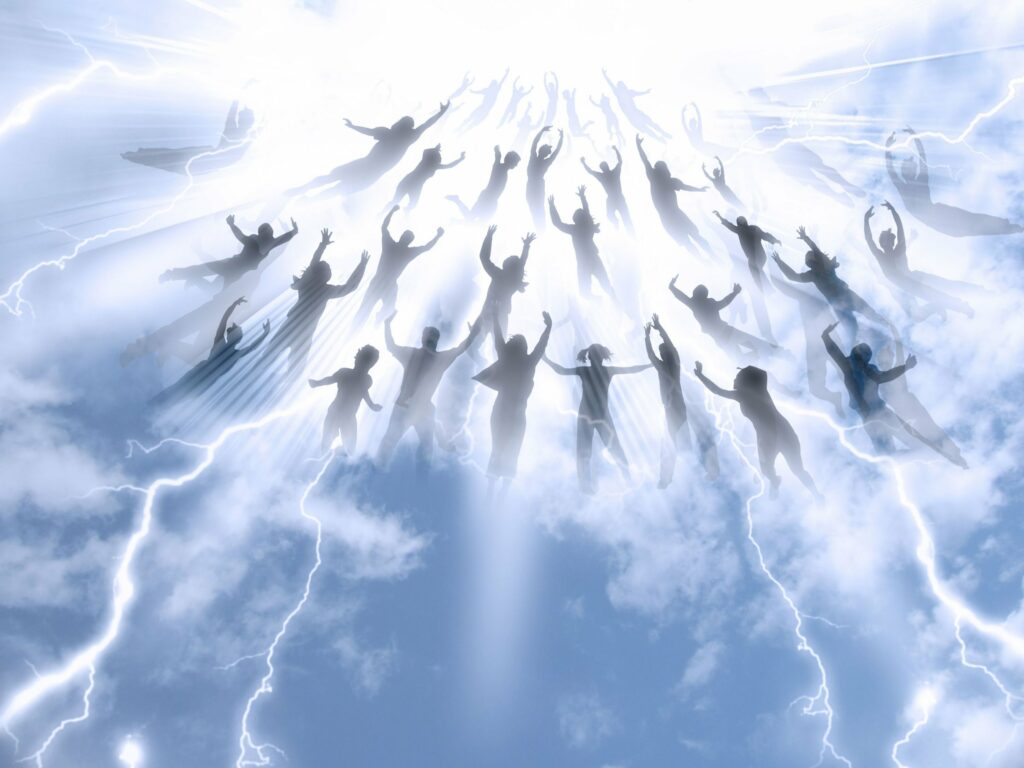 Good morning, reader! Christmas has passed and we are about to welcome in 2022. Could this be the year that the Rapture will occur? If you're new to this blog and have never heard of this Rapture I write of, we'll be taking a closer look at its meaning and what it represents to the born-again Christian. It is a message of hope and excitement to all believers who are awaiting the Lord's return in the clouds for His bride. Read through today's Bible verses and we'll take a few days to explain and prove this event can occur at any moment. Today, however, we will just cover what the word means and where it is found in the Scriptures.
Although the word "rapture" doesn't appear in the Bible, it's a term that describes the snatching away of born-again believers. The term "caught up" in verse 17 is elsewhere translated "pluck" (John 10:28 And I give unto them eternal life; and they shall never perish, neither shall any man pluck them out of my hand.) We see another reference to it when Philip was snatched away after he witnessed to the Ethiopian eunuch (Act 8:39 And when they were come up out of the water, the Spirit of the Lord caught away Philip, that the eunuch saw him no more: and he went on his way rejoicing.) If you followed my series on the attitude of mankind during the end times, you saw that we are in a time where the antichrist will come into power. It is a time that no born-again believer will go through and a time that you do not want to experience if you are not born again. Prior to the revealing of the antichrist, this Rapture will occur: it can happen at any moment: it is imminent and you do not want to be caught unaware.
The New Testament was written in Greek and, therefore, we will see what the Greek language has to say about the word "rapture." Strong's Concordance states this:
G726
ἁρπάζω
harpazō
Total KJV Occurrences: 18
caught, 5: Act_8:39, 2Co_12:2, 2Co_12:4, 1Th_4:17, Rev_12:5
force, 3: Mat_11:12, Joh_6:15, Act_23:10
take, 3: Mat_11:12, Joh_6:15, Act_23:10
away, 2: Mat_13:19, Act_8:39
catcheth, 2: Mat_13:19, Joh_10:12
pluck, 2: Joh_10:28-29 (2)
pulling, 1: Jud_1:23
It will help you if you look up each of these verses in your Bible to see the different uses. The Rapture represents being caught up, taken by force, taken away, plucked, and pulled away. The word "rapture" isn't found in the Bible. But, friend, neither is the word "bible" found in the Bible. 😁 But the concept and description of the rapture is found in the Bible and, therefore, it's worthy of study, amen?
If you are a born-again Christian, you may have heard of the various beliefs of when the rapture will occur. To understand why it is important, you need to know when the different beliefs occur. There are three popular schools of thought of when the rapture will occur: the pre-tribulation, mid-tribulation and post-tribulation. Pre-tribulation is defined as occurring before the tribulation. Mid-tribulation is defined as occurring in the middle of the tribulation. And finally, the post-tribulation is defined as occurring after the tribulation.
The latter two beliefs claim that the pre-tribulation rapture was only recently "invented" but historical proof shows that this was the belief of the Christians as early as third century AD. Writings by Pseudo-Ephraim were found on this topic:
All the saints and elect of God are gathered together before the tribulation, which is to come, and are taken to the Lord, in order that they may not see at any time the confusion which overwhelms the world because of our sins.

-Pseudo-Ephraem (c. 374-627)
Please read his quote and let it sink in. So we see that the pre-tribulation rapture was not invented in the past 150 years but in the third century! As we continue our series, we will dig in deeper and we will see that this was what was intended through the Scriptures!
If you are a born-again Christian and have never studied this out, I hope you are blessed by it and encouraged in your heart. If you are not born again, I urge you to settle the matter right now! Friend, it is no coincidence that God has placed you here for such a time as this so that you may be saved. Please click here and the link will open up in a separate tab to You Can Be Born Again and Know It!