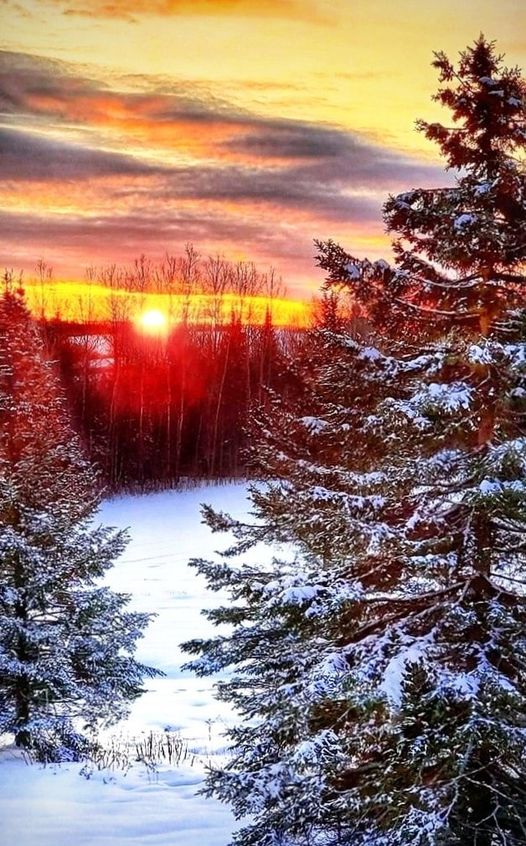 Good morning, Reader! Today's picture shows the beauty of nature! I love the symbolism of Winter. The beauty of Spring, Summer and Fall have died and are replaced with freezing cold temperatures and beautiful white snow. But as we look at the picture more closely, we see that despite the coldness the sun still rises! God displays His creation's beauty with every single day. He gives us these little blessings to remind us who He is and what He is capable of doing. 🥰
We all love to receive blessings from friends and family, don't we? Then you will love to receive this blessing from Almighty God Himself! Today's Bible verse is right at the beginning of the Book of Revelation and it's location is quite poignant. The Apostle John wrote penned this book and it's quite apropos for a time like this. Revelation is all about what will take place in the end times.
Many people avoid reading the Bible because they don't understand it. If you're not born again, you don't possess the Holy Spirit who would interpret these things for you. The Holy Spirit is vital for the believer. The Spirit provides us with the ability to interpret the Bible by ourselves.  Sinners are in spiritual darkness until the Holy Spirit brings the light of Christ into their minds and hearts.  We depend on the Third Person of the Trinity to illuminate us as we read.  He awakens us to the truth from the Bible.  He reveals to us its commands, its challenges and God's promises, such as we're seeing in today's verse.  It is His job not only to interpret the Scriptures for us but to guide us in our lives.
Therefore, Revelation 1:3 says that when we read about Bible prophecy, when we hear the words of that prophecy and when we keep those words, we will be blessed! Why? Because we will not be afraid of what the end times will bring. We have the warnings; we know what to expect. But to those who are not born again, the signs of the times and Bible prophecy are scary and they would rather not think about it.
Are you one of those that sits on the fence? Do you want to believe but you don't want your friends and family to think you've gone off the deep end? Dear reader, who do you want to please? Will your friends keep you out of Hell? Do you really want to stand before God when you die and have your whole life reviewed? Each and every sin you've committed, in thought or deed, will be covered:
God will not be mocked, friend. He will reward born again believers with eternal life in Heaven. But He will also give the one who turned down salvation to be born again eternal punishment in Hell. God doesn't want to do this but it is not His choice; it's yours! God gives everyone a choice – He did not create robots. He created man with a free will and choice.
Your name can only be written in the Lamb's Book of Life if you are born again. You must set aside your fear of what friends and family will say. They will not be standing beside you on Judgment Day defending you. They will have their own time of judgment to deal with. Please, I beg of you to receive the free gift of eternal life through Christ!
It is no coincidence that God has placed you here for such a time as this so that you may be saved. Please click here and the link will open up in a separate tab to You Can Be Born Again and Know It!