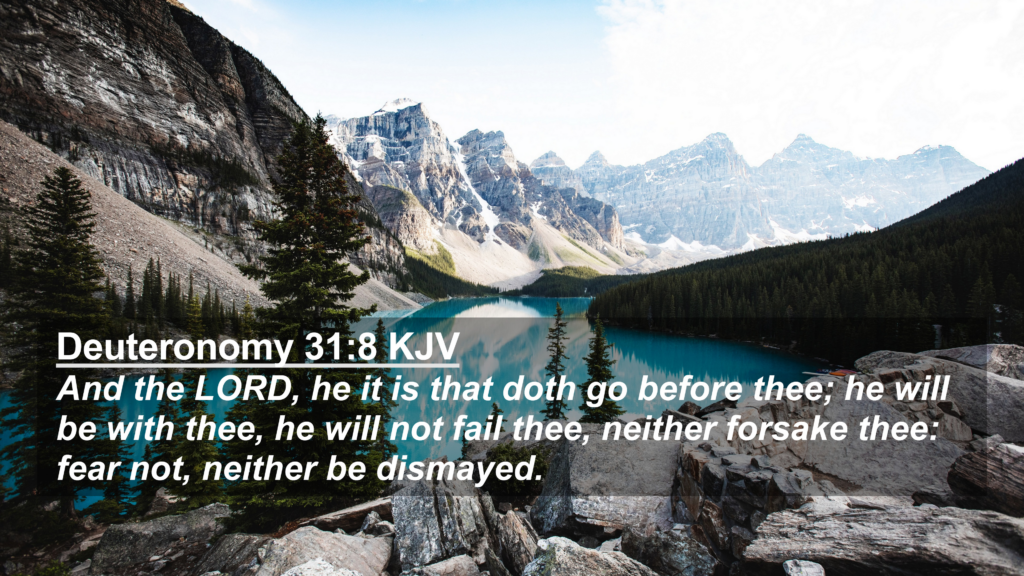 The Bible has an ongoing theme for God's chosen people, Israel. We see it in today's verse and we see it in the numerous verses below. One thing is for certain, God has never abandoned His people nor will He ever! Even during the Tribulation, God will pour out His mercy on His people giving them every opportunity to acknowledge their Messiah, Jesus!
Multiple times, God has told His people not to fear nor to be dismayed. This word, dismayed, means disheartened or deprived of courage. If there has ever been a people who has been persecuted in this world, it is the Jewish people. God knew their frame because He created man. He knew they would get discouraged and that they would need Him to remind them who He is and what He can accomplish! When Christ came in the flesh to speak the words of God, He opened up the way of salvation to all man, not just the Jews. Now the Church can reap the same blessings from today's verses because God never changes. The Church does not replace Israel, that's not what I'm saying. I'm saying God's character cannot change and He blesses His people; therefore we will be blessed as we work for the Kingdom!
(Mal 3:6a) For I am the LORD, I change not;
Are you troubled today? Are you possibly the person who has been deceived by the world's lies about what gender you are? Have you crossed that line and fear that you may have gone too far and God will never forgive you? There IS forgiveness to be had! That forgiveness can be found at the foot of the cross of Jesus when a sinner acknowledges that He died for sins just like yours – in fact, for all sin. There is no sin too great that He cannot forgive! But all you have to do is accept that forgiveness, repent of your sins and live for Him; proclaiming Him to all who will listen. Repentance is the key. You don't see the sinner's prayer in the Bible. But what you DO see in the Bible is a call to repent! (Matthew 3:2, Matthew 4:17, Mark 1:16, Luke 13:3, 5) You may think it's too late to turn back the clock, but it is not! Take it from someone who was ready to commit suicide, but God rushed someone to my side to tell me about His saving power!
Mat 11:28-30 Come unto me, all ye that labour and are heavy laden, and I will give you rest. (29) Take my yoke upon you, and learn of me; for I am meek and lowly in heart: and ye shall find rest unto your souls. (30) For my yoke is easy, and my burden is light.
There is truth to be found, reader! The truth and the future of our world is carefully written in the Bible so we could see what was to come. Friend, if you're not sure where you will spend eternity, please settle the matter. Christian, if you're not living your life for the Lord, there's not much time left. We need to give the lost hope as we have hope! Friend, don't be willfully ignorant of the end times. (2 Peter 3:5) If you are not born-again, confess your sins and repent of them. The time is coming when it will be too late for you to repent. You will remember each opportunity you were given by God to be saved; you will remember each time you laughed it off and ignored it. Please Reader, repent and accept Christ into your life. (Act 16:31, Rom 10:9) I want to be sure that anyone who reads the posts on this blog can know beyond a shadow of a doubt that they are going to Heaven. Have you received Christ as your Saviour? If no, your sins are not covered by His sacrificial offering of Himself. You have not been redeemed by His blood. It is no coincidence that God has placed you here for such a time as this so that you may be saved if you are not already. Please click here and the link will open up in a separate tab to You Can Be Born Again and Know It!