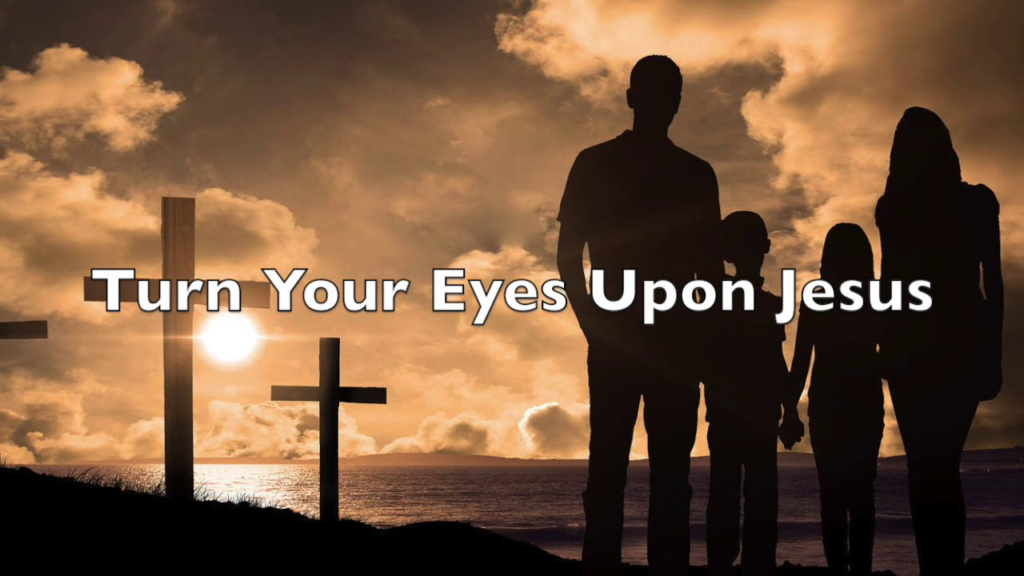 Lyrics (click here to hear instrumental)
1. O soul, are you weary and troubled?
No light in the darkness you see?
There's light for a look at the Savior,
And life more abundant and free!

Refrain:
Turn your eyes upon Jesus,
Look full in His wonderful face,
And the things of earth will grow strangely dim,
In the light of His glory and grace.

2. Thro' death into life everlasting,
He passed, and we follow Him there;
O'er us sin no more hath dominion–
For more than conqu'rors we are!

3. His Word shall not fail you–He promised;
Believe Him, and all will be well:
Then go to a world that is dying,
His perfect salvation to tell!

Helen Howarth Lemmel
The History Behind the Hymn
Born in 1864, Helen Lemmel moved to the United States around the age of twelve. From a young age, her musical ability was noticed by all those around her.

In 1907, She moved to Germany for 4 years to undergo intensive music training. It was here that she would meet her husband. Together, they returned to the United States in 1911. While in America, she served faithfully in the Lord's work. She dedicated herself to writing, arranging, and teaching songs and hymns of the faith

A few years after her marriage, a tragic illness caused her to lose her vision. Her husband, refusing to attend to a blind wife, left her. This time of hurt and loss weighed heavily upon Helen.

Then, in 1918, Lemmel was introduced to a pamphlet written by Algerian missionary Lilias Trotter. Trotter was a well-known artist who had given up a rising and lucrative career to serve the Lord on the misson field. Her words stirred the heart of Lemmel. She writes, "Suddenly, as if commanded to stop and listen, I stood still, and, singing in my soul and spirit was the chorus, with not one conscious moment of putting word to word to make rhyme, or note to note to make melody…These verses were written…the same week…"

The words that so captivated Helen were these: "How do we bring things to a focus in the world of optics? Not by looking at the things to be dropped, but by looking at the one point that is to be brought out. Turn full your soul's vision to Jesus, and look…look at Him, and a strange dimness will come over all that is apart from Him, and the Divine "attrait" by which God's saints are made…will lay hold of you. For "He is worthy" to have all there is to be had in the heart that He has died to win."

Helen kept her eyes on the Lord Jesus and continued to serve Him faithfully.

enjoyingthejourney.com
A Lesson for Me
I've often quoted this Bible passage. In fact, these were the first verses I committed to memory after I was born again. My husband was furious at the change that came upon me (John 3:3, 6-7; 2 Cor. 5:17). I was no longer the woman he had married. I longed for the rest that the Lord Jesus promised in this passage. I longed for my burdens to be made light. This is the believer's confidence, dear Reader.
Without the Lord, there is no such confidence but that of the flesh. (Proverbs 14:30a) Only a heart that is fixed on the Lord can survive the struggles in life.
His Word shall not fail you–He promised;
Believe Him, and all will be well:
Then go to a world that is dying,
His perfect salvation to tell!
Message for today
Will life have no struggles after salvation? Of course not! The unbeliever has no one to turn to who will provide peace and comfort. However, the believer in Jesus Christ does! Can't you see that? Our trials and tribulations are not taken away. Instead, we are promised that the Lord Jesus will walk beside us and provide the right amount of grace to persevere!
How do I know this? Jesus calls those who are born again His friends! Not only are we His friends, but we are now His Bride!
Jesus Christ did not leave us empty handed to live willy-nilly in the world. He left us His Word so that we could learn and find comfort. There is comfort to be had while we go through the trials of life. It is up to us to spend time in prayer and in the God's word! Jesus is the spoken word of God Himself, dear Reader!
O soul, are you weary and troubled?
No light in the darkness you see?
There's light for a look at the Savior,
And life more abundant and free!
It is in the light of the Bible that you will find solace for your soul. It is between those blessed pages that you will find peace which passes all understanding! The born-again child of God is not left to his own devices but is given rest during difficult times.
If you are not truly born-again, you cannot possibly have this peace. There is coming a time when it will be too late for you to repent and be saved. It is no coincidence that God has placed you here for such a time as this so that you may be saved if you are not already. Please click here and the link will open up in a separate tab You Can Be Born Again and Know It!