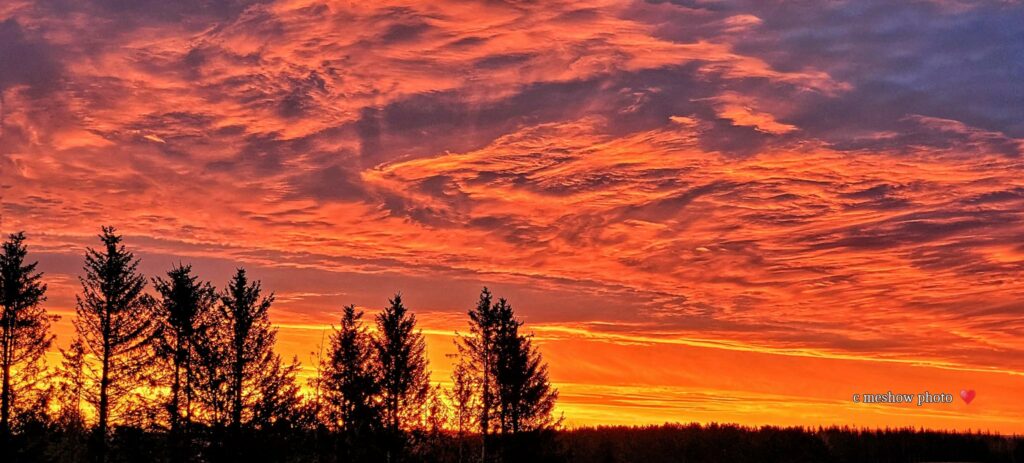 Good morning, Reader! This picture totally blesses me! It amazes me that no two clouds are the same. They may appear the same but there's always a slight difference. As sunrises and sunsets are one of my favorite sceneries, I thought it would be appropriate to start off this new devotional series.
There are many titles for Jesus Christ. In fact, I did a series on this in 2008. If you've never studied this topic, it's totally a blessing! However, today I am looking at the verses which contain the word "Rock" (capitalized) and how it applies to Christ. The Holy Spirit put these words in the Scriptures for a reason. It's when we dig for gold that we find the nuggets, amen?
When we look at this verse in context, we find that this was part of a song of Moses. Each of the different names for God meets a specific need in man. What need does today's verse provide for us? What do you think of when you envision a rock? I think of the coastline at Heceta Head Lighthouse in Florence, Oregon.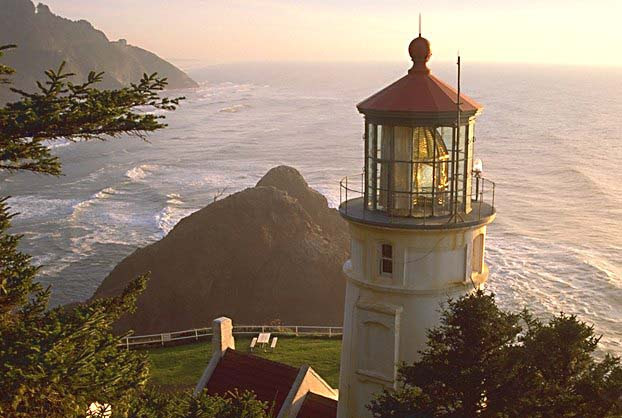 The rocks and mountainsides are so beautiful! They remind me of strength, stability and longevity. These rocks take the crashing of the waves without falling apart! When visiting there, they had pictures from when it was first built. The same three rocks are there today and they have not diminished throughout the years.
There is no better way to honor God than to recognize His strength in our lives. The believer needs to wholly lean on the Lord in times of desperation. It is these times that He draw us to Him. He is our strength. So how can Jesus Christ be the Rock in today's verse? Let's take a look at:
David says that the LORD (when capitalized like this, it refers to Jehovah, the Lord) is his light and salvation. We will not only find Jesus here but we will also see that Jesus is God. All Scripture fits together and there are no contradictions found in its pages.
David said that the LORD is his light. Jesus said in the verse above, that He is the light of the world.
David also said that the LORD was his salvation.
Jesus Christ is the only way to heaven. There is no other but the LORD, Jehovah the Lord, Jesus Christ the Saviour of man! He is our Rock!
Jesus Christ's work is perfect – He came to earth in human form and lived a sinless life. He lived the perfect life so that He could be the perfect sacrifice for mankind's sins. Only His sacrifice can forgive sins.
So, dear reader, we know that our LORD, the Rock, has the strength to save us – to guide us – to help us in our every need! Because He is our Rock, we don't have to rely on our own strength but wholly lean on His strength! Praise be to God in the highest! Thank you, LORD Jesus, our Rock and our Deliverer!
Solid Rock by Edward Mote

1 My hope is built on nothing less
than Jesus' blood and righteousness;
I dare not trust the sweetest frame,
but wholly lean on Jesus' name.

Refrain:
On Christ, the solid Rock, I stand:
all other ground is sinking sand;
all other ground is sinking sand.

2 When darkness veils his lovely face,
I rest on his unchanging grace;
in every high and stormy gale,
my anchor holds within the veil. [Refrain]

3 His oath, his covenant, his blood,
support me in the whelming flood;
when all around my soul gives way,
he then is all my hope and stay. [Refrain]

4 When he shall come with trumpet sound,
O may I then in him be found:
dressed in his righteousness alone,
faultless to stand before the throne. [Refrain]
If you happen to be reading this and are not saved, it is no coincidence. God has placed you here for such a time as this so that you may be saved. Please click here and the link will open up in a separate tab to You Can Be Born Again and Know It!
We are currently studying what the Bible says just who is the Rock. Some religions claim that their church is the rock. Some believe that there is no salvation other than through their church. Please leave a comment with your thoughts. To start from the beginning with Day 1, please go to our Table of Contents. It will be populated as each day is completed.