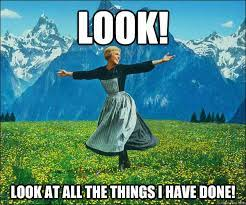 Finding humble people can be difficult to find – they are far and few apart these days. It's sad to say the least. Today's verses describe sins that God abhors. So much so, He gives the sinner over to a reprobate mind. What exactly is a reprobate mind? The word reprobate is defined as someone who has devoted himself to sin. They don't care about the judgment hereafter and only care about their sinful pleasure.
I find it interesting that boasters are included with fornication, unrighteousness, etc. But they are! Is it any wonder that they are the complete opposite of a humble person? Noah Webster defines humility as:
In ethics, freedom from pride and arrogance; humbleness of mind; a modest estimate of one's own worth. In theology, humility consists in lowliness of mind; a deep sense of one's own unworthiness in the sight of God, self-abasement, penitence for sin, and submission to the divine will.

Noah webster's 1828 Dictionary
I was raised that I should never "honor" myself or speak of my accomplishments. But today, people brag about what they have done in life. They are proud of their accomplishments, which is fine in and of itself. But they take it a step further and brag about them.
What is the saddest about this is that people don't think anything about committing this sin! How hard the hearts have gotten today. What seemed sinful yesteryear is considered OK today. We see it well depicted in the abortion issue. That was not an issue a hundred years ago except in the back alleys. But today, it is touted as a woman's right!
The root of this sin of boasting is pride. The first sin ever committed was by Lucifer and that sin was pride.
Just look at Lucifer's pridefulness and boasting in the above verses!! Friend, boasting is not of the Lord – it is of the devil. If you are guilty of this, humble yourself before the Lord. Study the Bible in the area of humbleness. Learn from God's Word.
If you are not truly born-again, you won't see boasting as a sin. But there is coming a time when it will be too late for you to repent and be saved. It is no coincidence that God has placed you here for such a time as this so that you may be saved if you are not already. Please click here and the link will open up in a separate tab You Can Be Born Again and Know It!