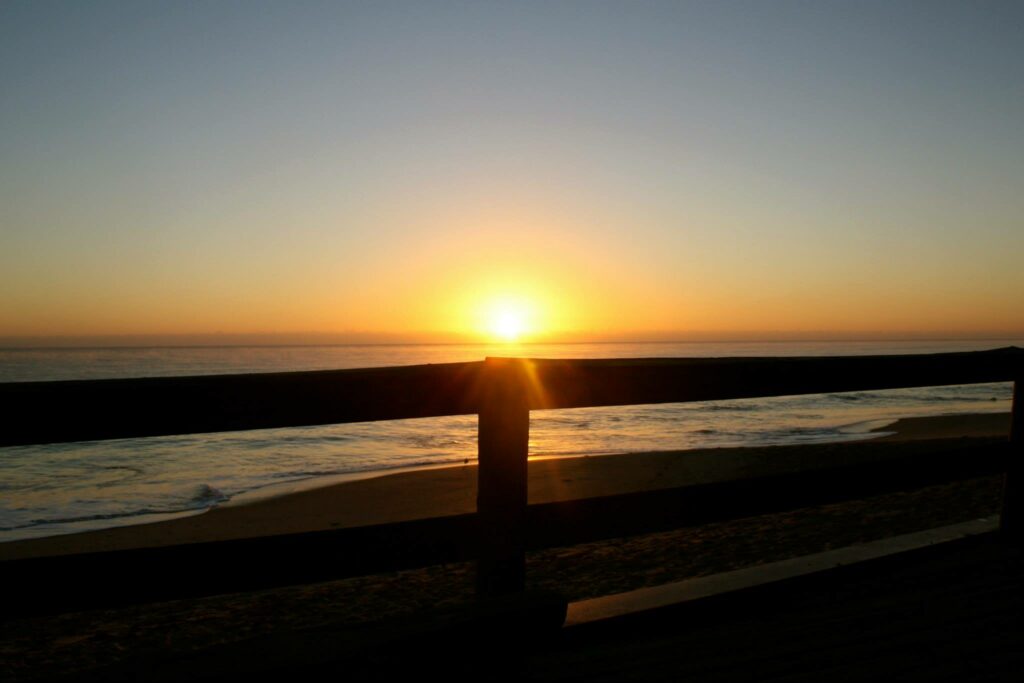 As I am writing today's post, the sun is just coming up and the sky is a beautiful hombre of reds in the distance much like today's picture. The Lord reveals to me His artistic abilities and paints a sky like no artist can match! The Bible says that no ear has heard or eye has seen the things which God has in store for us. We have heard the sound of birds, ocean waves and the gentle coos of a baby. We have seen glorious sunrises, colorful birds and flowers. But God has more waiting to show us in Heaven! Can you imagine?
So now my house is quiet and I turn my attention to the verse that we are focusing on today. It contains that six-letter word "unholy."
People have difficulty defining what is holy and unholy today. It is not uncommon to hear the Lord's name in vain, or see pornographic commercials on television. Our society has become so focused on sex and profanity that it no longer seems to bother them. Their hearts seem to have become hard to the things of God, doesn't it? My heart aches for my beloved Country! I realize that God's judgment is upon us and that it will only get worse if revival doesn't come!
Oh Father, how I pray that the hearts of Americans be convicted of their sinfulness, repent and turn to You. I long for Your coming but I ache for those who will be left behind to face what is coming! Father, I beg you to change hearts today as your Holy Spirit draws someone to read this post. Please Father, use this for Your glory and honor!
Let's back to this little word. What exactly does "unholy" mean and what actions does it involve? I like Noah Webster's definition best:
Not holy; not renewed and sanctified. 2 Tim 3.

Profane; not hallowed; not consecrated; common. Heb 10.

Impious; wicked.
All I can say is, "Wow"! 😮 Re-read what I've underscored and then ask yourself if you think Noah's definition is prevalent for today. Why do you think the world so unholy? First of all, they are not renewed, or born again. Second, if they are born again, they are not sanctified or set apart from the world. Reading the Bible every day is what pricks the heart and leads us to repent of our sin. When we apply what we have read in the Scriptures, we become sanctified. Christ reminds us how we can be sanctified in the following verse:
The Bible holds the truth that God wants us to know. So doesn't it stand to reason that Satan would make it a priority to corrupt God's word so he can keep us away from it? If he can succeed to do so, he can keep mankind from the truth and they'll listen to his lies. After all, he's known to be an angel of light and the father of lies, amen?
As of 1611, the King James Bible was the only accepted Bible in the English language used by mankind. In the late 1800's, the first "revision" came and since then, there have been over 100 different translations. Any time there is a new version, words have been removed and/or complete sentences (1 John 5:7 is an excellent example). Satan wishes to destroy the truth through these new versions. He wants to remove Christ from His throne by removing Christ from the Bible. Verses about Christ's deity and His shed blood for the remission of sins are removed or re-worded to remove truth. Is it any wonder that mankind isn't drawing closer to God but further away?
A good example of this is an antibiotic. If you take it at full strength, it will eventually help your body to heal. But what would happen if you diluted it with 25% water or broke the pill in four pieces and only took three pieces? It's effectiveness would not be as good as full strength. Again, what would happen if you further diluted it with 50% water or swallowed only two of the pieces? With each watered-down version, the less effective it becomes. The true medicine, the Word of God, has the power to sanctify you. Is it any wonder this is what Satan is using in these end times? He began in the Garden of Eden by twisting God's words:
And thus it continues today through all the versions. Take out a little here and change a little there, you end up with a diluted book. It is only through the Scriptures that we can be saved, cleansed and sanctified.
In relation to today's sin, I can see unholy people all around me. I'm not trying to be pious or self righteous. As a born again Christian, I should be able to determine the difference between what is holy and what is not, amen? God's word reveals it to us.
When one does not heed the Scriptures, his moral compass changes direction. His "true north" changes direction and he finds himself deep in sin. Dear reader, it is only through the Word of God, Jesus Christ, that we can become holy. We cannot do it on our own nor can we purchase it. Christ's blood is what cleanses us from all unrighteousness. Then we have His Word which sanctifies us and creates in us a desire to grow spiritually.
Where is your moral compass today, Reader? Are you born again? If you are, are you daily asking the Lord to change you into His image? If you are not born again, do you have a gnawing ache in the pit of your stomach? Is your conscience leading you to seek the truth before it is eternally too late?
If you happen to be reading this and are not saved, it is no coincidence. God has placed you here for such a time as this so that you may be saved. Please click here and the link will open up in a separate tab to You Can Be Born Again and Know It!