Day 28 – A New Name in Glory!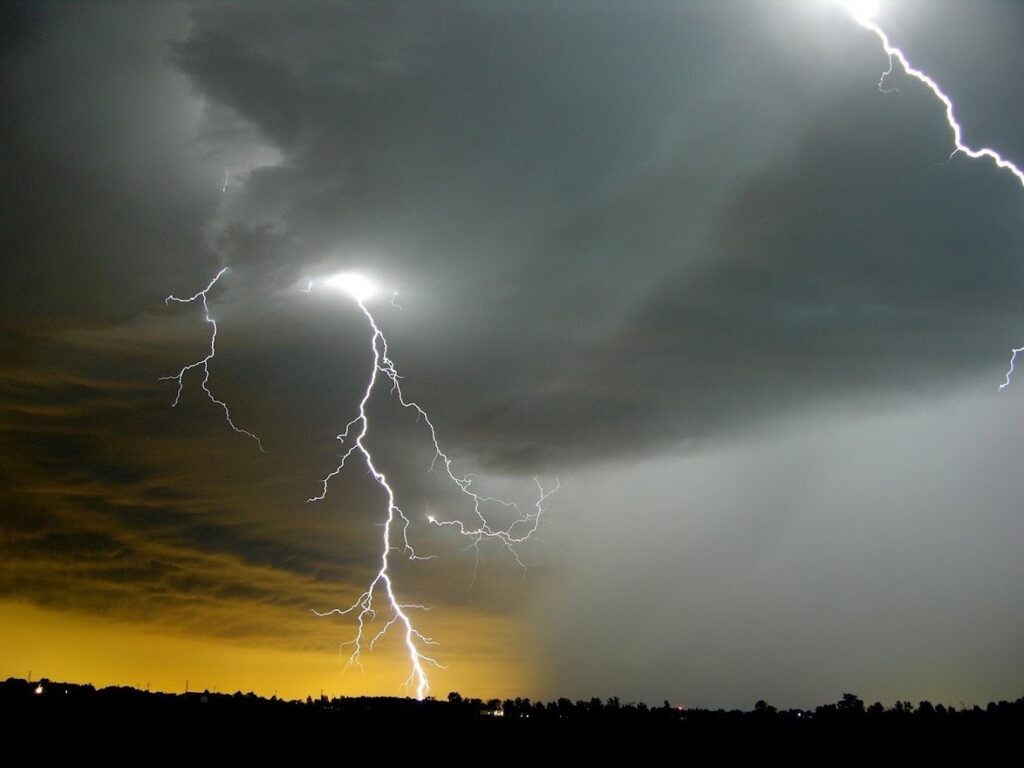 Unfortunately, I can't recall who shared this photo with me. A storm was coming through and we can see the lightning in the distance. When I look at it, I am reminded that our Saviour will one day return for His sheep in the air quickly – like a flash of lightning – the bible says in the twinkling of an eye! And just as Jesus left the earth, He will return.
Aren't you excited?
As we celebrate the time of His birth, let us not forget that His was not an ordinary birth. Jesus Christ's life was no ordinary life! His death was no ordinary death!
Because of this wonderful act of love from our Saviour, we are able to sing today's hymn and rejoice! We covered this author yesterday so I won't repeat myself and will just continue on with this blessed hymn!
A New Name in Glory
Charles Austin Miles

I was once a sinner, but I came
Pardon to receive from my Lord:
This was freely given, and I found
That He always kept His word.

Refrain

There's a new name written down in glory,
And it's mine, O yes, it's mine!
And the white robed angels sing the story,
"A sinner has come home."
For there's a new name written down in glory,
And it's mine, O yes, it's mine!
With my sins forgiven I am bound for Heaven,
Never more to roam.

I was humbly kneeling at the cross,
Fearing naught but God's angry frown;
When the heavens opened and I saw
That my name was written down.

Refrain

In the Book 'tis written, "Saved by Grace,"
O the joy that came to my soul!
Now I am forgiven, and I know
By the blood I am made whole.

Refrain
Is your name written down in glory? For every born-again believer, singing this song is an encouragement to a weary spirit! Christ gave Himself for you and for me! Does that not touch you to the core?
Why did Jesus do this for us? Why would He give Himself for us? Oh the blessed love of God! When I read these two verses, I am drawn to tears that my Lord would love us so much that He would do this for us! (Heb 2:17-18 ) Wherefore in all things it behoved him to be made like unto his brethren, that he might be a merciful and faithful high priest in things pertaining to God, to make reconciliation for the sins of the people. (17) For in that he himself hath suffered being tempted, he is able to succour them that are tempted. (18 )
Jesus Christ, the Perfect Lamb of God and our Saviour, voluntarily came to earth for the sole purpose of being tempted, living a sinless life and then dying so that He could take on our penalty of sin so we would not burn for all eternity! He stands before the Father as our High Priest always making intercession for us!
We are saved to the uttermost! Noah Webster defines this word as:
UT'TERMOST, a. [utter and most.] Extreme; being in the furthest, greatest or highest degree; as the uttermost extent or end; the uttermost distress.

Strong's Concordance says:

G3838
παντελής
pantelēs
pan-tel-ace'
From G3956 and G5056; full ended, that is, entire (neuter as noun, completion): – + in [no] wise, uttermost.
Can one be partially saved? If you are drowning and a rescuer comes to save you, does he save you then allow you to start drowning again and then save you again – so on and so forth? If you are burning in a fire, does the fire fighter save you, throw you back in only to save you again? If you are lost in your sin, does the Saviour die on the cross for your sins only to have to go die again because your salvation was lost? It sounds absurd when put it in this light, doesn't it? But the definitions are awesome – they are clear to me! The Lord wants you to know that you have been saved to the uttermost – to completion – entirely. That means your sins from the past, present and future have been paid for, entirely, by Christ Himself! Glory! This does not give you the right to continue living your old sinful life and not change. For the Word says
Anyone who is grateful for being saved from eternal punishment burning in a lake of fire will not remain the same. They will allow the Holy Spirit of God to change them out of appreciation to Christ for what He has done!
What a lovely thought for today!
My name is written in the book of life – Jesus knows my name and my name is written down in glory!
Pages: 12345678910111213141516171819202122232425262728293031