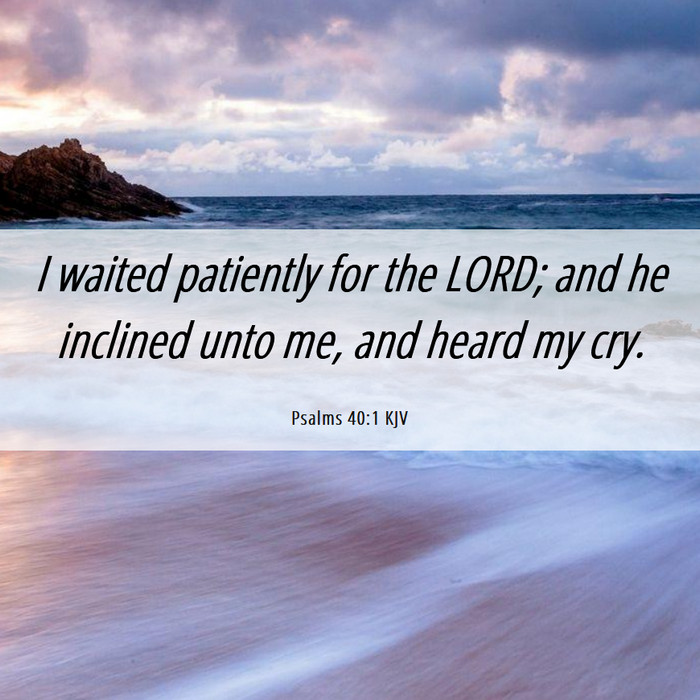 Good morning! In a world that seems to have gone absolutely insane, do you feel the same as David in today's verse? I sometimes wonder if God hears my cries. His Word assures me that my heavenly Father hears my every word!
But what should you do if you don't think the Lord is listening? Do you "keep on keeping on" or do you make an effort to change your thoughts? I'm definitely speaking to the choir here because I have been there. When times have been difficult for me during my husband's illness, I can recall wavering. I recall crying and asking God why He wasn't healing my husband! But Psalm 40:1 says:
I waited patiently for the Lord;
It's not easy to wait patiently for the Lord to respond. Sometimes He doesn't respond, or so you think. God always responds, my friend. It may not always be the answer you want, but it will always be God's will. That is why it is so important to wait patiently for the Lord.
In today's mixed up world, we may wonder how we can make a cause for Christ to those around us. The world needs Him now more than ever, friend! Their minds are being filled with the spirit of antichrist. (1 John 2:18, 1 John 2:22, 1 John 4:3 and 2 John 1:7) God does not leave us defenseless. He has left us His Word so that we can learn!
Just as a baby pitches a fit until he is fed, so should we be until we get God's Word in us! It should permeate our beings and fill our bodies so much so that we reflect it in our faces! People should see a difference the moment we open our mouths. They should see Christ through us!
We are living in a time where we cannot be silent. To a lost and dying world, silence means approval! We cannot and must not keep silence when it comes to the ungodly works of the devil! You cannot keep Jesus to yourself, Christian!
Are you afraid to declare God's faithfulness and His salvation through Jesus Christ? He will give you the words to proclaim to those He puts in your life! He will provide the grace you need to speak wisely. We may be the only Bible that some people ever see! We may be the only preacher they will ever have in their presence!!
As believers, we have so much at our fingertips to pull from for encouragement. We can read our Bibles, search out songs to encourage our hearts, and bow before the Lord of lords and Kings of kings in prayer! We can have intimate fellowship with the Creator of the universe!! But to the person who is not born-again, he has only himself to turn to and there's no comfort in one's own heart. The unbeliever doesn't have the comfort that the believer does; they may be able to access the resources but that comfort just isn't there. Friend, don't be willfully ignorant of the end times. (2 Peter 3:5) If you are not born-again, confess your sins and repent of them. The time is coming when it will be too late for you to repent. You will remember each opportunity you were given by God to be saved; you will remember each time you laughed it off and ignored it. Please Reader, repent and accept Christ into your life. (Act 16:31, Rom 10:9) I want to be sure that anyone who reads the posts on this blog can know beyond a shadow of a doubt that they are going to Heaven. Have you received Christ as your Saviour? If no, your sins are not covered by His sacrificial offering of Himself. You have not been redeemed by His blood. It is no coincidence that God has placed you here for such a time as this so that you may be saved if you are not already. Please click here and the link will open up in a separate tab to You Can Be Born Again and Know It!