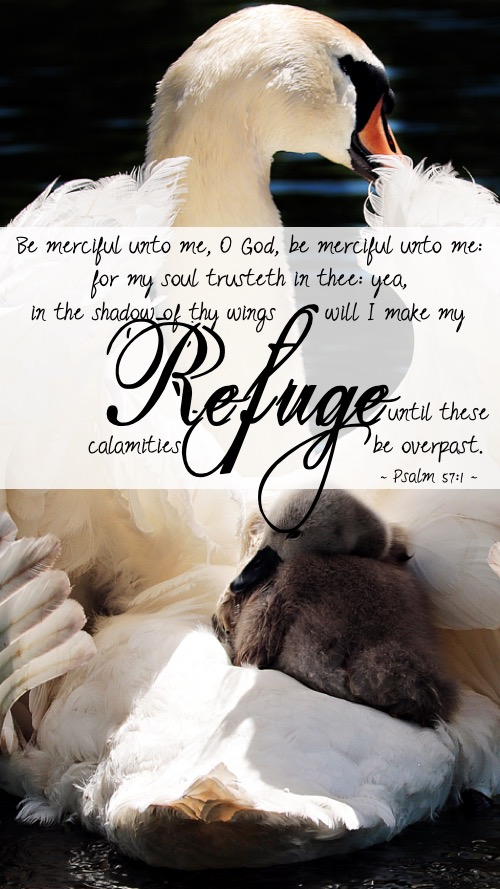 Good morning, dear Reader! Don't you love today's picture? It's one of those pictures that makes you actually feel the comfort when the cygnet snuggles under the mother's wing! Being under her wing keeps the baby safe from the scorching sun or horrible storms of life. The mother takes all the hardships that nature puts on her and her family. She absorbs it all so her babies don't have to suffer. I liken this to my daily struggles and the times I need the Lord the most! Just as a parent's heart is broken when their child suffers, so much the more does our Heavenly Father suffer when His child is hurting!
Let's take apart this verse for a moment. When David wrote this Psalm, he was fleeing from King Saul who was trying to kill him! David was hiding in a cave and he was begging the Lord to have mercy on his circumstances… so much so, he begged for God's mercy twice in the same sentence! When something is repeated like this, it tells you and I to "take notice"! David refers to his circumstances as a calamity. This isn't just some small problem in his life – he called this "calamities." Webster defines calamity as:
CALAMITY, n. Any great misfortune, or cause of misery; generally applied to events or disasters which produce extensive evils, as loss of crops, earthquakes, conflagrations, defeat of armies, and the like. But it is applied also to the misfortunes which bring great distress upon individuals.
Are you in great distress today, Reader? Are you going through experiences that you've never been through before and don't know how to handle? Has your spouse left you or been unfaithful? Has one of your children died? Have you gone bankrupt? Did you lose your job and you have a family to support? I agree that these tragedies can be overwhelming. However, we must know what to do when these hardships come into our lives. What should we do? David had the answer when he wrote:
David knew what to do when life was out of control and he couldn't change his circumstances. Even more importantly, David knew what to do when he had sinned against God. (Psalm 51:4) David was an ordinary man with the same sins as you and me. In case you haven't read this yet, David lusted after a married woman (Bathsheba) and had an affair with her while he was King. To top it off, David had her husband, Uriah, (one of his best military soldiers) killed in battle to cover up the affair, just so he could have her. It's hard to imagine David doing this. This was the same man that wrote 75 of the psalms in the Book of Psalms!! The key here, however, is that David repented of his sin and did not practice sin thereafter. The point here is a person who loves the Lord and obeys His Word will be able to go to that rock that is higher than his circumstances when his heart is overwhelmed.
If you are not born-again, you don't have a way to comfort yourself. You may turn to alcohol, sex, or drugs but these won't bring you comfort! All they will do is desensitize you and get you deeper into trouble. You will continue to live in fear. The more important issue at hand is that you should be fearing where you will spend eternity! Once you settle that matter in your heart and become born-again, you won't have to fear where you spend eternity because the Bride of Christ (every born-again believer since Christ ascended into Heaven) will be Raptured and will spend eternity with the King of kings and Lord of lords! However, if you refuse to get saved, there is no guarantee that you will get saved during the Tribulation – you may one of those who will have his/her conscience seared! (1 Timothy 4:1-2) Furthermore, if you do get saved during the Tribulation, you will lose your life for your testimony! (Revelation 20:4) Your fears will be greater during the Tribulation than they are currently!
There's no need for fear today because Christians are comforted by the Holy Spirit through God's Word every day! (John 14:26, John 15:26) If you are a believer and you still live in fear, all I can say is you are not submitting yourself to God's Word. You have to be IN the Word in order to get comfort FROM it! You are being willful and want to get through life on your own terms. But that is not God's way! As your heavenly Father, He wants to be Abba Father to you! He wants you to turn to Him with your problems just as you turned to your earthly father when you were little! He wants to gather you under His wings and hide you during the storms of life. But you must let Him. I know a few people in my circle who seem to be totally absorbed with worry. I talk to them and all I hear is "woe is me"! Or, there's no positive thing that comes from their mouth. I understand that there are different people in this world and some have their glass half full, and some have their glass half empty. I get that! But how awful is it to carry our burdens alone! Jesus said:
Jesus relieves us of our burdens and gives us His Comforter, the Holy Spirit, to help us! Unbelievers do not possess the Holy Spirit as He comes to those at the moment of salvation. This is when He seals them with eternal life in Christ Jesus. (2 Corinthians 1:21-22, Ephesians 1:13, 4:30) Christians do not have to be concerned with our circumstances in life. In fact, if the believer walks closely with the Lord, that believer need not concern himself with the world around him. He can hide himself in the shadow of God's wings and be protected from the "heat" of problems and the storms of life! No amount of worry can change anything in our lives! (Matthew 6:27)
The Lord protects His own! He loves Israel and He loves his "grafted" in children, the born-again believers! He longs to comfort us and take us under His wings! (Matthew 23:37) I love the hymn, "Under His Wings"! It totally encompasses today's message through Psalm 57:1!
Reader, can you look at today's picture, read today's post and lyrics without feeling? A child of God receives great comfort in doing so. But to the unbeliever, today's message is really not all that comforting. If you are the latter, ask yourself if you are a religious person? Being religious does not get one to Heaven. Being religious doesn't bring you comfort when you read things such as this. Everyone is looking for someone or something to help with or decrease life's problems. Look to the only One who can deliver you from eternity in Hell AND draw you under His wings to give you protection and comfort!
Times are not going to get easier, Reader. I'm not trying to be a negative Nancy but Scripture warns us of these end times. Therefore, it is up to you to pick yourself up, brush yourself off, and change your current habits about your relationship with the Lord. Get serious about your walk with Him and allow the Holy Spirit of God to lead and guide you. Don't be willfully ignorant of the end times. (2 Peter 3:5) If you are not born-again, confess your sins and repent of them. The time is coming when it will be too late for you to repent. You will remember each opportunity you were given by God to be saved; you will remember each time you laughed it off and ignored it. Please Reader, repent and accept Christ into your life. (Act 16:31, Rom 10:9) I want to be sure that anyone who reads the posts on this blog can know beyond a shadow of a doubt that they are going to Heaven. Have you received Christ as your Saviour? If no, your sins are not covered by His sacrificial offering of Himself. You have not been redeemed by His blood. It is no coincidence that God has placed you here for such a time as this so that you may be saved if you are not already. Please click here and the link will open up in a separate tab to You Can Be Born Again and Know It!