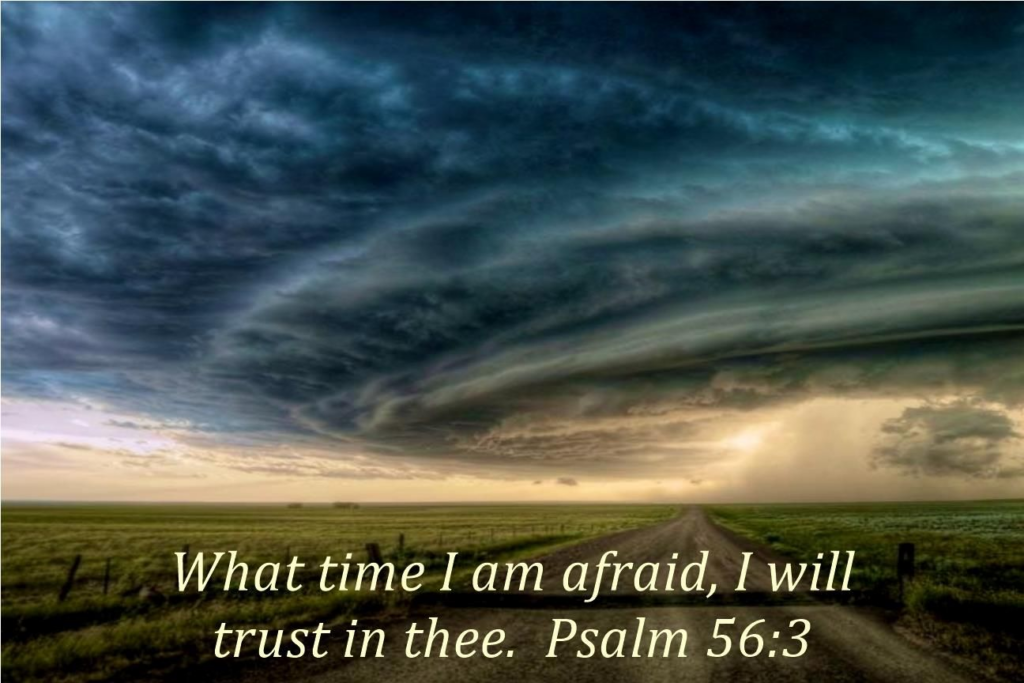 Good morning, Reader! In my desire to continue the End Times "theme," along with stressing the importance of salvation, I thought this new series would accomplish both goals. I pray it engages you as readers and it accomplishes my heart's desire! So, why this theme? I realized there are people out there who are hurting, apprehensive, and afraid of what is currently happening in our world. They fear what is yet to come! And they should be scared if they are not born-again believers! But as Christians, should we be scared and caught unaware of times to come? Can there be comfort found as the world around us collapses?
Friend, we have the Bible as our guide which contains every prophecy and every detail that will happen. Nearly one-third of the Scriptures contains prophecy so it's important for us to be familiar with what it teaches! The Bible is recorded fact of what has and will ever happen. Everything prophesied the past has happened, Friend! Not one prophecy has failed. God has a perfect track record in fulfilling each one. So there is no reason to doubt that future prophecy will happen just as He said it would. In fact, God was present in the past; He's present today; and He is also present in the future when prophecy actually happened! I realize it's hard to understand but to God, earth's future has already occurred to Him because He exists in the future. God is not bound by time!
You have to understand that in order to understand why Jesus came in the first place! God knew very well that we could not live a sinless life and that there was no way we could gain entrance to His heaven! He saw it happening before it ever happened! (Isaiah 46:10) God's compassion on mankind is so great that He took upon Himself the responsibility of paying our debt so that we could go to Heaven. Jesus Christ, God Himself, had to take on flesh so He could live that sinless life, become that sinless and spotless sacrifice for all sins. (2 Cor. 5:21) He died on that cross and shed His own blood (Matt. 6:28); He rose from the dead (Acts 10:41) and ascended into Heaven (Acts 1:9). But don't stop there! He IS COMING AGAIN, people! (John 14:3) He is coming to judge those who refused His gift of salvation. (Rev. 20:11-15) He is coming to destroy the efforts of the devil to rule this world. (Rev. 20:10) He is coming to rule and reign for a thousand years!
When Christians read the Bible, they prepare themselves for what is to come. For the unbeliever, this is not so. This is why they will live through the worse times ever to come on this earth. Before I begin the series, I just want you to see, at a glance, what is in store for those who will go through the Tribulation.
Things will get worse before the Antichrist is revealed when he signs the peace treaty with Israel. There can't be peace until first there is war or a threat of war! The Bible says that Russia and countries supporting them will go against Israel. (Read Ezekiel 38 and 39) We see this unfolding today! Europe was getting its oil resources from Russia but have now turned to Israel because the Nord Stream pipeline was destroyed. It's possible that this will cause Russia to go after Israel's resources bringing on the war which will usher in the Antichrist. As soon as the Antichrist signs that peace treaty with Israel, the seven-year Tribulation begins and the first seven judgments begin, which are the 7 Seals in the first column listed below. Look at what happens with each judgment.

It won't be a piece of cake for earth's inhabitants as the world will experience war, famine, and one-fourth of the world's population dies! (Rev. 6:8) Just because the Antichrist signs a peace treaty doesn't mean that it will be peaceful and joyful at that time! Friend, we are seeing the birth pangs spoken of in Matthew 24! Look at how much happens with the second set of judgments. During this time, one-third of the population will die (Rev. 9:15).
Just as birth pains come stronger and closer together, so will the judgments of the Tribulation. So what can you do? If you're a believer, trust in the Lord and be ready for the Rapture. (1 Cor. 15:51-52) If you're not saved, now's the day of salvation! (2 Cor. 6:2) I pray that this series will bring comfort and encouragement to the believer as well as lead unbelievers to the Lord Jesus Christ.
I start this first day of the series with Psalm 56:3. David was begging mercy from God because those against him were about to overcome him! (Psalm 56:1-2) David sets the stage and shares his pattern for achieving that comfort but it was only through God:
Trust in the Lord

– Psalm 56:3 tells us that when David was scared, he trusted in God. Proverbs 3:5-6 tells us that as we trust the Lord, He guides and directs us. We know that God is perfect and in Him there is no evil. He means only what is good for us. (Exodus 34:6)

Praise His Word

– David praises God's Word! Jesus is the living Word of God. (John 1:1) We have God's Word in our hands and we should read it and be blessed by it. We should praise God for providing us with His Word so we can turn to it in time of need. We also turn to it to prepare ourselves for these end times! Something is frightening if you're not prepared, i.e. a house fire or a thief breaking into your home. However, when we know what's going to happen (as indicated in the chart above), we keep watch and we anxiously await for the Lord to Rapture us away!

Cry and share your tears with God

– David was so good at this one! He shed so many tears that he knew that God had every one of those tears recorded. God sees us (Gen. 16:13) and He sees each tear! (Isaiah 38:5) I love how David says that God puts our tears in a bottle! Luke 12:7 says that God even numbers the very hairs on our head – each one of us! THAT is a personal God, my friend. God is for you and will help you! (Psalm 56:9)

Read the Word

– You will see all the vows and commitments God has made. He has never gone back on His word; He has never broken a promise. When you are born-again, you are sealed by the Holy Spirit and you are part of the Bride of Christ, the Church! You will be taken out before the wrath of God comes upon the entire earth. (Rom. 5:9, 1 Thess. 1:10)

Acknowledge that God has delivered you

! (Psalm 56:13) Tell others about being delivered from the pits of Hell! Tell others what God has done for you since you accepted Christ as your Saviour. Tell others about Jesus and His precious salvation. Don't be silent! You are the light to a lost and world! Shine forth and tell them about Christ's love, His sinless life, His death on the cross to pay our penalty, His resurrection from the dead, His ascension into Heaven to prepare a place for us in His Father's house (John 14:2), and His return (first in the clouds to pick up His Bride (1 Thess. 4:13-18) and then at the end of the Tribulation (to pass judgment on a Christ-rejecting world). (Rev. 19:11-21)
The time is coming when it will be too late for you to repent. You will remember each opportunity you were given by God to be saved; you will remember each time you laughed it off and ignored it. Please Reader, repent and accept Christ into your life. (Act 16:31, Rom 10:9) I want to be sure that anyone who reads the posts on this blog can know beyond a shadow of a doubt that they are going to Heaven. Have you received Christ as your Saviour? If no, your sins are not covered by His sacrificial offering of Himself. You have not been redeemed by His blood. It is no coincidence that God has placed you here for such a time as this so that you may be saved if you are not already. Please click here and the link will open up in a separate tab to You Can Be Born Again and Know It!