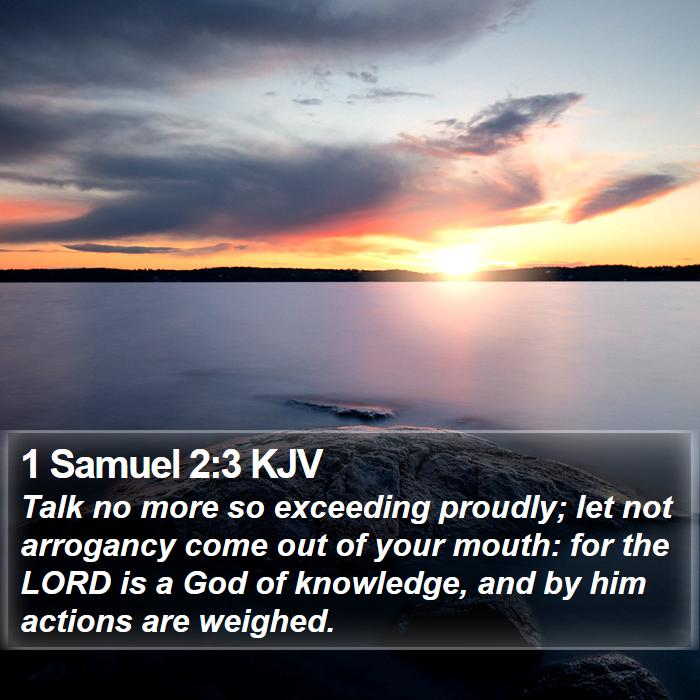 Good morning, Reader! What is pressing upon your heart this morning and frightening you? Is it the latest news on the war in the Ukraine? Is it the fact that America will suffer a food shortage in the next few months due to all the flooding in California? Or is it certain circumstances in your life? Whatever the reason may be, you must realize that God is well aware of it. Do you think God wants His child to be losing sleep over his financial problems or family issues? Friend, you are not alone. There are many who stay up worrying about what tomorrow will hold.
The key is to remember Who holds tomorrow!
These end times will bring turmoil on this earth that the world has never seen in the past. (Matthew 24:21) So what exactly does God's Word say about worry and anxiety? Today's verse says that the Lord is a God of knowledge and by him actions are weighed. If you want to learn to do something, you read an instruction manual or watch a YouTube video. Afterwards, it just takes practice until you get it right. Reading God's Word is one thing but it's what you do with what you read that is important. If you walk away and do nothing with what you have read, then you haven't really gained anything, have you?
Don't you think Satan wants you to be side tracked with worry? Oh YES, he does!
God says that His children need not be anxious about what's going on in their lives. Whatever is making you anxious or worried can be discussed with God just as you would discuss a problem with your spouse or friend. God is not some impersonal being that lords over His creation. Not at all! In my mind's eye, I picture God sitting in a chair next to me. I feel his presence and know that He hears me. Years of reading God's Word has given me the foundation to stand on in my Christian faith and His Word leads and directs me in my life. It truly is a light unto my path.
The word careful in this verse is merimnaō in the Greek which means "anxious, take thought"! If a person doesn't "take thought" or get anxious about what's going on in his life, don't you think that speaks volumes about how big his God is? Think about it for a moment and apply it to your life … right now … this very moment. What's troubling you? Did you let God know about it during your prayer time? When you talk to God about it, you should know that the same God who parted the Red Sea is desiring you to talk to Him about it? He wants to handle that situation in your life! You may not see immediate answer to prayer but He is still working. He's not asleep on the job! (Psalm 121:4)
I apply this to the goings on with the news revolving around the end times and the turmoil that our world is in. When I was first saved, I would have never thought that people would be confused about their gender! I would have never thought that babies would be murdered at the altar of convenience. Certain things were actually sacred back then!
Are you afraid that you will go through the Tribulation? If you answer yes, please go here to get the matter settled. The born-again believer will not go through the Tribulation period. A born-again believer is a member of the Church, the Bride of Christ, and will be raptured before that awful seven-year period occurs!
Friend, please, I beg you, if you are not saved, you will have to go through a period that NO ONE has EVER seen before! Don't ignore the fear in your heart and settle the matter now before it's too late.
If you are a believer, release your fears to the Lord and share those fears with Him. He does not want you to be fearful of these end times. In fact, we should be looking up and excited that our Groom will receive the go ahead from the Father to come get His Bride!!! \o/ He does not want you to be fearful of anything in your life. You are a part of His Bride so just as you share your intimate feelings with God. He will listen because you are praying in the Lord Jesus' name! God desires to give you peace, my friend.
Times are getting worse and Christians may have to go through worse times before the Rapture. But rest assured that we won't be here for the worst of what's to come during the Tribulation period. Baby Christians are looking to you as an example of how they are to act during these horrible times. The unsaved world is watching you. If they see a fretting Christian, what does that tell them? They won't want what you have if it doesn't solve their problems. Only Christ can solve their problems. Be a light … be a testimony for the Lord … be the only Bible they may ever see!
As believers, we have so much at our fingertips to pull from for encouragement. We can read our Bibles, search out songs to encourage our hearts, and bow before the Lord of lords and Kings of kings in prayer! We can have intimate fellowship with the Creator of the universe!! But to the person who is not born-again, he has only himself to turn to and there's no comfort in one's own heart. The unbeliever doesn't have the comfort that the believer does; they may be able to access the resources but that comfort just isn't there. Friend, don't be willfully ignorant of the end times. (2 Peter 3:5) If you are not born-again, confess your sins and repent of them. The time is coming when it will be too late for you to repent. You will remember each opportunity you were given by God to be saved; you will remember each time you laughed it off and ignored it. Please Reader, repent and accept Christ into your life. (Act 16:31, Rom 10:9) I want to be sure that anyone who reads the posts on this blog can know beyond a shadow of a doubt that they are going to Heaven. Have you received Christ as your Saviour? If no, your sins are not covered by His sacrificial offering of Himself. You have not been redeemed by His blood. It is no coincidence that God has placed you here for such a time as this so that you may be saved if you are not already. Please click here and the link will open up in a separate tab to You Can Be Born Again and Know It!