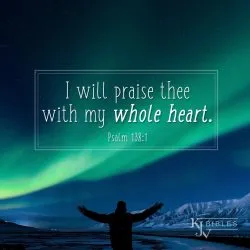 Good morning! The past few days have been absolutely beautiful near the Blue Ridge Mountains of Virginia! God's handiwork is evident everywhere I look. Just imagine, the Creator of all things must absolutely love color! Just look around you! We are so blessed – and it reminds me of what life will be like when the Lord creates a new heaven and a new earth! (Isaiah 64:4, 1 Cor. 2:9)
You may think that this is way far into the future but, friend, it is not. We are seeing the birth pains of the end times. The Bible calls this the beginning of sorrows. (Matt. 24:8) Let's see what Jesus said:
We have seen many men proclaim to be Jesus Christ – one only needs to Google it and you'll see the 20th Century had a bunch! Just like labor pains, there will be more to come. Wars and rumours of wars are all around us today. The Middle East is in such unrest at this moment! Israel is at war at the moment and we can see the building up of a great war to come! Jesus said that all these things must come to pass before the end comes. The Rapture of the church (made up of born-again believers) will happen before that 7-year Tribulation. It's every Christian's blessed hope as he/she awaits the return of the Lord, Jesus Christ, in the air! After the Tribulation, Jesus Christ will come as a conquering King and He will destroy the armies of the antichrist! (Revelation 19:11-16)
If you're a scoffer, you're part of that end times prophecy! (2 Peter 3:3-7) God's Word WILL stand and all of the prophecies for the end times in the Bible will come to past because God magnifies His Word above His own Name!!! (Psalm 138:2) Every single prophecy in the Bible up until today has been fulfilled. Every single prophecy about the future will happen. God is not a liar. If you don't believe now, you may not believe later because God will send a strong delusion and you will believe lies. (2 Thess. 2:11-12)
Does this disturb you? I hope it does if you aren't saved. But to the born-again believer, it should be exciting because you know you won't be here to experience the Tribulation. God loves the church, the bride of Jesus Christ. He will not cause her to experience the Tribulation – Christ will come for her and receive her to Himself. (John 14:3)
Despite the horrible things going on in this world at this moment, believers can rest because the best is yet to come for us!
This should bring you great comfort, even though you're going through trials at this time. There's always something for the Christian to be excited about when one thinks about the future! We have no need to fear!
Our job is to be a light to this lost and dying world. We need to give them hope as we have hope! Friend, don't be willfully ignorant of the end times. (2 Peter 3:5) If you are not born-again, confess your sins and repent of them. The time is coming when it will be too late for you to repent. You will remember each opportunity you were given by God to be saved; you will remember each time you laughed it off and ignored it. Please Reader, repent and accept Christ into your life. (Act 16:31, Rom 10:9) I want to be sure that anyone who reads the posts on this blog can know beyond a shadow of a doubt that they are going to Heaven. Have you received Christ as your Saviour? If no, your sins are not covered by His sacrificial offering of Himself. You have not been redeemed by His blood. It is no coincidence that God has placed you here for such a time as this so that you may be saved if you are not already. Please click here and the link will open up in a separate tab to You Can Be Born Again and Know It!