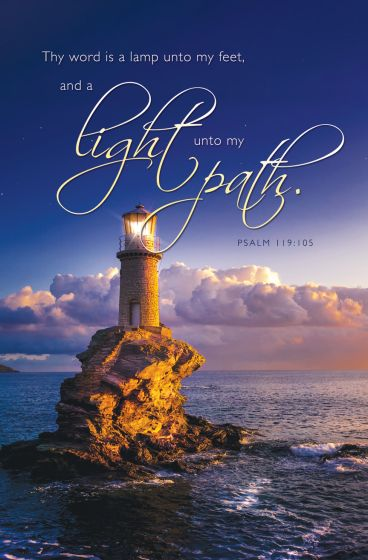 Good morning! Spring has sprung and the temperatures are slowly warming up! This season has always been one that I love to compare with being born-again. The newness of the trees and budding flowers are always a spirit lifter! The Creator of all things "spoke" into being everything you and I look at every single day! Genesis 1:3 beings with "And God said,"!
Jesus has not left us empty-handed in this world. He gives us His Word to light our way. Have you ever looked at a lighthouse and thought about the Lord Jesus? I sure have! Without these lighthouses, ships would run ashore at night and crash. In this same light, think of your Bible as a lighthouse to your heart and soul!
When I stay at a place I've never been to and get up in the middle of the night, I can be sure I'll stub my toe on something I wasn't accustomed to having in my path. Everything we go through in life can be compared to this analogy. We don't know what to expect and so we proceed with caution. But what if you carried a lighthouse with you? I know it sounds silly but think about it for a moment. With its light shining, your path would be illuminated and you'd have a clear picture of which direction to go, amen?
It's not any different with God's Word, my friend. Psalm 119:105 is a beautiful picture of God desiring that His children have a "map" or a "lighthouse" to show the way. People need to know the way in order to know where they are going. Our Bible is a literal GPS for man. If we need to know how to be saved, the Bible point us to it. If we want to know about God, the Bible tells us. If we want to know what is going to happen in the end times, the Bible takes us there. It is a spiritual compass which directs us and teaches us. Even a child can learn as he reads the stories laid out in its pages!
The Lord Jesus doesn't want us to be in the dark … ever! He gives us clear direction in the Bible so that we can never be lost. His very nature is "light" and He will always point you in the right direction. As we are living in the end times, we are bombarded with the enemy's efforts at corrupting our world. We are seeing less light and more darkness as the days draw nearer to the Tribulation period. The Bible has everything we need to prepare ourselves, my friend. The Bible repeatedly speaks to us how God doesn't want us to be ignorant on important topics; one of those topics is Christ's coming for His Bride, the Church, before the Tribulation begins.
When you read the Bible, read it with the intention that God is going to be shining and pointing to something that will help you. There is nothing in there that will harm you, friend! All of the Bible is there for our learning and for lighting our path. We are so blessed, especially in these end times! What book can you read where its prophecies all come true? It is not your local palm reader, but the words of the Living God. (John 1:1)
Friend, don't be willfully ignorant of the end times. (2 Peter 3:5) If you are not born-again, confess your sins and repent of them. The time is coming when it will be too late for you to repent. You will remember each opportunity you were given by God to be saved; you will remember each time you laughed it off and ignored it. Please Reader, repent and accept Christ into your life. (Act 16:31, Rom 10:9) I want to be sure that anyone who reads the posts on this blog can know beyond a shadow of a doubt that they are going to Heaven. Have you received Christ as your Saviour? If no, your sins are not covered by His sacrificial offering of Himself. You have not been redeemed by His blood. It is no coincidence that God has placed you here for such a time as this so that you may be saved if you are not already. Please click here and the link will open up in a separate tab to You Can Be Born Again and Know It!