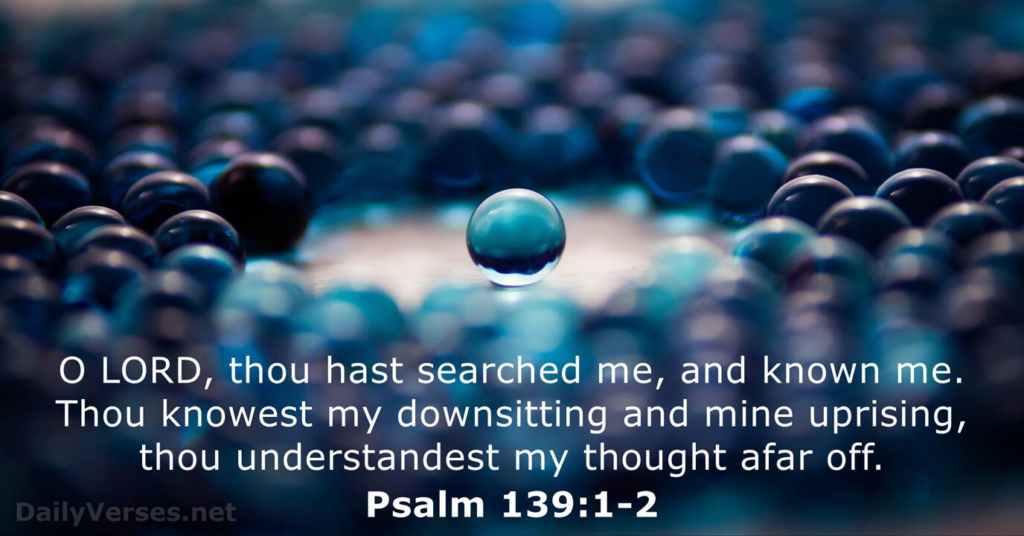 Good morning! If you think you aren't important to God, you have it all wrong. You are unique to God. He created you with a unique fingerprint and a unique DNA strand. The devil wants you to believe in evolution so people can believe that they are just a descendent of a blob. But God knows every thought you have ever thought or will think in your future! Those are a lot of thoughts! It doesn't end there, my friend. God knew you even before you were in your mother's womb!
Isn't that beautiful? The same God who created the universe and all that is in it knows you intimately! He knew every body part that grew inside your mother. You are special to Him; so special that He sent Jesus Christ to take on your sins so you would be saved! (Romans 5:8) Christ did this even while you were yet a sinner! He didn't expect you to clean up your life. If you could have done so, it would mean that your own works could get you into Heaven but we know that isn't so. (Eph. 2:8-9) That is enough to make you praise the Lord for all He has done for us! This is enough to bring comfort to the one who is discouraged.
Are you discouraged today, Christian? If yes, reflect on the day salvation was yours and be thankful! God has not forgotten you. It may seem as though He is silent in your calamity but He is most certainly working in the background. Romans 8:28 tells us that ALL things work together for good to them that love God. However, the verse doesn't end there… it continues to say "to them who are the called according to his purpose." Friend, the Lord has a purpose for you. You have a purpose in life – your main priority is to fear Him (honor Him with reverence) and keep His commandments. (Ecclesiastes 12:13) As believers, we desire to sin less and to keep His commandments because the Word says that none of them are burdensome. They are there to teach us, guide us and help us to live godly lives in order to honor Him! (1 John 5:3) By doing this, others will see God in us! We are to be walking Bibles for the lost world to see.
If you're a believer and reading this today, you know all these things above. But as an unbeliever, what I've written is foreign to you and you probably think I'm off my rocker. However, as the days are getting darker and more evil, it is all the more important that you get saved because things are about to get even darker and more evil. You will have no one to cling to as you experience the most horrific time ever.
Mark 13:19  For in those days shall be affliction, such as was not from the beginning of the creation which God created unto this time, neither shall be.
As believers, we must be a lighthouse to the lost – pointing them to the light of the Word of God. We must warn them of those dangerous times ahead! We have the whole manual that tells us what is to come. How comforting that is for the believer!! We are not to be caught unaware but we are to stand ready and watching for the appearance of our Lord and Saviour!
We need to give the lost hope as we have hope! Friend, don't be willfully ignorant of the end times. (2 Peter 3:5) If you are not born-again, confess your sins and repent of them. The time is coming when it will be too late for you to repent. You will remember each opportunity you were given by God to be saved; you will remember each time you laughed it off and ignored it. Please Reader, repent and accept Christ into your life. (Act 16:31, Rom 10:9) I want to be sure that anyone who reads the posts on this blog can know beyond a shadow of a doubt that they are going to Heaven. Have you received Christ as your Saviour? If no, your sins are not covered by His sacrificial offering of Himself. You have not been redeemed by His blood. It is no coincidence that God has placed you here for such a time as this so that you may be saved if you are not already. Please click here and the link will open up in a separate tab to You Can Be Born Again and Know It!