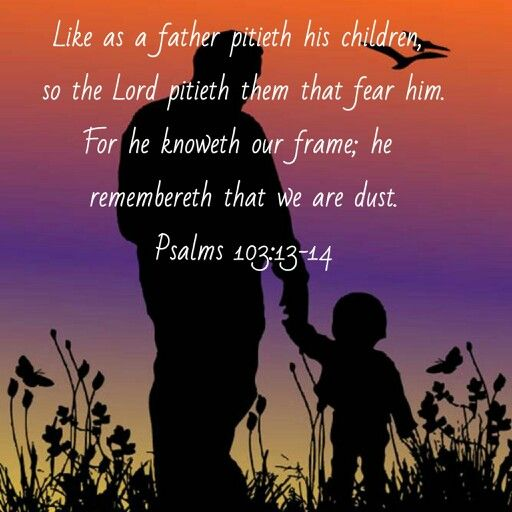 Good morning, Reader! Today's Scripture verses pricks my heart! Most believers see the Heavenly Father as a God of love and judgment. But they don't really see Him as a God who pities those that fear Him. Furthermore, the verse 14 says that God remembers we are weak, we are as dust. Of course He would know! He is the one who made us, amen?
When the world seems to be catapulting toward destruction and we wonder how much worse it can get, we should remind ourselves of God's compassion and what His some of His other characteristics.
Does this not bless you??? We are not left alone to deal with the tragedies and trials of this life! As born-again believers, Christ's Father becomes our Father! When the Father looks at us, He sees Christ and the blood He shed on the cross for our sins! We have become the "elect of God" and are able to go to the Father and plead for mercy and comfort during these difficult times! (Colossians 3:12)
In fact, the Father loves us so much that He has graven us on the palms of His hands, Christian!! I can't help but get goosebumps when I read these verses!
Unfortunately, the one who is not born-again cannot claim this promise! The unsaved world is treading spiritual waters trying to stay afloat in a world that is going mad. Sadly, they will not stay afloat. They are treading toward the destruction of their very soul. 😥 The devil's ability to blind the world is powerful. Many laugh at this and think it is foolishness, but the Bible specifically talks about it.
The sad thing is that the lost will never know the comfort, compassion and love that the Heavenly Father has awaiting for them should they accept the glorious gospel of Jesus Christ. They don't understand that Jesus is God, and He made Himself flesh so that He could be born of a virgin, live a sinless life to become the perfect sacrifice to atone for the lost's sins! God loves the world so much that He knew we could not gain entrance into Heaven on our own merit! (Romans 5:8, Romans 3:23, Romans 3:10) God lovingly provided a way for His creation to be able to come back into fellowship with Him! He lost that fellowship when Adam and Eve chose to sin in the Garden of Eden. God had made man to live forever and He provided for them a beautiful and bountiful garden in which to live! Adam and Eve gave it all up. But the Heavenly Father wants us to return to Him and for those who do, He will provide that fellowship once again! How much love and compassion is that! If you are not certain about salvation and don't know what to do, please go here! If you sincerely come to salvation after reading this, please leave a comment and I will be happy to help you with the next steps!
As believers, we have so much at our fingertips to pull from for encouragement. We can read our Bibles, search out songs to encourage our hearts, and bow before the Lord of lords and Kings of kings in prayer! We can have intimate fellowship with the Creator of the universe!! But to the person who is not born-again, he has only himself to turn to and there's no comfort in one's own heart. The unbeliever doesn't have the comfort that the believer does; they may be able to access the resources but that comfort just isn't there. Friend, don't be willfully ignorant of the end times. (2 Peter 3:5) If you are not born-again, confess your sins and repent of them. The time is coming when it will be too late for you to repent. You will remember each opportunity you were given by God to be saved; you will remember each time you laughed it off and ignored it. Please Reader, repent and accept Christ into your life. (Act 16:31, Rom 10:9) I want to be sure that anyone who reads the posts on this blog can know beyond a shadow of a doubt that they are going to Heaven. Have you received Christ as your Saviour? If no, your sins are not covered by His sacrificial offering of Himself. You have not been redeemed by His blood. It is no coincidence that God has placed you here for such a time as this so that you may be saved if you are not already. Please click here and the link will open up in a separate tab to You Can Be Born Again and Know It!