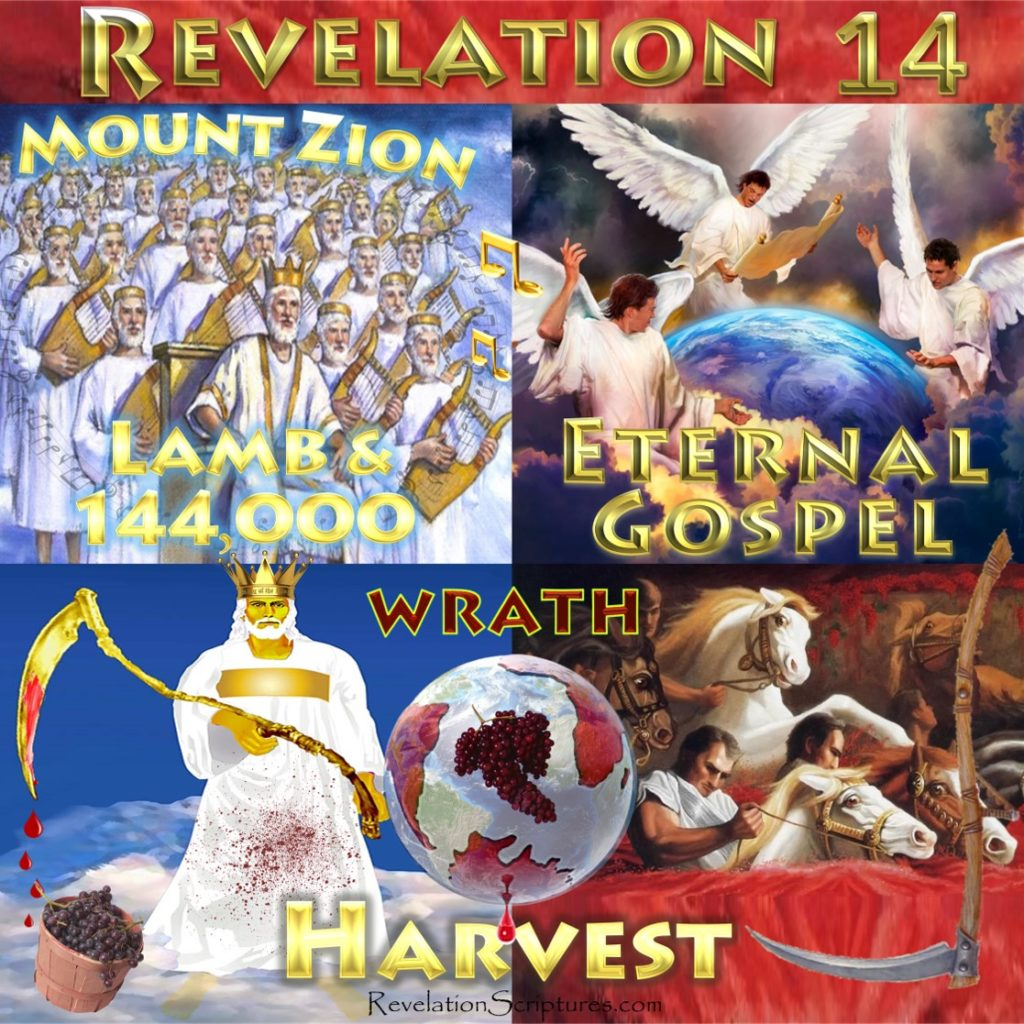 How I love coming to my desk in the mornings to spend time in the Word and with the Word! The Lord Jesus Christ reveals Himself through the Scriptures and teaches me about the upcoming events. How thrilling it is to be able to share these things with you, dear Reader!
So let's get on with our series! 😀 Today, we see three angels appearing on the scene. These angels each have a mission to complete. The first angel's mission shows us the Lord's great mercy! How can I say this when the worse judgment ever is coming to earth and its inhabitants? I can say this because God is giving every soul an opportunity to be saved before the rest of His judgments are dispersed! That is true mercy!! The first angel role is to (Revelation 14:6-7):
proclaim the gospel to all the earth
exhort people to fear God and to worship Him
warn of God's judgment
declare God as Creator
The second angel (Revelation 14:8) announces the fall of Babylon the Great. This Babylon will have the same foundation as the original Babylon. Original Babylon was known for being the seat of the occult and sexual immorality. We see this behavior in today's society and it will be all the more prevalent during the Tribulation. Notice that all nations drink of the wine of the wrath of her fornication! Noah Webster's 1828 Diction defines fornication below. If we take his definition literally, the Tribulation Babylon will reveal people who cannot contain themselves sexually; notice it includes incest! Not only will Babylon be sexually perverted but she will forsake God and worship idols! That idol is none other than the Tribulation idol, the Antichrist!
FORNICA'TION, n. [L. fornicatio.]

The incontinence or lewdness of unmarried persons, male or female; also, the criminal conversation of a married man with an unmarried woman.

Adultery. Mat 5.

Incest. 1 Cor 5.

Idolatry; a forsaking of the true God, and worshipping of idols. 2 Chr 21. Rev 19.
Now we take a look at the third angel (Revelation 14:9-11) and he reveals the upcoming judgment:
warns of God's judgment coming upon the inhabitants of the earth who have worshipped the beast and his image and received the mark of the beast.
their torment is

eternal

(see Revelation 20:10 and Mark 9:48)
As we look into these three angels and their message, we see that the first one shows God's grace despite the turmoil on the planet. This invitation to accept the Gospel of Christ is unique in that God will be using an angel to preach the Gospel. This has always been entrusted to people up until this point. Now that the church has been removed, the 144,000 are gone, the Two Witnesses are gone, who is left? In these verses, we see that God calls upon an angel to fly in mid air (atmosphere) proclaiming the Gospel to every nation, tongue and tribe! How will they do this? Again, the Internet may play a huge role in this. Everyone will hear the Gospel in his own language! If you recall the previous posts covering global population up to this point, four billion people have died from the judgments! The five plus billion that remain have spiritually hardened hearts and they would rather follow the Antichrist than hear about God!
This goes to show you God's mercy, amen? Once again, everyone will have an opportunity to hear the good news and they will all be without excuse when they stand before the Lord on judgment day. God will use trials and tribulation as a "last call" to draw people to salvation. He loves us so much that as a last ditch effort, He goes after His creation to give them another opportunity to hear. 1Ti 2:4 Who will have all men to be saved, and to come unto the knowledge of the truth. People, don't you get it? God didn't create Hell for you. He originally created it for the devil and the fallen angels. Instead, God created Eden for mankind. Eden was a perfect place providing Adam and Eve with everything they could possibly want! There was no sin – all the animals were docile and there was no death! But Adam and Eve chose to listen to Satan as he tempted them and caused them to doubt God's Word! The temptation Satan provided was but for a moment, but their choice was for eternity. They tried to cover their sin with a covering made by their own hands. But that did not work. They were kicked out of Eden for that one sin, Reader! After that point, they could not make up for that sin on their own. They could not cover it up nor could they erase it on their own. The shed blood of a spotless lamb was taught to them by God as a promise of what was to come. That is the whole purpose of Christ's birth, death, burial and resurrection! Only His perfect shed blood could cover and erase that sin. (Titus 3:5-7)
Moving on to the second angel, he announces the fall of Babylon the Great (Revelation 14:8) which we will read about further in chapter 18. This declaration will bring an end of this system which caused all the nations to drink the wine of the wrath of her fornication. The word "fornication" is used twelve times in the Book of Revelation alone! As we read above, not only can this word mean sex outside of marriage, adultery and incest, but it can also mean idolatry. Idolatry is the forsaking of the One True God and worshipping idol. An idol is anything that consumes our thoughts and time instead of God. On a side note, we can spend our time doing all the right things in life, including philanthropic deeds, but if we neglect our salvation and living for the Lord, we have replaced God with an idol. We are at the point in this series where the false prophet has convinced the world to worship the Antichrist. Is it any wonder that this Babylon (a city which reflects the sins of the original Babylon) is going to fall because of God's judgments?
The third angel (Revelation 14:9-11) warns of God's upcoming judgments on the inhabitants of earth who have worshipped the beast and his image and have received his mark. He tells them they will be tormented for all eternity. Notice that Revelation 14:11 continues to say that this torment will give them no rest at all, day or night!
Our verses end with a blessing to those who are saved and keep the commandments of God and the faith of Jesus! Another blessing will be given to those who die from this point on that they may rest from their work for Christ on earth and this work will not be forgotten.
Friend, it is no coincidence that God has placed you here for such a time as this so that you may be saved if you are not already. Please click here and the link will open up in a separate tab to You Can Be Born Again and Know It!