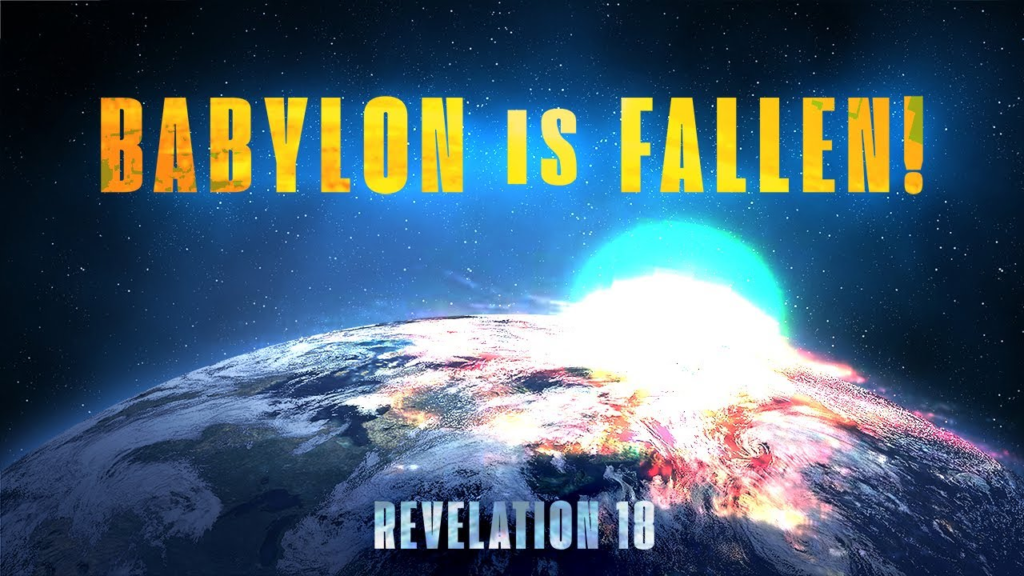 Good morning! I don't ever look forward to someone being punished, but I must admit that although I won't be here for it, I'm looking forward to Babylon being destroyed! As I said in the last post, all but one reference to Babylon in the Scriptures are literal so it stands to reason that the Babylon of Revelation is literal as well! We saw spiritual Babylon (one-world religion) in the last chapter and we are now seeing the commercial Babylon (one-world government).
When something is repeated in Scripture, it is meant to stand out. We see in verse two that Babylon is fallen, is fallen! God is being emphatic in stating that Babylon will be destroyed. There's no if's and's or but's; Babylon will be destroyed. Furthermore, it is said that it is "the habitation of devils, and the hold of every foul spirit, and a cage of every unclean and hateful bird." Not only is it destroyed, but look at what it's made of!
We also see that all the nations become intoxicated with materialism and greed. Babylon has practiced corruption with the nations and all their merchants and they are consumed with its sinful ways. Notice the fact that the kings of the earth have committed fornication with her. Their dedication to Babylon is sinfully greedy. They do not meet the needs of the poor or those less fortunate. I realize that there's a bit of greed and materialism in all of us but during the Tribulation, it will be far worse. We must remember that our identity is with the Lord, not with our "stuff," amen? If people today are willing to pay $1,000 for a cellphone or $800 for a pair of sneakers, what do you think it will be like during the Tribulation? Today, people are murdered for these things!
Yet again, God calls out to the remnant to "Come out of her, my people"! There is always a remnant that follow the Lord and it will be no different during even the worse times of the Tribulation. The Lord remembers Babylon's sins and those who partake in it. Those people will receive her plagues! We see in verse eight that the plagues will come in one day: death, mourning and famine! In one day! I love how the verse ends: "for strong is the Lord God who judgeth her." Amen and amen! No matter how bad it gets, one must remember that the Lord God is strong and they will be judged!
We will end today's post here. Don't be the person who continues to doubt God's Word. Absolutely everything ever predicted has come true or is about to come true. There will be no stone left unturned and every word of the Bible will be fulfilled: Mat 5:18 For verily I say unto you, Till heaven and earth pass, one jot or one tittle shall in no wise pass from the law, till all be fulfilled.
There will be no second chances after you die. The Bible says in Hebrews 9:27 And as it is appointed unto men once to die, but after this the judgment. Therefore, once you breathe your last breath, you walk from that spot into the Judgment Seat of Christ. It is there that He will check to see if your name is written in the Lamb's Book of Life (Rev 21:27). If you are not born again, your name won't be found there and you will be cast into the lake of fire (Rev 20:15). So be honest with yourself, Reader. Have you received Christ as your Saviour? If no, your sins are not covered by His sacrificial offering of Himself. You have not been redeemed by His blood. It is no coincidence that God has placed you here for such a time as this so that you may be saved if you are not already. Please click here and the link will open up in a separate tab to You Can Be Born Again and Know It!