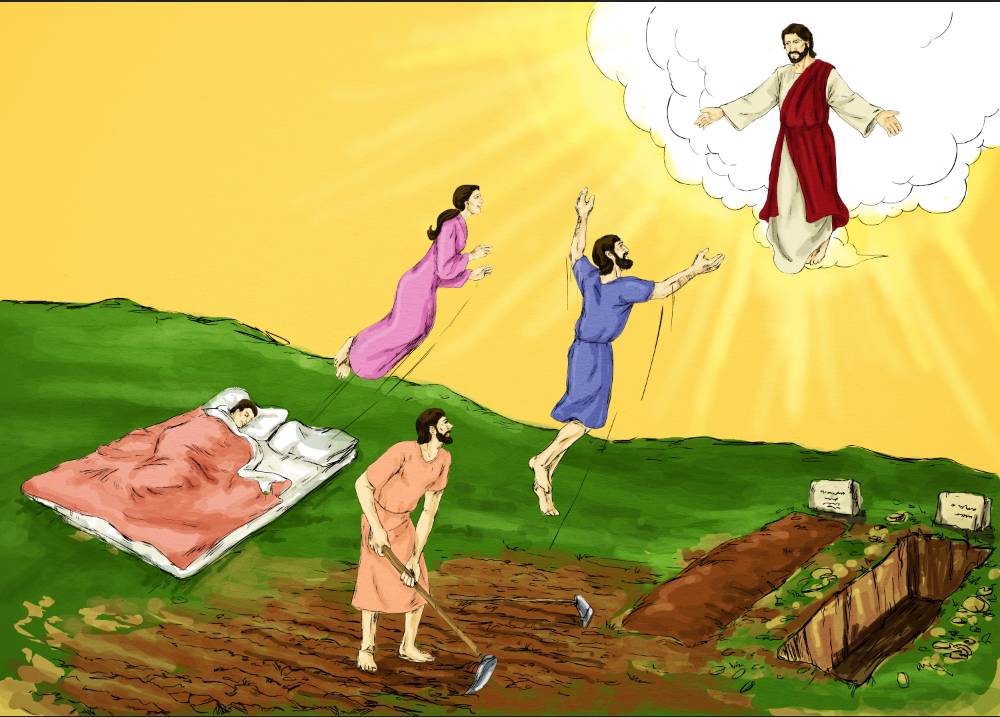 Rise and shine 🙂 Are you ready to dive into today's topic? So what's next on God's prophetic calendar? The Rapture is the next major event according to God's Word. Notice who is spoken of in the verses above? The Apostle Paul describes two groups: "they/them" and "ye"! Those referenced as "they/them" will say "Peace and safety" meaning that they are not looking for judgment from God – they think everything is OK. However, Paul says "they shall not escape." Escape what? They shall not escape the Tribulation.
Then Paul changes to the ones he's speaking to. He tells the Thessalonians that "But ye brethren" are not in darkness, that that day should overtake you as a thief! Wow! Paul starts the very next sentence with the word "But"! Then he continues to say that the brethren (those who are in Christ, born again) are NOT in darkness that that day (what day – the Tribulation) should overtake them. He had taught them about the Rapture and he is reminding them of that teaching.
Born again believers world wide are looking for this next prophetic event on God's calendar!!! As a reminder, the word "rapture" is not found in the Bible, but neither is the word "bible"! The terminology used in 1 Thessalonians 4:17 is "caught up":
As you recall from my previous posts, the New Testament was written in Greek and translated into English. The Greek word for "caught up" is:
ἁρπάζω
harpazō
har-pad'-zo
From a derivative of G138; to seize (in various applications): – catch (away, up), pluck, pull, take (by force).

Strong's Concordance
Either way you look at this term as it relates to 1 Thessalonians 4:17, you see that "caught up" indicates that there will be some kind of removal of believers that will be done and those believers will meet Christ "in the air" and we'll be with Him forever. Who will be caught up?
the dead in Christ will rise first
and then we which are alive
How will they be "caught up" according to the Greek word "harpazo's" definition? They:
will be caught away
will be caught up
will be plucked
will be pulled
will be taken by force" from this earth into the air!
This same Greek word was used in Acts 8:30 when Philip was caught away by the Spirit of the Lord after he led the Ethiopian eunuch to salvation and afterward baptized him.
Either definition you pick from the Greek definition, Christians will be removed quickly: in the twinkling of an eye!
Only two types of Christians will be raptured, reader! Those who are already dead and those who are alive at the time the Rapture occurs. The picture at the top of this post is a wonderful depiction of the blessed event! Notice that there were two in the grave, two in bed, and two in the field working. Only one of each category was caught up and the others stayed on earth. Paul says that sudden destruction will come upon those people who remain on earth after the Rapture. These people may have already heard the gospel preached and decided they loved their sin more than living for the Lord. How sad is that?
Praise the Lord! \o/ Does this topic excite you, reader? It surely does me! But to the one who is not born again, it is a different story. Friend, it is no coincidence that God has placed you here for such a time as this so that you may be saved. Please click here and the link will open up in a separate tab to You Can Be Born Again and Know It!