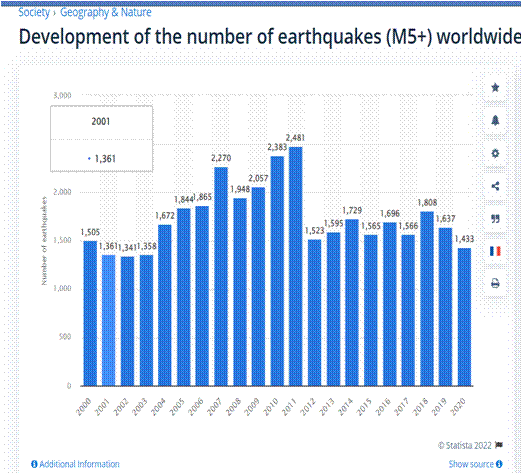 The dawn is breaking and it's time to wake up, dear reader! Wipe the sleep from your eyes, get that cup of your favorite morning beverage and let's get going. I thought I would share some facts which are an indication to the end times.
I subscribe to an app that alerts me any time there is an earthquake that is greater than a 5.0 on the Richter Scale. Why you may ask? A message covering the Rapture and the end times is what drew me to the Lord! I've been excited about any topic dealing with the end times ever since! So let's proceed.
Jesus' message above mentioned that increased earthquakes would be indicative that we were in the end times. He mentioned that all these things listed in verse 7 are the "beginning of sorrows." The New Testament was originally written in Greek and they can have several words for one word that we use in the English language. For example, the word "sorrows" in verse 8 according to the Greek is:
ōdin
o-deen'
Akin to G3601; a pang or throe, especially of childbirth: – pain, sorrow, travail.

Strong's Concordance
That Greek word tells us that when we see these increased famines, pestilences and earthquakes, it will be like having birth pains. Review the chart above. We can truly see these "birth pains" in today's picture of earthquakes from the year 2000 through 2020 with a rating above a 5.0 rating on the Richter Scale. You can also see from 2004 to 2011, earthquakes rose significantly. Beginning in 2012, they decreased but they were still higher than the years prior 2011. This is exactly like labor pains. The pains get stronger and closer together.
The USGS states that there were three major earthquakes (greater than 6.0) in 1900. One hundred years later, in 2000, USGS recorded 160. This is more than 150 major quakes than in 1900. Between 1900 to 1918, USGS recorded 147 major quakes. This is 13 less jolts than the 160 recorded in 2000. Between 2000 to 2018, the USGS has already recorded 2,911 major quakes so far. This is an incredible 2,764 more tremors than between 1900 to 1918. And you can't even load the map on the USGS website! Between 1900 to 1918, the yearly average number of major quakes was 12. Since 2000, this number has risen to 243/year.

https://strangesounds.org/2018/11/major-earthquake-increase-dramatically.html
This is just one of the three items mentioned in today's Bible verse. I'm sure if we were to research the other two, we would find similar results. The fact that these three events will increase in frequency and intensity reveals to us that we are in fact in the end times. There's no need to be scared for the born-again believer. It's an exciting time for us to be alive actually. It means that we won't die a physical death but be raptured! Do you realize how wonderful that is for the believer???? Imagine not dying!
Does this excite you, reader? It surely does me! But to the one who is not saved, it is a different story. Friend, it is no coincidence that God has placed you here for such a time as this so that you may be saved. Please click here and the link will open up in a separate tab to You Can Be Born Again and Know It!