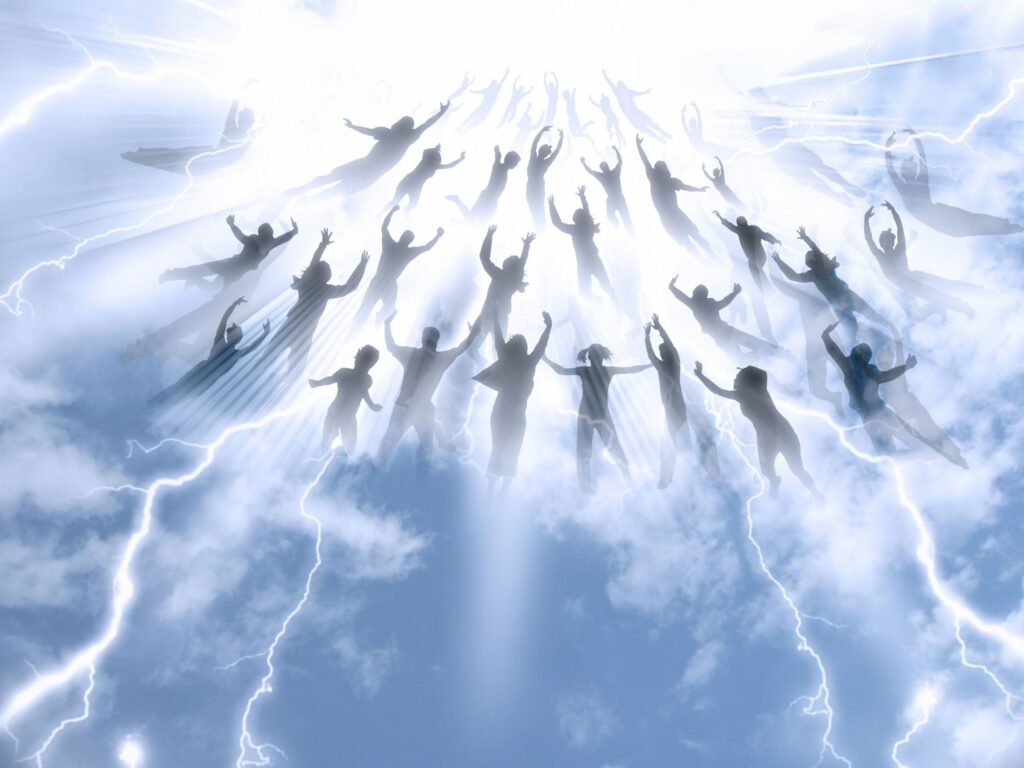 Look alive, Reader! Get excited and look up! The picture above gives you an idea of what the Rapture may look like! I have no idea what the world will see, if anything. The Bible does not go into that. But I can see (in my mind's eye) something similar to this as I'm going up to meet Christ! Oh what a day that will be, when my Jesus I shall see!!
I thought that we would do a review of Scriptures and those that refer to the Rapture, directly or indirectly. As a believer of the Pre-Tribulation Rapture, I read verses with that particular event in mind. They do not indicate whether it will be Pre-Tribulation or not, but they are most certainly encouraging to the believer who is longing for Christ's return! Who knows … it could be TODAY! \o/
Oh what praise we will sing when we receive our glorified body!!! \o/ I think of my dear precious, spiritual mother who has suffered with fibromyalgia since the 1970's! She will no longer be in pain but instead, she will be able to face eternity with that new body!! No more pain – no more suffering! What a day that will be!
Are you encouraged yet? Just the thought of Christ's appearing excites the spirit within me! It's like looking forward to a wonderful vacation but MUCH better! It's a vacation like no other! Why? Because our destination is in Heaven where perfection is beheld in everything! Here it says that when He appears, we shall appear with Him in glory!
Can you picture this? Christ's glorious appearing is what every believer waits for with hope in his/her heart! If we were to go through the Tribulation, it would be extremely difficult to look forward to that blessed hope of seeing Him. Since it is a time of great suffering and tribulation that has NEVER occurred on earth, it would consume of our thoughts! We would be worried about where to hide, where to get our next meal, etc. Instead, we are looking for a blessed hope! Noah Webster defines hope as:
A desire of some good, accompanied with at least a slight expectation of obtaining it, or a belief that it is obtainable. Hope differs from wish and desire in this, that it implies some expectation of obtaining the good desired, or the possibility of possessing it. Hope therefore always gives pleasure or joy; whereas wish and desire may produce or be accompanied with pain and anxiety.
Not only does Paul call it "hope," but he tells us to look for the "blessed hope"!
The Rapture is closer to us now than it was at the Apostle James' time of writing. The believers' patience awaiting the Rapture is so needed, especially living in the world we live in now. The time is close – at any moment. We need to be busy winning souls to Christ, friend! God placed you in the exact place where He wants you to be. He has put people around you who are desperately lost. Be busy with His work – share the gospel and lead others to Him so they don't miss out on this glorious hope!
On a side note, how much hope would I have knowing that I will have to live through the most tumultuous time since the Great Flood? How much hope would I have knowing that I will have to deny the mark of the beast and possibly be tortured/killed for it? Although I know that Heaven is my home and I will go there once I die for my testimony, it would be frightening knowing this was my end. But instead, Paul said:
But I would have this hope if I am looking forward to Rapture! Unfortunately, most churches no longer preach about the Rapture at all, let alone the Pre-Tribulation Rapture. We Christians need to be encouraged to share Christ with as many people as possible and to share with them the same message of hope. The Rapture is what led me to Christ and I cannot be the only one. This is why I'm doing this series!
Does the Rapture excite you, reader? It surely does me! But to the one who is not saved, it is a different story. Friend, it is no coincidence that God has placed you here for such a time as this so that you may be saved. Please click here and the link will open up in a separate tab to You Can Be Born Again and Know It!