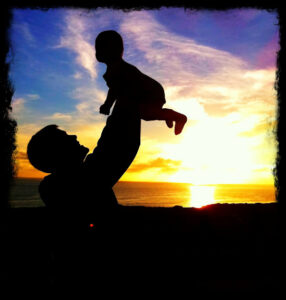 Good morning, reader! Are you receiving a blessing from this series? I know that I am! It has helped to me be fully convinced that we are most certainly living in the end times. If you are a born again Christian, pray for a burden to reach the lost. I remember being clueless to the things of God and anything having to do with Him. I praise Him for sending my dear precious friend to lead me to Him! It is this burden that compels me to reach out to those who may visit this blog. May the Holy Spirit of the most High God work in the hearts of all those who come here!
Today's sin listed in 2 Timothy 3:2 is surprising to me because I was raised to obey my parents; not because it was the scriptural thing to do, but because this teaching was the result of the world's moral compass at the time of my upbringing. If you were raised in a family where all Dad had to do was look at you and you knew you were in trouble, then praise God! It's a rare thing in today's world.
Today, however, a household with both father and mother are not as common as when I was growing up. A one-parent household means that it is more difficult when one parent has to play the roles of both parents. A mother who has to work to make ends meet cannot possibly provide her children with the same care as if she were at home. The children do not have the daily male influence that is much needed to teach boys how to be men. Instead, boys only have their mother to pattern themselves after. A boy doesn't need to learn to be a woman – he needs to learn to be a man who will protect his family and teach his sons how to be men. It's the same if the father is the one who has to be the only parent raising his children. He cannot teach his daughters how to be women because it does not come "naturally" to him.
Unfortunately, with the brazen boldness of social media and television ever present in a child's life today, is it any wonder why children have become disobedient? Women have not taught their daughters how to raise respectful children according to the scriptures. Fathers have not provided the guidance and discipline that children so desperately need. My heart aches for Christian parents who are trying to raise godly children in today's wicked environment. It takes a lot more work for them because children are influenced by their environment. They are in school eight hours a day during the week and with their parents, maybe a total of four hours. Today's Christian parent must pack four hours worth of godly teaching to make up for eight hours of ungodly indoctrination!
These are just a few verses on how to teach your child which can be found in the very pages of our Bible. Don't take them lightly, dear reader. God gives us instructions that we need to heed if we want our children to walk closely with Him.
All disobedience should be corrected at the moment of the infraction. It is parents' responsibility to teach their child to be obedient because that child will grow into an adult who knows the difference. But a child left to himself will bring embarrassment and shame. He will act like a wild child in public and the mother will spend her time yelling at him. Instead, teaching him to obey will help him as an adult. When there is a serious offense, like lying, a spanking is in order. This should be used as a last resort when other means of discipline (like restrictions) don't work.
Some children have softer hearts than others and don't ever need to be spanked. A simple talking to or restriction is all that's needed. But the end result is a child who will grow up knowing there are boundaries and they will love their parents.
So getting back to this disobedience being a sign of the end times, one can witness it in a grocery store or restaurant. Children left to themselves yell and scream and act like a wild child. They don't stay seated and run around the store or restaurant like they own the place. That child grows up to think that he/she is the center of everyone's world. They grow up to be narcissists and hard to live with. I've seen the decline in obedient children first hand when I worked in Junior Church, as well as the nursery. It's truly sad to witness our future generations turn out to be defiant.
It's up to us Christians to train our children so that it is evident to the world that there's a difference! I'm not saying that it's impossible for children living in a one-parent household to be well raised. I've seen this with my own eyes but it was a lot of work for that one parent! Some things come with much prayer and fasting.
If you happen to be reading this and are not saved, it is no coincidence. God has placed you here for such a time as this so that you may be saved. Please click here and the link will open up in a separate tab to You Can Be Born Again and Know It!