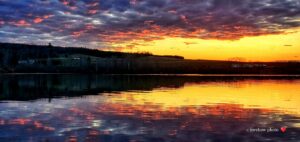 Good morning, dear Reader! Is it a good morning? How did you start your morning? Did you sit down with your favorite beverage and watch TV? Or did you sit down with your favorite beverage and read your Bible? Jesus said,
So what is your treasure today? Is it in your wealth? Is it with the one you are in love with?
I truly believe that today's reading proves we are in the end times! Our world is filled with people who are "without natural affection"! Just what is this natural affection? When a husband and wife have a baby, they don't have to fall in love with that baby. The love that spills forth from their heart comes naturally. It is a God-given gift and one that cannot be replaced. Therefore, this type of affection is one that is between parents and their children. This affection was not under scrutiny in previous years; it was reserved for those families that were severely broken and dysfunctional.
Statistically speaking, in recent years (since the 1960's), we have seen a terrible decline in the institution of the family. Single family homes is one of the contributors. Another is the legalization of abortion 51 years ago, in 1970. Prayer and the teaching from the Bible were removed from schools in 1963. This decline was a direct result of the removal of God in our society. This decline resulted in parents not teaching their children from the Scriptures. We do, on the other hand, see parents looking down at their cell phones and wasting countless hours instead of spending those hours loving their children and teaching them what the Bible has to say about the things they are learning in school.
We see parents who leave the teaching to the public schools, television and others. The results are children who do not have that respect and love for their parents, and vice versa. Parents don't have a vested interest in their child's spiritual education.
Friend, God is holy and desires a relationship with His creation. He desires that we grow in truth and grace. His word teaches us how to be good parents and how to raise children who will love Him and grow spiritually. Today's children are disrespectful and belligerent to their parents; they mimic what they see in the home, but foremost what is on television and their friends' homes. Children should not be a nuisance to their parents but viewed as a precious gift from the Lord!
Women have lost focus on what is important in life. I understand that many women have to work outside the home in order to make ends meet. A working mom comes home exhausted from work, knowing that her chores don't end when she leaves the office. She has more at home waiting for her. Her family receives the dregs of her energy and patience. It's even worse if she is the only parent in the home! Her challenges are great but still doable if the Lord is kept the center of the home. Even though I was born again and a working wife and mother, it was very difficult to have anything left for my family at the end of a hard day at work. It took every fiber of my being to give my family the very best of me and not what was left over.
Children need both mother and father because each parent has a set of different skills given to them by God. On a side note, I've been married over 47 years at this point, and I've seen what strengths my husband has and how he applied those strengths in raising our sons. He taught them to be men. What a wonderful father he is! As their mother, I taught them how to take care of themselves so when they left home, they would be prepared (such as doing their own laundry, cooking enough things to keep them alive, cleaning their surroundings so they don't live in filth).
An eye opening experience for me was growing up with a mother who worked a full-time job and two part-time jobs to help get my father out of debt brought on by alcoholism. Because she was not at home most of the time, I didn't learned to sew, cook or do laundry before I was married. I learned things from my best friend's Mom, as well as my precious mother-in-law. She was the one who taught me most things that a woman should know to take care of her family.
Natural affection for children thrives when God is in the home. When God is not in the home, children are thought to be a burden; and what is in the heart comes out of the mouth and in the parent's attitude.
Granted we have seen the decline of the family for the last 60 years so you may think that this is not indicative of the end times. But tragedy such as this does not happen over night. It's a slow process and what we see today is kids raising kids without God as their center. The natural affection of a husband and wife toward their child is no longer the majority, but sadly the minority. How sad this is! Come quickly, Lord Jesus!
If you happen to be reading this and are not saved, it is no coincidence. God has placed you here for such a time as this so that you may be saved. Please click here and the link will open up in a separate tab to You Can Be Born Again and Know It!