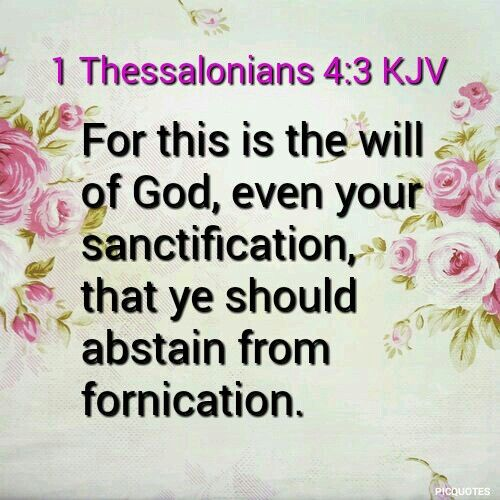 Good morning, Reader! My heart is saddened because of the decline of morality, not only in the U.S. but in the entire world. Some countries have legalized prostitution and others don't even bat an eye when couples live together rather than get married. It breaks my heart to see the beautiful institution of marriage breaking down because of men's sinful hearts.
Today's sin of fornication falls under sexual immorality but is further defined as:
The incontinence or lewdness of unmarried persons, male or female; also, the criminal conversation of a married man with an unmarried woman.

Incest. 1 Cor 5.

Idolatry; a forsaking of the true God, and worshipping of idols. 2 Chr 21. Rev 19.

Noah Webster's 1828 Dictionary
Isn't it interesting the Mr. Webster used the word "incontinence"? We imagine it to relate only to the elderly who cannot control their bodily functions. But it's use here is very pertinent, in my opinion. It means that an unmarried person cannot control his/her desires! I also find it interesting that the Greek word for fornication is:
πορνεία
porneia
por-ni'-ah
From G4203; harlotry (including adultery and incest); figuratively idolatry: – fornication.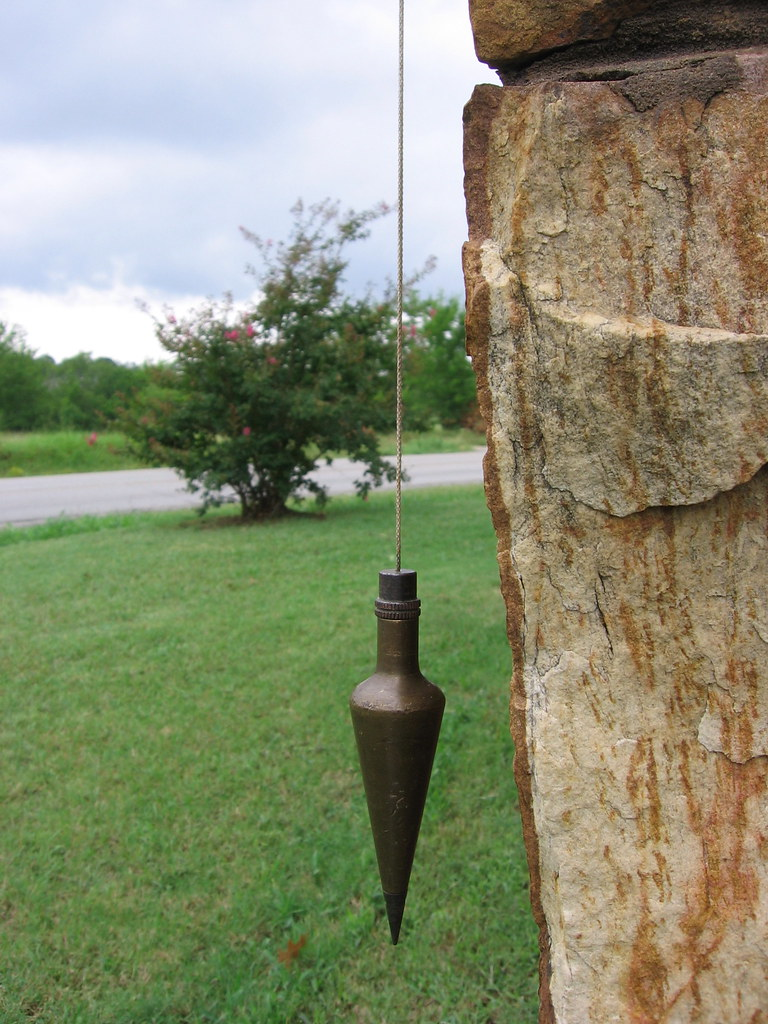 Yes, it is derived from the same English word for pornography. We covered this in part in a previous post on "Sexually Immoral" but we'll unpack it further here. Fornication is as serious a matter as adultery! Sex outside the bonds of marriage is a sin. Today, people live together without thinking twice about it; what's extremely disturbing is that this sin exists amongst Christians! Reader, does God consider this a sin or not? We must turn to the Word of God for our answers! We cannot simply do as the world does and think it's OK. We must have a spiritual plumb line in our Christian walk. Do you know what a plumb line is? Look to your left. Builders still use a plumb line to ensure the building is vertically straight. The building is not straight, as we can see by the plumb line next to it. The plumb line is directed toward the earth's center of gravity which never changes; however the building, erected by man, isn't straight at all. Had the builder used a plumb line, he would have seen his error. Friend, the Bible IS our plumb line. Just as the law of the land is what guides citizens, the Bible guides its readers. To top it all, the Bible is considered truth from God!
The world has lost its spiritual plumb line and has been deceived into believing that the Bible is no longer of moral value. The father of lies is the devil (John 8:44) and his efforts to deceive have not changed since the beginning of time. He's an expert at it! He convinced Eve in the Garden of Eden that God "didn't really mean what she thought He meant" but that he, Satan, knew better than God!
God's Word IS truth, Reader! There are way too many Bible verses that state this, written by different men, to ignore! (2 Sam 7:28, Psalm 119:160, John 17:17, 1 Kings 17:24, Psalm 19:9, Psalm 119:43, Psalm 119:151, 2 Cor 6:7, Psalm 119:142, Matt 22:16, Mark 12:14, John 18:37, John 5:32, Rom 2:20, Gal 2:5, Eph 1:13, Col 1:5, 2 Tim 3:16, 1 John 2:8, Rev 21:5, Rev 22:6, 1 Kings 22:16, Dan 8:26)
So you must decide for yourself whether God's Word is true or not. If you say you are a Christian, are you being deceived as Eve was? She walked with the Lord in the Garden and yet she was still deceived. If you're willing to continue in sin, then you must ask yourself if you are a truly a Christian or a "Christian" in name only. 2 Cor. 5:17 says that once you are saved, your old life passes away and your new life is formed. The Holy Spirit convicts us of sin and changes us from within. Any sexual sin is serious in God's eyes. How do I know this? I know this because of today's verse. God categorizes the person who commits this sin as one who will not inherit the kingdom of God. (Galatians 5:21)
The sin of fornication is summed up as: anyone who has sex outside of marriage. Why is marriage considered so holy? Marriage is holy because God ordained it. Marriage is holy when it is Christ centered. A holy marriage produces children who are loved and who have a father and a mother.
Remember, the devil does the exact opposite of what God does. Therefore, if marriage is God ordained, then fornication and cohabitation is Satan ordained. Marriage to the devil doesn't have to be between a man and a woman. If the devil manages to destroy marriage, then he succeeds at hurting God and destroying God's image in the sight of man! Remember when he tempted Jesus in the wilderness? Satan tried to distract Jesus with the world's temptations. Jesus responded with Scripture! Then Satan tried to get Jesus to worship him! Again, Jesus responds with Scripture and said:
Remember Gen. 3:5 For God doth know that in the day ye eat thereof, then your eyes shall be opened, and ye shall be as gods, knowing good and evil. The devil wants to take the place of God and this goal is exposed to us in 2 Thess. 2:3-4. Of course he's going to try to deceive you to believe that God is not God at all and that none of the Bible is true. If God is not all about truth (as the devil tried to trick Eve into believing in the Garden), then what God says about those who commit these sins is not true either. But why take the chance? What if everything in the Bible is true???
There will come a time when it will be too late for you to repent. You will remember each opportunity you were given by God to be saved; you will remember each time you laughed it off and ignored it. You will wish you had not committed the sin of fornication and kept yourself until marriage. Please Reader, if you are guilty of this sin, it's not too late. Repent of it and accept Christ into your life. (Act 16:31, Rom 10:9) I want to be sure that anyone who reads the posts on this blog can know beyond a shadow of a doubt that they are going to Heaven. Have you received Christ as your Saviour? If no, your sins are not covered by His sacrificial offering of Himself. You have not been redeemed by His blood. God will do what He said He would (Ecc. 3:14). It is no coincidence that God has placed you here for such a time as this so that you may be saved if you are not already. Please click here and the link will open up in a separate tab to You Can Be Born Again and Know It!