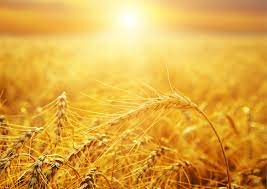 Good morning, reader! Have you been blessed by this series so far? I love finding the Lord Jesus Christ throughout each book in the Bible. Even in Genesis 3:15, we see the "Scarlet Thread of Redemption" given to us! God created a perfect man and gave him a perfect place to live. But man chose to sin, despite the God's perfect creation. It's not God's fault that man had the free will to sin and chose to do so! It is our nature to sin by choice. Praise the Lord for our Saviour, the perfect Lamb of God, who gave Himself for us.
Now on to today's feast: The Feast of First Fruits! This feast was to be celebrated the day after the Sabbath (which is the first day of the week), once they arrived in the Promised Land! (Leviticus 23:10) They were to give to the priest a sheaf from their harvest and the priest would wave it (Leviticus 23:11) before the Lord. They would also offer a year-old male lamb without blemish. The food and drink offering was also given as a sign of fellowship with God (Leviticus 23:13-14). This was all to be done so Israel would know that God should receive their very best. It also helped Israel to remember who provided their food! The mere fact that they gave God of their First Fruits would teach them to trust in His provision; who could know if it would be a sparse harvest. When we give God the very best and of our own first fruits of our labor, He will take care of the rest! This Feast reminds Israel of their fellowship and dedication
What is the principle behind the Feast of Firstfruits? The people of God were to know that they owe their best to God. Nothing they have did not come from Him. It was definitely risky for them to offer the first of their harvest to God. Who knew if there would be more harvest? But in doing so, they were to learn faith and trust in the God who has proven His faithfulness over and over again. For us too, this reminds us that we don't just give God the best, we are also to give God first. This is His due and our priority. This Feast was also to mark their dedication and fellowship with Jehova-Jireh, the God who provides.
The Feast of First Fruits was also used as a provision for the priests. Numbers 18:2-13 gives us that account. So we see Israel giving of their first fruits to God; then God provided for the priests using these first fruits. We use this same method today – we pay our tithes and offerings to God, Who in turn provides for the man of God and the running of His church house.
So how does this feast reveal Christ? We know that the Lord arose on the first day of the week. (Matthew 28:1-10) Jesus was also the first fruit of those who had been dead and having the resurrection of life! (1 Corinthians 15:20, 23) Christ received His new glorified body and when He comes in the clouds to rapture His church, the dead first and after them, we will receive our new glorified bodies!!! Jesus Christ is the first fruit of rising above death's sting. Without His resurrection, we are most miserable (1 Corinthians 15:19)! But because we know that Jesus arose, it encourages us that we will follow!
Do you see the Lord in this particular Feast? Do you know the Lord Jesus Christ, personally or do you only know of Him? He is the First Fruit through His resurrection, which gives every man an opportunity to participate in the Rapture!! I want to be sure that anyone who reads the posts on this blog can know beyond a shadow of a doubt that they are going to Heaven. Have you received Christ as your Saviour? If no, your sins are not covered by His sacrificial offering of Himself. You have not been redeemed by His blood. It is no coincidence that God has placed you here for such a time as this so that you may be saved if you are not already. Please click here and the link will open up in a separate tab to You Can Be Born Again and Know It!