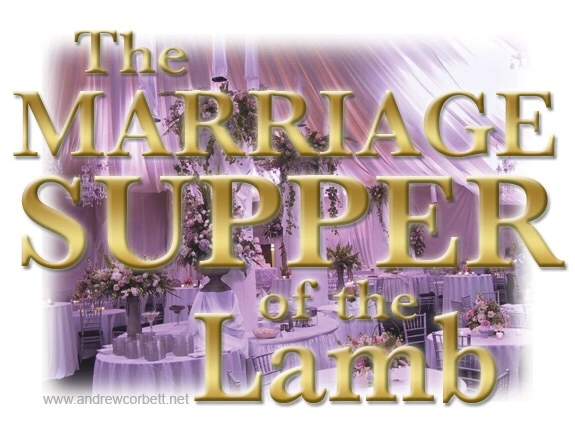 Good morning to all! I'm currently listening to calming guitar music with a thunderstorm in its background. Being outside and in nature is one of my favorite places to be. I guess that's one of the reasons why I love camping so much. Another reason is because my father introduced me to camping and it was where I felt the closest to my Dad. Now that he is gone, I love being a part of nature; it draws me away from the cares of this world and keeps me focused on my Heavenly Father, Abba!
So as we move on with our study in Revelation 19, I wanted to pause to give you a beautiful depiction of what we can expect of the Marriage Supper of the Lamb. In many ways, the Word of God gives an account to teach us something. For example, the whole marriage topic can be seen a different light when you know the culture and history behind the topic. The Jewish wedding of the Old Testament, along with the New Testament wedding banquet, is divided into three parts:
Betrothal period: This involved a marriage contract. The father of the groom would pay a dowry to the father of the bride. Marriages were arranged in those days and the bride and groom could be as young as two years old! Mary, Jesus' mother, was probably around 15 years old, according to some historians. So how does this fit into the bride of Christ? Our bride price, the dowry, was Jesus' own shed blood. The marriage itself was not yet consummated but they were considered husband and wife. Then the groom would go to his father's house and work on adding an addition for he and his bride. This was called the betrothal period and would last for one year. Did you know that three to four generations lived in the same "house"? Each had their own addition. Also, Levitical law had a provision that a man would not go into military duty during this time.
Groom returns for his bride: Matthew 25:1-13 gives us the Parable of the Ten Virgins. The bridesmaids were responsible to watch for the groom's return. When they saw the groom approaching, they would take their lanterns and go meet the groom to illuminate the groom back to his bride. Of the ten, only five had oil. Jesus said there would be those who won't be reading; they would not be watching (Mark 13:35). They asked the five who did have the oil to give some to them but were told no. You can't get to Jesus on borrowed faith. It has to be your own. You can't buy your way to Heaven. It is a personal choice for each individual.
Wedding Banquet – The guests would hoist the bride onto a banner and lift her up; taking her to the father's house for the banquet. The banquet was a great seven-day celebration with the invited guests. The couple would then consummate their marriage.
So what is the parallel with Christ Jesus? Jesus came to pay the dowry for His bride. The bride's price was purchased by Him with His shed blood. We entered into a covenant with Jesus at the moment of our salvation! The bridegroom then returned to his father's house to prepare a place for His bride. We see this "marital language" in John 14:1-3. Jesus has gone to prepare a place for us in His Father's house. He's gone for a time, which makes the time between His resurrection and His return at the Rapture the "betrothal period." We have to be ready for the Groom's return, people! We must be watching for Him. We must be busy doing the Father's business and that is to lead as many to Christ as possible!
We see in Revelation 19:6-10 that the banquet is about to happen. Christ returns to celebrate this feast with the Saints, the Church for the Millennium! Praise the Lord!! Are you ready, Reader? Are you ready for the Marriage Supper? Are you one of the five virgins who has oil in her lamp? The oil is symbolic of the Holy Spirit and He only dwells in born-again believers. Or will you be one of the five virgins who didn't have oil? Don't be caught unawares!
So with that in mind, I want to be sure that anyone who reads the posts on this blog can know beyond a shadow of a doubt that they are going to Heaven. Have you received Christ as your Saviour? If no, your sins are not covered by His sacrificial offering of Himself. You have not been redeemed by His blood. It is no coincidence that God has placed you here for such a time as this so that you may be saved if you are not already. Please click here and the link will open up in a separate tab to You Can Be Born Again and Know It!