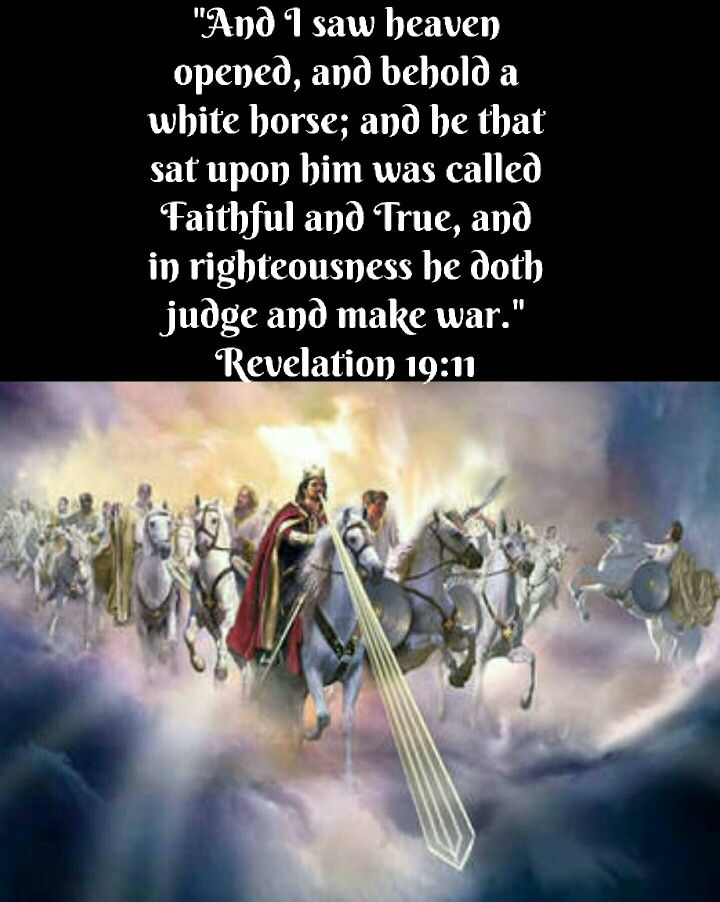 Oh dear reader, we have reached the point where we will read about Christ's Second Coming!! \o/ Every believer is looking forward to this day. Yes, the Rapture is important to us as well but the Lord's Second Coming will mean that His Millennial Kingdom is about to begin! Praise the Lord!! Let's buckle in and get underway! 🙂
This is the event when Jesus actually comes back to earth with His Saints (born again believers) where we have been with Him in Heaven up until that point. If you recall, the sounds that John heard were in Heaven (see Revelation 19:1-10). Today we will be looking at what John sees will be happening on earth, including the punishment of the Antichrist and the False Prophet.
Citizenship in America is only as long as we live in that country or death takes us. But citizenship in heaven is eternal. We are born with a physical body and an eternal one, our soul. Your soul will spend eternity somewhere. From the moment of salvation, we become a heavenly citizen. Our bodies die but our souls are eternal. Once Adam and Eve sinned, their bodies lost that wonderful gift but their souls remained eternal. This was their choice, not God's. God gave them eternal bodies and a beautiful place, the Garden of Eden, in which to live. But Adam and Eve chose Satan rather than what they already had experienced with God, which was perfection!
The situation for you now is where will your soul spend eternity? Unless you are born-again and you are alive to experience the Rapture, your body will die but your soul will go to one of two places. What place are you a citizen of: Heaven or Hell?
As we read in Revelation 19:11, John sees the Second Coming of Jesus Christ, the "Faithful and True" sitting on a white horse. His first coming was as a sufferer and he rode a colt or donkey; while during the Second Coming, He will come with power as a warrior and will ride a white horse! Do you recall Revelation 3:14 in the letter to the Laodicean church? He used the same title "Faithful and True" there. Jesus Christ, the Lord of Lords and King of Kings will come in righteousness and power, ready to judge!
We see an odd description of Jesus in Revelation 19:12. He has eyes of fire, which signifies justice. We also see that He wears many crowns. The Greek word for crown is diadem, while the Antichrist's was just a laurel wreath. Jesus is portrayed as Kingly with majesty and power. His written name, no man knows but Jesus Himself. I wonder what it will be, don't you?
The next verse, Revelation 19:13, says His garment is dipped in blood and His name is The Word of God. Jesus' blood was shed on the people below His cross during His first visit. But this time, the people's blood will be on His garment! The Word of God is an important title for the Lord Jesus. The Greek word for "Word" is logos. It specifically means "Divine Expression." Jesus is the Divine Expression of God Himself. John also used it in John 1:1. Here we see that God's "Divine Expression" came prior to all creation and existed from the beginning! Glory!
Revelation 19:14 gives us a picture of who will actually be accompanying Jesus when He returns at the end of the Tribulation. Some believe that He returns with His angels. However, these are not angels. Look at Revelation 19:6-8. They are arrayed in white fine linen and are so arrayed here in verse 14. This is the Church and we'll be riding white horses as well 🙂 I am not very good at riding a horse but I suppose I will be at that time! 🙂
The next verse is quite interesting. Revelation 19:15 says that out of His mouth is a sharp sword. He will judge by the sword of His Word. (Hebrews 4:12) He will also judge the nations with a rod of iron (Revelation 2:27) that gathered against Him at Armageddon. This is a picture of the Messianic rule, Psalm 2:7-9. We also see a winepress of fierceness (treading the grapes); Isaiah 63:1-6 reveals to us that they will be crushed like grapes and it comes to fruition in Revelation 19:15. The Lord's garments will be stained with their blood.
Jesus will reveal that He is the only King of Kings and Lord of Lords! It will be written on His thigh for all to see. Then John sees a second vision in verses 17-18. This is the second time we see "supper" in Revelation. However, this one is the supper of the Great God! John sees an angel as the brightness of the sun who cries with a loud voice; the birds will feast on the carcass of the fallen. Look at Revelation 19:18 for a moment. The word flesh is used five times in this verse alone! Judgment comes to all who are not saved, who are not born again. They will suffer the consequences for their sin.
John's last vision in Revelation 19:19-21 is where we finally read about the punishment of the Antichrist (the Beast) and the False Prophet. They made war against Jesus and the saints and now will receive their just desserts. They are cast alive into the Lake of Fire – their role is over – their work for Satan is paid with punishment of burning and pain for eternity. However, the rest of the nations will be killed with the sword. The devil isn't cast into the Lake of Fire until chapter 20. Did you know that the Lake of Fire is different from Hell? Hell is where unbelievers go to when they die. Once the Great White Throne Judgment comes in Chapter 20, they will then be cast into the Lake of Fire (which is their second death). Every soul has to live somewhere – they are not annihilated as some believe. It's just a question of where the soul will be – perpetual suffering for all eternity – never ending burning, darkness and pain.
Philippians 2:10 says that every knee shall bow and every tongue will confess that Jesus Christ is Lord. Friend, you either bend your knee now and go to Heaven or on that day of His Second Coming, which will take you to Hell. It's up to you; it's your choice! So with that in mind, I want to be sure that anyone who reads the posts on this blog can know beyond a shadow of a doubt that they are going to Heaven. Have you received Christ as your Saviour? If no, your sins are not covered by His sacrificial offering of Himself. You have not been redeemed by His blood. It is no coincidence that God has placed you here for such a time as this so that you may be saved if you are not already. Please click here and the link will open up in a separate tab to You Can Be Born Again and Know It!