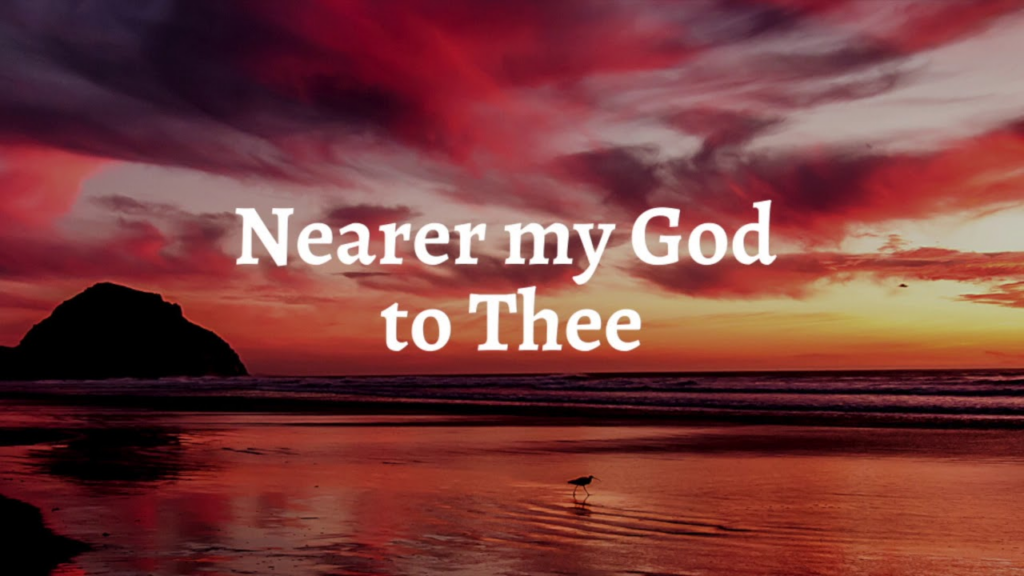 Lyrics (click here to hear instrumental)
Nearer, my God, to Thee,
Nearer to Thee;
E'en though it be a cross
That raiseth me,
Still all my song shall be
Nearer, my God, to Thee,
Nearer, my God, to Thee,
Nearer to Thee.

Though, like a wanderer,
The sun gone down,
Darkness comes over me,
My rest a stone;
Yet in my dreams I'd be
Nearer, my God, to Thee,
Nearer, my God, to Thee,
Nearer to Thee.

There let me see the sight,
An open heaven;
All that Thou sendest me,
In mercy given;
Angels to beckon me
Nearer, my God, to Thee,
Nearer, my God, to Thee,
Nearer to Thee.

Then, with my waking thoughts
Bright with Thy praise,
Out of my stony griefs
Bethel I'll raise,
So by my woes to be
Nearer, my God, to Thee,
Nearer, my God, to Thee,
Nearer to Thee

https://www.lyricsondemand.com/miscellaneouslyrics/christianlyrics/nearermygodtotheelyrics.html
The History Behind the Hymn
Sarah Flower Adams was a British actress who received praise for her performance in an 1837 production of Shakespeare's Macbeth. After health problems disrupted her plans to continue with theater, she found comfort in writing poems and hymns.

Her most notable hymn, "Nearer, My God, to Thee," came about in 1841 when Adam's pastor was looking for a hymn for the following week's sermon on Genesis 28:11-19, which is referred to by many as "Jacob's ladder," or "Jacob's dream." Adams offered to write the hymn and completed it within a week to go along with the pastor's sermon. The hymn was originally set to music written by her sister, Eliza Flower, but another hymn-tune called "BETHANY," written by Lowell Mason in 1856, has become most widely recognized and is most familiar to listeners today.

https://www.thetabernaclechoir.org/articles/nearer-my-god-to-thee-history-and-lyrics.html
A Lesson for Me
How does one draw near to God? How can you have that relationship with the Lord that close and personal? The Bible states that God doesn't hear the prayers of sinners (John 9:31). The Scriptures also state that Jesus is the only way to Heaven, according to John 14:6. Jesus in the One that provides the way for us to have a close relationship, not only to Him but to the Father! He is the only Mediator we need! (1 Timothy 2:5)
At the moment of salvation, we receive the Holy Spirit to help us through our daily lives! We don't need anyone else to intercede for us to the Father. The Holy Spirit intercedes for the believer so our prayers are in accordance with the will of God. Here's a good example: You are praying for a new car and are looking at a Cadillac. The Holy Spirit knows that it won't fit in your budget so He intercedes for you and God puts a cheaper vehicle in your path. I know this is basic but it proves my point.
There let me see the sight,
An open heaven;
All that Thou sendest me,
In mercy given;
Angels to beckon me
Nearer, my God, to Thee,
Nearer, my God, to Thee,
Nearer to Thee.
Message for today
Today's Gospel message is so diluted. They preach a loving God, which He is, but they don't preach that He also requires repentance. One can sit in a garage all day but will never be able to claim that he is a car. It's no different than calling yourself a Christian just because you go to church. There must be a change of heart, mind and direction!
When a person is truly born-again, Jesus becomes the center of his/her focus. Decisions are made with the Lord in mind; life's trials are viewed through the Word of God. The things that used to appeal to the believer are no longer desired. The heart is convicted when sin is committed. If this has not happened to you, then you must think about it.
One cannot be practicing sin and worshipping God at the same time. This is what James calls double-minded. He also points out that we must cleanse our hands and purify our hearts. Seeking forgiveness for sins is not asking Jesus to die on the cross again so that those sins can be forgiven. They are already forgiven. What is necessary is that you acknowledge that sin, feel remorse for it and turn from it. That is repentance, my friend.
Born-again believers should see sin with different eyes and with a different heart. It should pain us, tear us apart inside, when we sin! As we grow older in the Lord and closer to Him, we will hurt more each time we sin. We see sin with the same eyes as God does. This is drawing nigh to Him. This is the whole point of today's hymn.
Nearer, my God, to Thee,
Nearer, my God, to Thee,
  Nearer to Thee
If you are not truly born-again, there is coming a time when it will be too late for you to repent and be saved. It is no coincidence that God has placed you here for such a time as this so that you may be saved if you are not already. Please click here and the link will open up in a separate tab You Can Be Born Again and Know It!