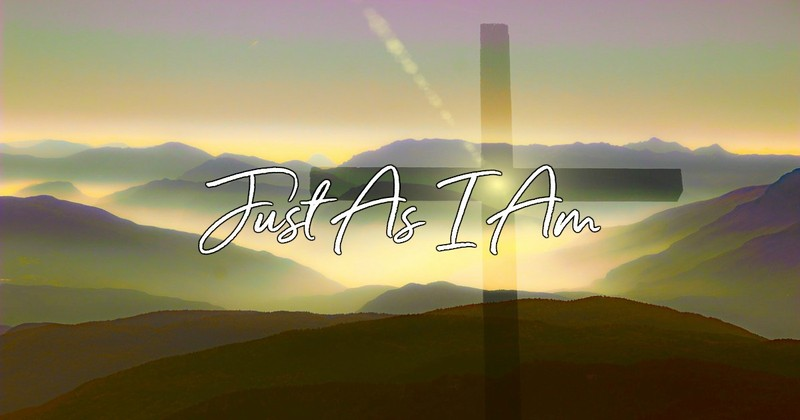 Lyrics (click here to hear instrumental)
1 Just as I am, without one plea,
but that thy blood was shed for me,
and that thou bidd'st me come to thee,
O Lamb of God, I come, I come.

2 Just as I am, and waiting not
to rid my soul of one dark blot,
to thee, whose blood can cleanse each spot,
O Lamb of God, I come, I come.

3 Just as I am, though tossed about
with many a conflict, many a doubt,
fightings and fears within, without,
O Lamb of God, I come, I come.

4 Just as I am, thou wilt receive,
wilt welcome, pardon, cleanse, relieve;
because thy promise I believe,
O Lamb of God, I come, I come.

Charlotte Elliott
The History Behind the Hymn
Elliott, Charlotte, daughter of Charles Elliott, of Clapham and Brighton, and granddaughter of the Rev. H. Venn, of Huddersfield, was born March 18, 1789. The first 32 years of her life were spent mostly at Clapham. In 1823 she removed to Brighton, and died there Sept. 22, 1871.

In 1828, at the age of 32, Charlotte Elliott suffered a serious illness that left her a semi-invalid. This caused depression, and within the year she experienced a severe spiritual crisis. Swiss evangelist Henry A. Cesàr Malan was visiting her family, and she confessed to him that she didn't know how to come to Christ. His famous response was, "Come to him just as you are." Her depression continued, however. One night, twelve years later, she lay awake, distressed by her uselessness as an invalid, and by doubts of her spiritual life. The next day, as she reflected on the previous night, she decided she needed to meet her spiritual troubles head on and conquer them by the grace of God. So she "gathered up in her soul the grand certainties, not of her emotions, but of her salvation: her Lord, His power, His promise" (Lutheran Hymnal Handbook). She took up pen and paper, and wrote down her own "formulae of faith," remembering those words of the visiting evangelist. In the end she had the text "Just as I am, without one plea." Her rule of faith has since become a comfort to millions, and we join with all Christians who experience doubt and uncertainty in their faith when we declare that Christ invites us to come to Him, just as we are.

Though weak and feeble in body, she possessed a strong imagination, and a well-cultured and intellectual mind. Her love of poetry and music was great, and is reflected in her verse. Her hymns number about 150, a large percentage of which are in common use. 

https://hymnary.org/text/just_as_i_am_without_one_plea#Author
A Lesson for Me
I was probably a couple of days old in the Lord when I read these three verses. Oh how I cried! I was very heavy laden and had a burden of care upon my shoulders. I had been married six years at this point and my husband absolutely despised what I had become. Life was unbearable and I could not imagine God healing my marriage. He not only healed my marriage but He also showed me how I could receive peace in the midst of the trial while waiting! These verses rested heavily on my heart during that time.
What does this have to do with today's hymn? Everything! God wants us to come to Him with all our troubles!
3 Just as I am, though tossed about
with many a conflict, many a doubt,
fightings and fears within, without,
O Lamb of God, I come, I come.
Message for today
Yes, this hymn's message is mainly to show that God takes the sinner just as he is. The sinner need not clean up his life before receiving the gift of salvation. If he had to do that, what's the point of God's Son being called a gift? One doesn't have to do a thing to receive a gift. It is freely given and must be freely accepted. There is nothing that can be added.
1 Just as I am, without one plea,
but that thy blood was shed for me,
and that thou bidd'st me come to thee,
O Lamb of God, I come, I come.
It is not by our own works that we receive this wonderful gift. It is by simple faith. We are all sinners in need of saving. We are all sinners in need of God's grace. The very nature of God is to show mercy upon a repentant sinner. When we humbly come before Him, admitting our sinfulness, He is faithful to forgive us and cleanse us from ALL unrighteousness.
2 Just as I am, and waiting not
to rid my soul of one dark blot,
to thee, whose blood can cleanse each spot,
O Lamb of God, I come, I come.
My friend, there is nothing we can do to wash away our sins. Only Jesus can do that. He became our sin offering so we could be made righteous before God through Him! Oh praise the Lord for His unending love for us!
If you are not truly born-again, there is coming a time when it will be too late for you to repent and be saved. It is no coincidence that God has placed you here for such a time as this so that you may be saved if you are not already. Please click here and the link will open up in a separate tab You Can Be Born Again and Know It!