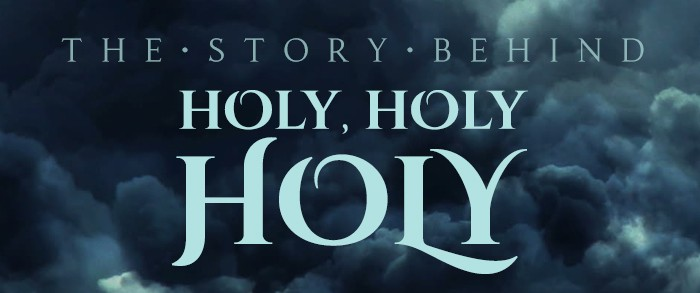 Lyrics (click here to hear instrumental)
Holy, Holy, Holy! Lord God Almighty!
Early in the morning our song shall rise to Thee;
Holy, Holy, Holy! Merciful and Mighty!
God in Three Persons, blessed Trinity! (1 John 5:7)

Holy, Holy, Holy! All the saints adore Thee,
Casting down their golden crowns around the glassy sea;
Cherubim and seraphim falling down before Thee,
Which wert, and art, and evermore shalt be. (Rev. 4:10)

Holy, Holy, Holy! though the darkness hide Thee,
Though the eye of sinful man, thy glory may not see:
Only Thou art holy, there is none beside Thee,
Perfect in power in love, and purity. (1 Sam. 2:2)

Holy, holy, holy! Lord God Almighty!
All thy works shall praise thy name in earth, and sky, and sea;
Holy, Holy, Holy! merciful and mighty,
God in Three Persons, blessed Trinity! (Ps. 145:10)

Reginald Heber
The History Behind the Hymn
This beautiful hymn was written by an Anglican bishop named Reginald Heber who lived in Hodnet, Shropshire, England (1783-1826). He was the son of a rich landowner and cleric, and became known as a poet at the University of Oxford. He was ordained in 1807 and took over his father's old parish. He wrote this hymn in the early 1800's, and amazingly, he wrote over 100 hymns of which many are still being sung today. Not many hymns have been written about the Trinity but there are a few. He was known as the innovator of hymnology in the Church of England. His efforts and labours took a toll on him, and he died in India at the age of forty-three.
A Lesson for Me
The multiples of threes in this hymn is absolutely beautiful. An interesting side note is that anytime a word appears in the Bible three times sequentially, it is meant to be emphatic! So maybe I should pay attention to it!! The fact that the word "holy" is one of these, there must be something God wants us to know, amen?
1. Holy, Holy, Holy – God in Three Persons, blessed Trinity: Everyone seems to have a hard time with the concept of the Trinity. But the more I read His Word, I have come to see the Trinity in a clearer way. The Father is the head, God Almighty. His Son, Jesus Christ, is the physical incarnation of the Father and His spoken Word. The Holy Spirit is God's Spirit, the Helper and Comforter, was given to us so we are able to glorify God in our walk. I still can't comprehend how they can be be separate, yet One. That is what faith is all about.
2. Which wert, and art, and evermore shalt be – Although this is self explanatory, it reveals to us that our God has no beginning or end. What comfort this brings to me. This means our Father knows every detail of my life, from beginning to end. He knows every part of me; every thought. He knew me when He formed me in the womb. This depicts an intimate God who wants to be a part of every area of my life.
3. Perfect in power in love, and purity – There is no imperfection found in God. His power is perfect and cannot be negated. God's love is so perfect that through His love comes blessing and judgment. My parents punished me when I did wrong and this taught me not to do it again. So does God – He is the ultimate Parent. He wants to shower me with blessing but because He loves me, He will also discipline me when I need it to protect me.
4. All thy works shall praise thy name in earth, and sky, and sea – There is nothing that God has created that isn't perfect. No matter where our eyes settle, we see His handiwork. One only has to look at a butterfly or jelly fish to see the details in His intricate work. The beauty of the growth of a baby in its mother's womb is magnificent! All of God's creation will praise Him!
5. Holy, merciful and mighty – I am so thankful that God is not only mighty but He shows mercy as well. He must in order to be holy.
Message for Today
Our finite minds cannot comprehend what it will be like in Heaven, other than what has been described to us in Revelation. We can read about it; we can let our imagination run wild as we read the descriptions of the New Heaven and New Earth. However, it is just that: our imagination! Why? Our imagination has its limits – we can only go as far as what we have knowledge of. But the Scriptures tell us that our eyes have never seen and ears have never heard the things that God has in store for us!
I long for the day where our faith will be made sight! The day when we will be able to cast our crowns before the Saviour's feet is a long-awaited day for Christians. If we are blessed enough to experience the Rapture before our death, then it will most assuredly be a blessed event for the believer! This hymn is a mini sermon in that it bears Scripture with its verses. I placed the Scripture reference beside the verses to show that God's Word is reflected in each verse. This particular verse refers to Revelation 4:10 The four and twenty elders fall down before him that sat on the throne, and worship him that liveth for ever and ever, and cast their crowns before the throne, saying: What a glorious day that will be!
Holy, Holy, Holy! All the saints adore Thee,
Casting down their golden crowns around the glassy sea;
Cherubim and seraphim falling down before Thee,
Which wert, and art, and evermore shalt be.
If you are not truly born-again, there is coming a time when it will be too late for you to repent and be saved. It is no coincidence that God has placed you here for such a time as this so that you may be saved if you are not already. Please click here and the link will open up in a separate tab You Can Be Born Again and Know It!