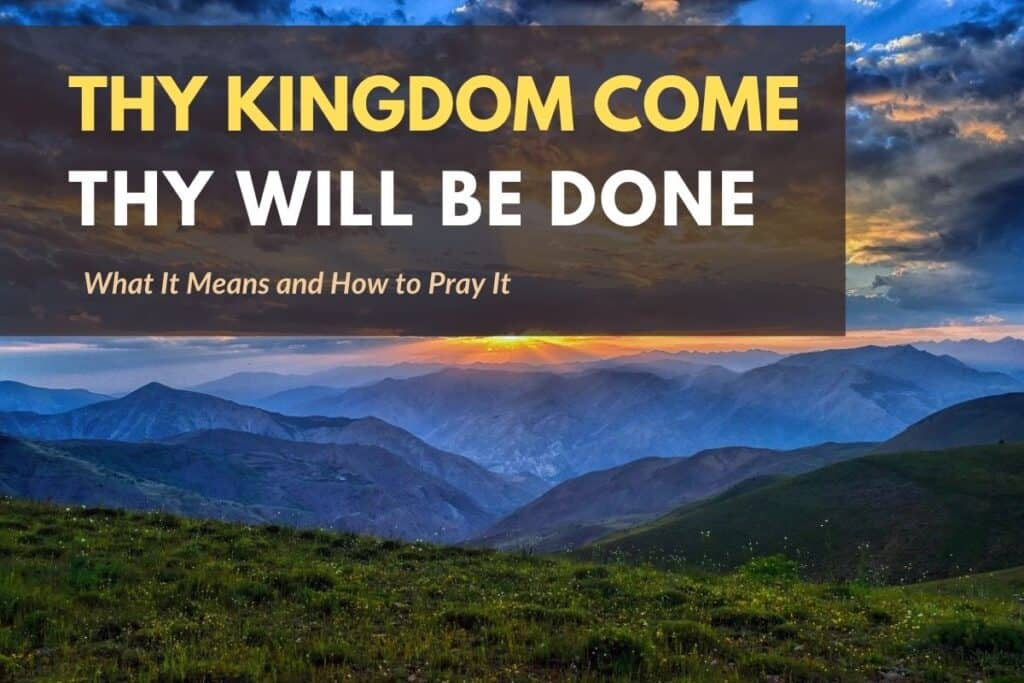 Good morning, dear Reader! My husband is now in rehab and I no longer have to drive one to two hours away to see him! Praise the Lord for His mercy on the love of my life! As I sit here this morning, I think of what this year may bring. Could this be the year of Christ's return for us where He will take us up to Heaven to be with Him? Oh I surely hope so! The signs of the times reveal that He is right at the door, ready to give us that shout to join Him!
Amen and amen! Exciting times are coming for the believer. We have been praying for this day for a long time! But how do we pray? The Lord taught us in the Lord's prayer the pattern we should use:
Many of us know this prayer by heart, but do we know what we are praying? Do we merely repeat the words over and over again without giving it much thought? Jesus told us not to repeat prayers over and over and said these were vain repetitions like those of the heathen (Mark 6:7). I won't go into this now but in another future post. The part I'm speaking of is "Thy kingdom come, Thy will be done."
What did the Lord Jesus mean when He taught us to pray for His kingdom? Jesus is speaking of Christ's kingdom here on earth after the Great Tribulation. After the tribulation there will be 1,000 years of peace with Jesus Christ, the King of kings and Lord of lords, reigning and ruling over the entire earth from Jerusalem. Life will return to be as it was in the Garden of Eden.
Christ's kingdom will be that of beautiful peace! This is what we are to pray for, friend! We are to be looking forward to that day, but in the meantime, we are to pray for God's will to be done in order for that kingdom to come! God gave us everything we need in the Scriptures where we can find out all of the signs of the end times. (I wrote a series on this and you can find it here.) There is much written on this topic but surely you can see for yourself by watching the news or social media; you can see just how evil this world has become.
Unbelievers mock God but there will be a time where He will judge the world of their sin. This judgment is coming and you can count on it. All things work towards the establishing of Jesus Christ's kingdom on earth.
Are you ready for the Rapture of the saints to be forever with the Lord Jesus? Have you been saved so that you can be kept from that hour of temptation to come upon the entire earth. It will be a horrific time for those who are left behind; most will die because of they did not take the mark of the beast. It will be a time that has never been seen by anyone in the past. Albert Camus once said:
I would rather live my life as if there is a God and die to find out there isn't, than live as if there isn't and to die to find out that there is.
Ouch! Do you want to be one of those people who currently doesn't care about God (or even believe in God) or His coming kingdom? There will come a time when it will be too late. You will spend eternity burning in Hell and the Lake of Fire. You will remember each opportunity you were given by God to be saved and you laughed it off and ignored it. I want to be sure that anyone who reads the posts on this blog can know beyond a shadow of a doubt that they are going to Heaven. Have you received Christ as your Saviour? If no, your sins are not covered by His sacrificial offering of Himself. You have not been redeemed by His blood. It is no coincidence that God has placed you here for such a time as this so that you may be saved if you are not already. Please click here and the link will open up in a separate tab to You Can Be Born Again and Know It!