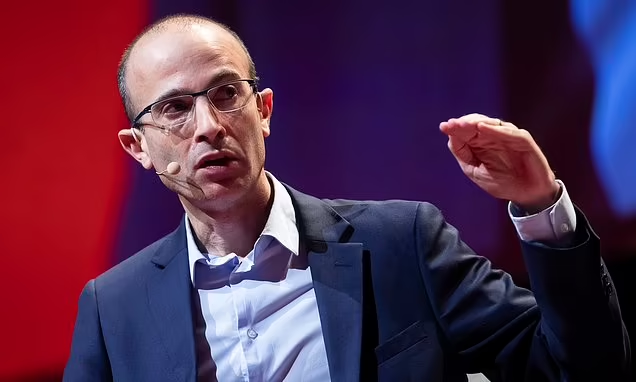 Who is this guy? Have you ever heard of him? He is an advisor to Klaus Schwab, leader of the World Economic Forum (WEF). So what's the big deal? Below is an excerpt taken from an article written by "Daily Mail" in the UK:
Yuval Noah Harari said AI like ChatGPT could attract worshippers to a new faith.

The world is on the verge of a new religion created by artificial intelligence, the historian Yuval Noah Harari has claimed. The academic – known for his bestselling book Sapiens – said software such as ChatGPT could attract worshippers by writing its own sacred texts.

Speaking at a science conference, he said AI had crossed a new frontier by 'gaining mastery' of our language and was now capable of using it to shape human culture.

'This could become true very, very quickly, with far-reaching consequences.'

Speaking at the Frontiers Forum event in Switzerland, he warned machines now had the tools to 'cocoon us in a Matrix-like world of illusions', referring to the 1999 sci-film film.

He said: 'Contrary to what some conspiracy theories assume, you don't really need to implant chips in people's brains in order to control them or to manipulate them. For thousands of years, prophets and poets and politicians have used language and storytelling in order to manipulate and to control people and to reshape society. Now AI is likely to be able to do it. And once it can… it doesn't need to send killer robots to shoot us. It can get humans to pull the trigger.

Calling for tighter regulation, he said: We need to act quickly before AI gets out of our control. Drug companies cannot sell people new medicines without first subjecting these products to rigorous safety checks.' He added: 'Similarly, governments must immediately ban the release into the public domain of any more revolutionary AI tools before they are made safe.'
Of course he doesn't want AI to get out of the WEF's control. They want to use AI to control the world. What seemed to be science fiction five years ago, is totally do-able today! They think they have knowledge but they totally lack biblical knowledge. God will destroy them because they would not turn to Him. (Hosea 4:6-7)
The end times will be filled with horrible deception. We cannot see it now but there is coming a time when an implant of some kind will be placed in the head which will control your thoughts. It's not too far-fetched an idea knowing what we now know. But as the months and year(s) progress, it will be more realistic. How else will the antichrist be able to control the world and have them believe a lie? What seemed unrealistic at the time of the Apostle John is very much realistic today!
Will you be one to believe the lies? If you are one of those who takes the mark of the Beast during the Tribulation, there will be no turning back. You will be forever damned in Hell and the Lake of Fire! (Revelation 14:11) Whatever is implanted in your hand or forehead will cause you to believe the Antichrist and not God. Should you have a simple thought of possibly getting saved, that implant will remove the thought! You don't think it's possible? Well, we never thought that one day AI could write its own saced text either. Do NOT take today for granted. You could die tonight or you could miss the Rapture. There are no guarantees, Reader.
2 Cor 6:2  (For he saith, I have heard thee in a time accepted, and in the day of salvation have I succoured thee: behold, now is the accepted time; behold, now is the day of salvation.)
The time is coming when it will be too late for you to repent. You will remember each opportunity you were given by God to be saved; you will remember each time you laughed it off and ignored it. Please Reader, repent and accept Christ into your life. (Act 16:31, Rom 10:9) I want to be sure that anyone who reads the posts on this blog can know beyond a shadow of a doubt that they are going to Heaven. Have you received Christ as your Saviour? If no, your sins are not covered by His sacrificial offering of Himself. You have not been redeemed by His blood. It is no coincidence that God has placed you here for such a time as this so that you may be saved if you are not already. Please click here and the link will open up in a separate tab to You Can Be Born Again and Know It!