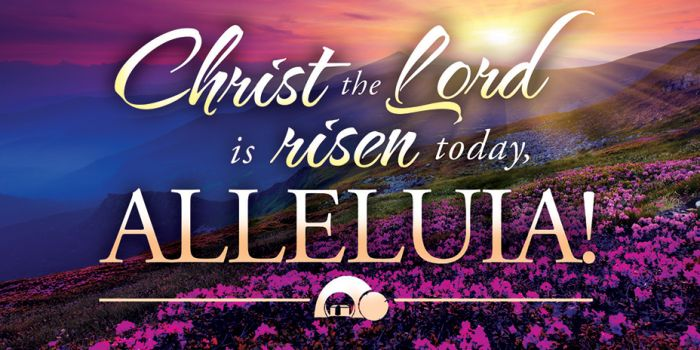 Lyrics (click here to hear instrumental)
Christ the Lord is ris'n today, Alleluia!
Sons of men and angels say, Alleluia!
Raise your joys and triumphs high, Alleluia!
Sing, ye heav'ns, and earth, reply, Alleluia!
Lives again our glorious King, Alleluia!
Where, O death, is now thy sting? Alleluia!
Once He died our souls to save, Alleluia!
Where thy victory, O grave? Alleluia!
Love's redeeming work is done, Alleluia!
Fought the fight, the battle won, Alleluia!
Death in vain forbids His rise, Alleluia!
Christ hath opened paradise, Alleluia!
Soar we now where Christ hath led, Alleluia!
Foll'wing our exalted Head, Alleluia!
Made like Him, like Him we rise, Alleluia!
Ours the cross, the grave, the skies, Alleluia!
Hail the Lord of earth and heaven, Alleluia!
Praise to Thee by both be given, Alleluia!
Thee we greet triumphant now, Alleluia!
Hail the Resurrection, thou, Alleluia!
King of glory, Soul of bliss, Alleluia!
Everlasting life is this, Alleluia!
Thee to know, Thy pow'r to prove, Alleluia!
Thus to sing, and thus to love, Alleluia!

Charles Wesley 1739
The History Behind the Hymn
Of the thousands of churches across the world, you would only be able to walk past a few during the Easter season and not hear the congregation boisterously singing this tune. It was written by a man who wrote so many hymns that he himself would not be able to name half, and it sat as just another of his many works for many years. It wasn't until one significant change to the hymn caused it to explode in popularity and become an essential pick for the celebration of the risen Savior.

Charles Wesley was born in 1707 as the eighteenth child of Samuel and Susannah Wesley's overall nineteen. He was born premature, and was at first thought to be dead. But God had much in store for little Charles, and wouldn't allow death to take him just yet. It took a few unsure weeks, but baby Charles finally became healthy. It's a good thing too, because Charles Wesley went on to become the most successful hymn writer to ever live.

https://www.hymncharts.com/2022/01/14/the-story-behind-christ-the-lord-is-risen-today/
A Lesson for Me
Out of all the "gods" that this world has created to date, not one can boast a resurrection of the dead. Not one! We are seeing more and more open dissention against Christianity as we near the Tribulation period. Christians are made fun of and are now thought to be insane. How does one live in a world such as this? The early church had it so much worse, Reader! One only has to read Foxe's Book of Martyrs to see that Christians are not really under persecution here in America … yet. If you've not read it, you can follow the link and download it for free. It is a very hard read – one comes to the realization of just how these martyrs were tortured for their faith.
I realize that if I should live until the Rapture of the Church, I will see persecution. America is beginning to see this and it will get much worse according to the Scriptures which depict the end times. (2 Timothy 3:1-3) The only way I can live through the upcoming persecution is to be grounded in God's Word. My focus must be on the risen Saviour, our Lord Jesus Christ. This life is not a race but a Christian marathon. Each day brings new challenges and trials. However, the Father gives strength with each one. Our eyes must be fixed on the only One who can help! He is not a god made with hands! He is the Almighty, the Creator of all things, the Alpha and Omega! There are so many names for Him that if I were to include them all, this post would be endless!
Today's hymn is at the center of the believer's core beliefs and values. Without the resurrection, there is no conquering of sin or death!
Love's redeeming work is done, Alleluia!
Fought the fight, the battle won, Alleluia!
Death in vain forbids His rise, Alleluia!
Christ hath opened paradise, Alleluia!
Message for today
Love's redeeming work is done! This praise should be ever on our lips, Christian! Jesus Christ gave His life on the cross to purchase our pardon. All humanity is born to be destined for Hell. But to those who recognize their sinfulness and desire pardon from their sins, there is One who has paid the ransom; He has paid the penalty for those sins! Had Jesus simply died on the cross with no resurrection, there would be no forgiveness of sins. Because Jesus rose on the third day, His promise to His followers is that they will also!
Born-again Christians will go to Heaven in one of two ways: when they die, or when the Rapture occurs. In the meantime, we were given a new life after our salvation. At the moment one is born again, the Holy Spirit come to live within. This same Spirit gives us the ability to say no to sin, which we could not do before. He gives us the ability to walk in the light as He is in the light. (1 John 1:5-7)
Soar we now where Christ hath led, Alleluia!
Foll'wing our exalted Head, Alleluia!
Made like Him, like Him we rise, Alleluia!
Ours the cross, the grave, the skies, Alleluia!
At the end of our pilgrim journey, we will be taken to our exalted Head and be like Him. We will have eternal bodies, just as Jesus did. We will be able to enjoy eternity in a place that will be beyond anything we can imagine. (1 Corinthians 2:9)
If you are not truly born-again, there is coming a time when it will be too late for you to repent and be saved. It is no coincidence that God has placed you here for such a time as this so that you may be saved if you are not already. Please click here and the link will open up in a separate tab You Can Be Born Again and Know It!