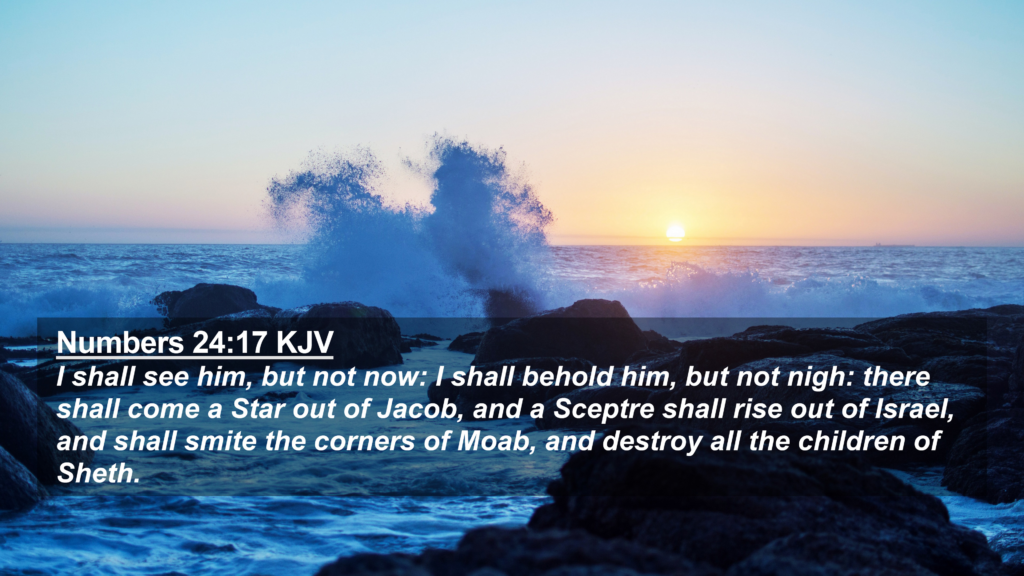 What a glorious day! Do you have your favorite beverage in hand and your favorite study Bible? What a way to start the day 🥰!!! Let's get cracking and unwrap the next prophecy of Messiah and how the Lord Jesus fulfilled it!
We see in Numbers 24:17 above that Balaam was given a vision from God. Balaam says that he would see the Almighty but not now and he would behold Him but not soon. This is a prophetic passage about the coming Messiah. As well, he says that a Star would come out of Jacob, which means that the Messiah would be from one of the twelve tribes of Jacob. He also says that the Messiah is a Sceptre which would rise out of Israel. As I read this, I saw the Messiah's coming is in two parts. The first as the Star, born in a manger, the Messenger of God, that would give the world God's Word in the flesh. The second as the Sceptre when He returns at His Second Coming to reign in authority.
Are you ready to meet Jesus Christ, the Messiah? Israel today missed His first coming. But they will all see Him when He returns as the Sceptre to rule and reign! I could not find who said this quote so I'm attributing it to a message I heard recently on YouTube. The Pastor said:
When Jesus comes at the Second Coming, it is better to see His back than His face!
Some of you may not see Jesus in this manner. How do you see Jesus, Reader? Do you see Him as a baby born in a manger? Do you see Him as your Lord and Shepherd? Do you see Him as the Comforter? Indeed He is all these things. But when Jesus comes again, He will bring judgment to the unbelieving world. (Revelation 1:17-18) The Bride, the Church that is raptured before the Tribulation, will return with Jesus at His Second Coming. That is why we will see His back because He will be leading the charge against the unbelieving world (those who will see His face)! He holds the keys of Hell and death for those unbelievers.
But to the born-again believer falling prostrate at His feet, He will touch us with His right hand and tell us not to fear❣❣❣ Which one are you, dear Reader? Are you excited about His coming or are you afraid? Do you know Him personally or do you only know of Him? I want to be sure that anyone who reads the posts on this blog can know beyond a shadow of a doubt that they are going to Heaven. Have you received Christ as your Saviour? If no, your sins are not covered by His sacrificial offering of Himself. You have not been redeemed by His blood. It is no coincidence that God has placed you here for such a time as this so that you may be saved if you are not already. Please click here and the link will open up in a separate tab to You Can Be Born Again and Know It!