Day 30 – Trumpeter Swan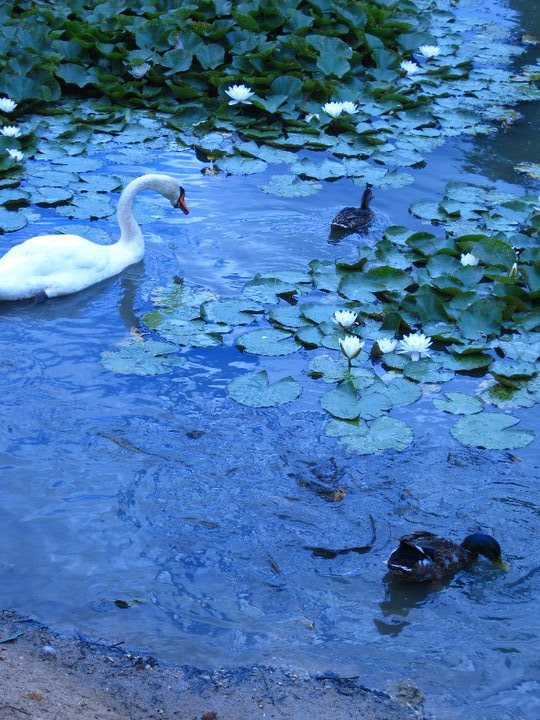 The largest of the North American waterfowls, as well as the largest of all swans, is the graceful Trumpeter Swan. What a beautiful bird it is with its pure white feathers and long slender neck. Next to the dove, eagle and cardinal, this is the one bird that has had the most spiritual impact on me. When I see a Trumpeter Swan, I think of my Lord and Saviour, Jesus Christ! His grace and beauty are seen in many of the swan's characteristics. I wanted to share with you what the Creator of all gave me this morning as I meditated on this remarkable creature. God's Goodness cannot be matched – His Greatness cannot be exceeded – His love never ends!
About 25 years ago, John and I went on a motorcycle trip from Virginia to Northern Maine. We stopped overnight in a small town in Connecticut. The motel had the most beautiful large pond in front of our room. This beautiful pond was surrounded by Weeping Willows all around. It was picture perfect, so serene! Unfortunately, those were the years of 35 millimeter cameras and Polaroids and I do not have a picture to post here. We watched these beautiful Trumpeter Swans lazily gliding across the pond. Back and forth they would go with their young cygnets frantically swimming behind them. As they swam, the peaceful waters were disrupted, creating ripples all the way to the shore line.
The swan's beautiful white feathers remind me that the Redeemer's blood has made me white as snow.
My sin is seen no more by my Heavenly Father because He sees His Son's blood over me. The white feathers also remind me of when Jesus was transfigured.
The Creator, Jesus Christ, gave this beautiful swan colors and its grace to bless our hearts. In turn, it reminds us of Him – it draws us to Him.
As the swan glides across the waters so gently and gracefully, it reminds me of how the Holy Spirit gently works in our lives to mold us into the image of Christ. As we read the Word and are convicted by the Spirit, we become more and more like Jesus.
God patiently works in our lives, leading and directing, molding and forming us so we can be like Him.
Jesus promises us peace and rest when we come to Him.
Not only does our Saviour give us peace but He carries our burdens if we allow Him to do so!
It took me a while to grow in this area of allowing the Lord to carry my burdens. Once I learned this blessed truth, what a fool I felt I was for not having done so sooner. There is no happier and more peaceful place to be than in the center of your Saviour's Hand. We are secure there.
As the Holy Spirit works to change us and mold us into the image of Christ, the changes create a rippling effect in our lives, just as the swan creates when it swims. These changes touch other lives through our testimony and leads them to Christ. Their lives touch other lives, etc. Thus the rippling effect goes to the shores of our lives. My testimony should have this effect on others, reaching out to the uttermost!
I did a little research on the internet about this magnificent creature. I learned that they often mate for life. The female (known as the pen) molts and loses her flight feathers shortly after her young hatch. She is vulnerable to predators at this point. The cob (the male) goes through this process about a month later when the female has completed her molt. The Creator knew that they would have to protect one another during their flightless time. What a merciful God we have – He watches over every creature in such a tender and caring way!
Our Heavenly Father does not leave us defenseless. He is not like the devil who will kick us while we are down. Peter warns us that ole slew foot is like a roaring lion.
God does not leave us to be devoured by the devil. We have nothing to fear because while we are spiritually molting, the Lord is right there protecting us against evil and the evil one. God wanted us to rest assured so much so that He penned it in the Word by giving us an example when Jesus prayed for us.
One of the swan's predators is the wolf. This beautiful creature can be attacked without notice and quickly. We've all see nature shows about wolves and how they run in packs and have no mercy on their unsuspecting victims. Just because we are saved does not mean that we are exempt from the wolves of this world. The devil sends his minions out within the very walls of our churches to attack from within.
For I know this, that after my departing shall grievous wolves enter in among you, not sparing the flock. (Act 20:29)
We are to be vigilent, ready and prepared for the enemy. Notice that Luke does not say that the wolves are from the world but these wolves are among us in our very churches! This tells me that we should be even more vigilent in this case. We have a tendancy to let down our guard when we are in church because we believe we are in a safe haven. However, the wolves are among us and the Word says they are grievous. Noah Webster says that grievous means
"Causing grief or sorrow."
Have you ever been prey to a grievous wolf in your own church which has caused you grief or sorrow? The Word says it will happen – Luke said "I know this, that after my departing shall grievous wolves enter in among you,"! Luke knew it would happen. Don't be deceived – be alert! Know your Bible so that you can spot trouble from afar. God gives us more and more discernment and wisdom and we grow in grace.
And lastly, I discovered that the swan makes a trumpet-like sound like that of a french horn. That is why it is called the Trumpeter Swan. God used the trumpet sounds quite often in the Scriptures. The word trumpet appears 59 times in the Bible. A trumpet was sounded when danger was spotted. Christ left us His Word so that we would be able to find encouragement within its pages. He left us His Word so that we could learn to spot danger. Seeing a swan encourages us to be in the Word, seeking out the warnings. The prophecies of the end times are good examples of these warnings. The trumpet was also used to make an announcement. My favorite verse relating to a trumpet is found in Rev. 4:1, where the rapture is depicted.
Jesus Christ will call us up, "Come up hither!"
Glory! Does this not comfort you? Just as I sat tranquil and comforted watching the beautiful swans on that pond, so should you be with these words!
The next time you see the Trumpeter Swan, I hope you see our Magnificent and Almighty Lord in its beautiful features.
Dear God…
Oh Lord, my God, I sit amazed
At Your creation, with beauty bright
Revealing Truths in such bless'ed ways
Reflecting Your power and might.
Pages: 12345678910111213141516171819202122232425262728293031