Day 18 – Deer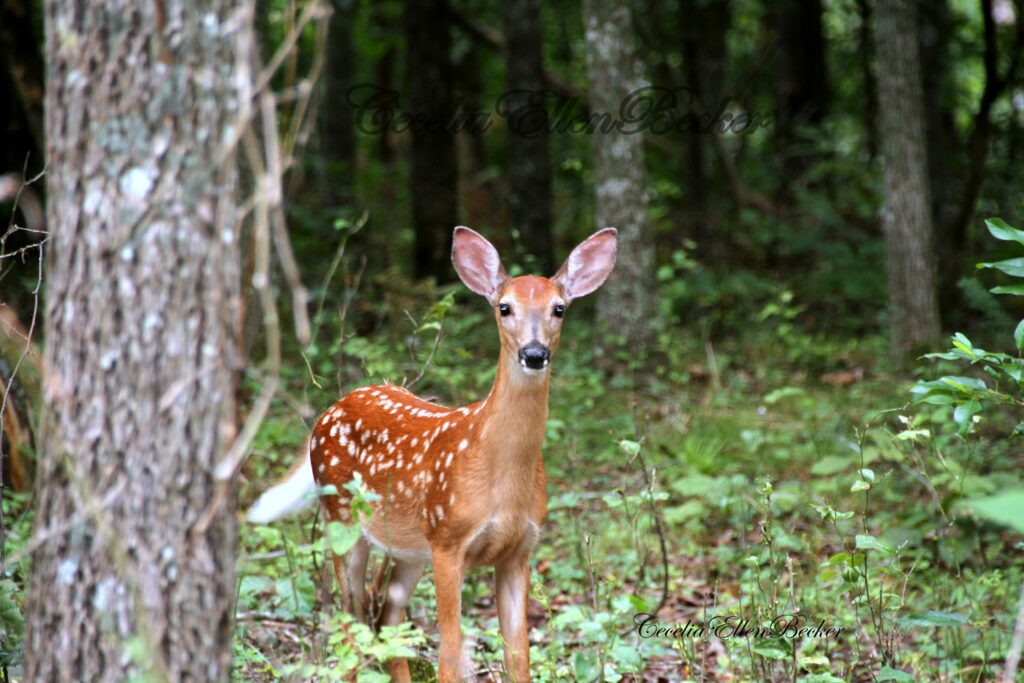 Our God is not only responsible for creating this beautiful animal, but He is also responsible for them multiplying and their very lives! Our Father's Hand is on all His creation!
I thought of the useage of the word hind in Scriptures. Hind is another word for deer. I recalled Psalm 18:33 how God said He will make our feet like hinds' feet and will set us upon our high places. I did a phrase search for hinds' feet and it resulted in three verses. Isn't it neat how the number three shows up again? Again, the Three-in-One are caring for us… God provides us with sure footing and a place for spiritual renewal!
It is God who gives us the strength we need to walk the paths of difficulty in this life. My father owned acreage in a forest which was home to the beautiful white-tailed deer – we called this land "the Beaver Dam" because it also was home to a family of beavers. Oh how I loved going there with my Dad! Some of my fondest memories rest there with him at that Beaver Dam. The white-tailed deer were plentiful and we would sit ever so still for long periods of time, not wanting to scare them away. Dad loved to watch them graze and it showed me the tender side to my father. Growing up on this haven of rest, I saw deer run like the wind and not falter – not one step when danger was near. They would run up the steep hill as if it were nothing. It's as if they didn't even need to look where they were going – they just flew! Did you know that they can move up to 40 mph through the forest and dart side to side as they run?
As I meditated on these three verses about the hinds' feet, I could not help but remember all those difficult hills (spiritual battles) I have been through in my saved life. Looking back, I notice that when I rested in the Master's care I had that sure footing. I had a confidence that all would work out and I didn't need to worry about a thing. It's those times that I was in the Word, daily feeding my spirit and encouraging myself in the Lord – strengthening myself and learning to recognize God's Hand in each detail. Despite the storms around me, I did not fear. I knew that the same God that stilled the storm and the waters, would still my storm!
I grew to appreciate why Fanny Crosby could pen the words to Blessed Assurance. Especially the following stanza:
Perfect submission, all is at rest
I in my Savior am happy and blest,
Watching and waiting, looking above,
Filled with His goodness, lost in His love.
I believe she knew how to reach the mountain top. I believe she knew how to watch and wait as God handled matters. How else could she be lost in His love and filled with His goodness as she watched and waited?
Upon further reflection on these beautiful verses, I noticed that the Lord tells us three times that He will set us upon the high places. When we are abiding in Him, our spirit is lifted and encouraged and the Lord places us on the mountain top of sweet fellowship! When we finish each trial and see the wonderful Hand of God throughout, it becomes easier to place those trials in His care when they surface.
The high places are a place of refreshing – spiritual renewal – rest awaits there for us. It's these times of spiritual refreshing that should be foremost in our memory as we see a trial approaching. This is how we encourage ourselves in the Lord – we know that He will be right there to help us be sure footed and again, He will be faithful to lead us to the mountaintop.
The picture above was taken at a safari place near Natural Bridge, Virginia. There were several white-tailed deer just grazing nearby. As we drew closer, the young deer perked right up as if posing for me. She wasn't afraid because her tail was still down, but she sure was watching every move we made.
We should be alert, ever watchful of the deception around us so we do not fall prey to it.
On another one of our trips, we stopped at an overlook where we saw the beautiful view. From this viewpoint, we can see for miles on a clear day. Also from this viewpoint, we can see danger from afar.
We should be able to spot deception from afar, my friend. However, we cannot spot it if we are not in the Word long enough to find out what deception is. There is comfort and encouragement when we have been in God's Word and He has shown us what too look out for. We are not caught unaware.
When we're in God's Word, the Holy Spirit teaches us what to expect in these end times so we are not caught off guard. Rather, we are encouraged by the signs of the times and rejoice that our Saviour is soon coming! Not only does God provide us with a spiritual refreshing on that mountain top but He gives us the ability to see when danger approaches! We are spiritually acute because we have been walking with our Shepherd.
He has guided us and cared for us! What a beautiful picture of Him, amen?
We can be assured of going through many valleys on our path here on earth.
As a child of God, it's important for us to follow David's example and how he encouraged himself in the Lord. He feared no evil in his valleys because David knew God was with Him. He reflected on God's Goodness with each previous trial and knew that the same God would be there for all future trials. Psalm 23 is such a beautiful picture of David's relationship with God. It is to our downfall when we don't spend extra time in the Word during these valleys – we do not prepare ourselves and, therefore, have nothing to draw from. It's like going on a long trip and not putting fuel in the gas tank before leaving! David was an excellent example of someone who could encourage himself in the Lord. Reading about his trials and then his accounts in Psalms encouraged me in my times of need. It was because of his example that I was able to write the devotional on Discouragement and Encouragement.
Dear Christian, spend time in the Word and let God teach you and feed you. Then you, too, will be able to have the sure-footedness of the deer and God will place you on that mountain top of spiritual refreshing! And the next time you see a deer, I pray you will be reminded of this devotional and be encouraged to get in the Word, find the Lord there and reach your high place!
Dear God…
May I never cease to meet You, Lord
Each day must I seek Your face
Please guard my step as You do the deer
And set me on that high place.
Pages: 12345678910111213141516171819202122232425262728293031