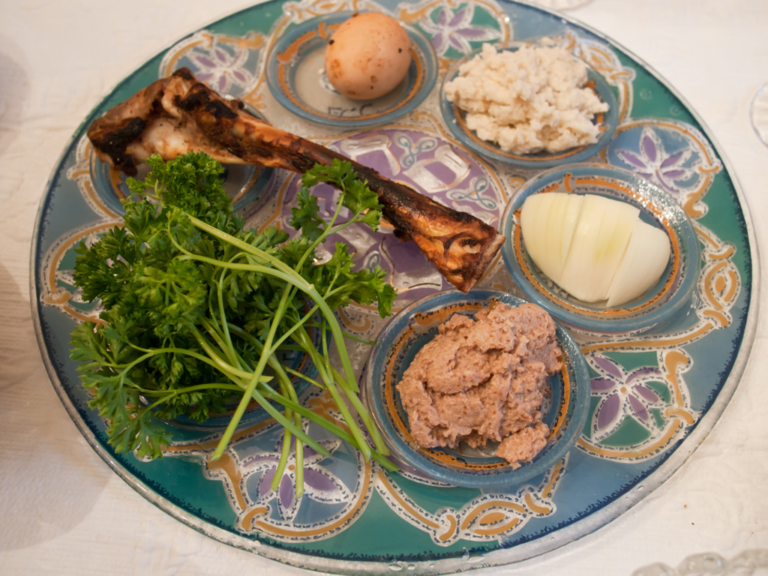 Good morning! I can hardly believe that we are in our last month of 2022! Where has this year gone? Could it be that we will see the Lord coming for us at the Rapture before the end of the year? How exciting would that be???
As we finish up on the Seder meal, we see something which is not shown in the picture above. These are the four cups of wine which are used at various points during the meal. The first of the cups is called the "cup of sanctification."
Sanctification? What is that? Noah Webster defines the word "sanctification" as:
SANCTIFICA'TION, n. [See Sanctify.]

The act of making holy. In an evangelical sense, the act of God's grace by which the affections of men are purified or alienated from sin and the world, and exalted to a supreme love to God.
God hath from the beginning chosen you to salvation, through sanctification of the Spirit and belief of the truth. 2 Th 2. 1 Pet 1.
The act of consecrating or of setting apart for a sacred purpose; consecration.
Sanctification is the act of making one holy, setting us apart from the world. It doesn't all happen at once, as all believers know. The Holy Spirit's endless job of sanctifying each member of the Church and making us "mirror" Jesus Christ. The Church is to be a unique kind of people that reflects that work of the Holy Spirit. The Spirit diligently works in the heart of all believers to convict their hearts of sin, and to help them live a life that glorifies God!
The second cup of wine is the "cup of judgment." As we see in Exodus 6:6, God promises to rid Israel of their years of bondage! Our Lord and Saviour Jesus Christ delivers us from our bondage of sin! (Romans 6:20) We are no longer judged for those sins because Jesus paid for all of them on the cross of Calvary. We are no longer under the bondage of sin but have liberty through Christ! (Romans 8:15, Romans 8:21) We don't have to sin – if a believer does sin, it is because he chooses to sin. That hurts God and breaks the sweet fellowship we have with Him. It is very much in the same manner as when a child does something against his parents' wishes. That child is still a member of the family but the parents are hurt and disappointed. Fellowship isn't quite the same until the child asks for forgiveness and that sweet fellowship is restored.
The third cup is the "cup of redemption"! I love that word redemption! Exodus 6:6 shows us that God will redeem Israel of judgment. Galatians 3:13 also tells us that Jesus redeemed us from the curse of the law. He became the curse for us. (Deuteronomy 21:22-23) He paid the price for our wicked sin – this is a price that we all must pay unless we believe on the Lord Jesus Christ as the Son of God and Messiah of mankind. If you do not accept Him as Saviour, you will pay that price for your sins which results spending eternity in a burning lake of fire!
The last of the cups, the fourth cup, is known as the "cup of praise"! Exodus 6:7 tells Israel that God has taken them as His people and He will be their God. He also reminds them that He is the one that brought them out of Egypt to relieve them of their burdens. Oh what praise that is to the God who delivered them! Jesus spoke of this cup in Matthew 26:29. He would drink it new with us in His Father's kingdom! His resurrection brings praise to the lips of everyone who believes on Him! The Jewish people look forward to their acceptance into the Kingdom and Christians look forward to being welcomed by our Yeshua the Messiah to be with Him forever!
As we finish the Seder and its beautiful symbolism, do you see Jesus in each of the details we covered? Do you know the Passover Lamb, Jesus Christ, personally or do you only know of Him? I want to be sure that anyone who reads the posts on this blog can know beyond a shadow of a doubt that they are going to Heaven. Have you received Christ as your Saviour? If no, your sins are not covered by His sacrificial offering of Himself. You have not been redeemed by His blood. It is no coincidence that God has placed you here for such a time as this so that you may be saved if you are not already. Please click here and the link will open up in a separate tab to You Can Be Born Again and Know It!