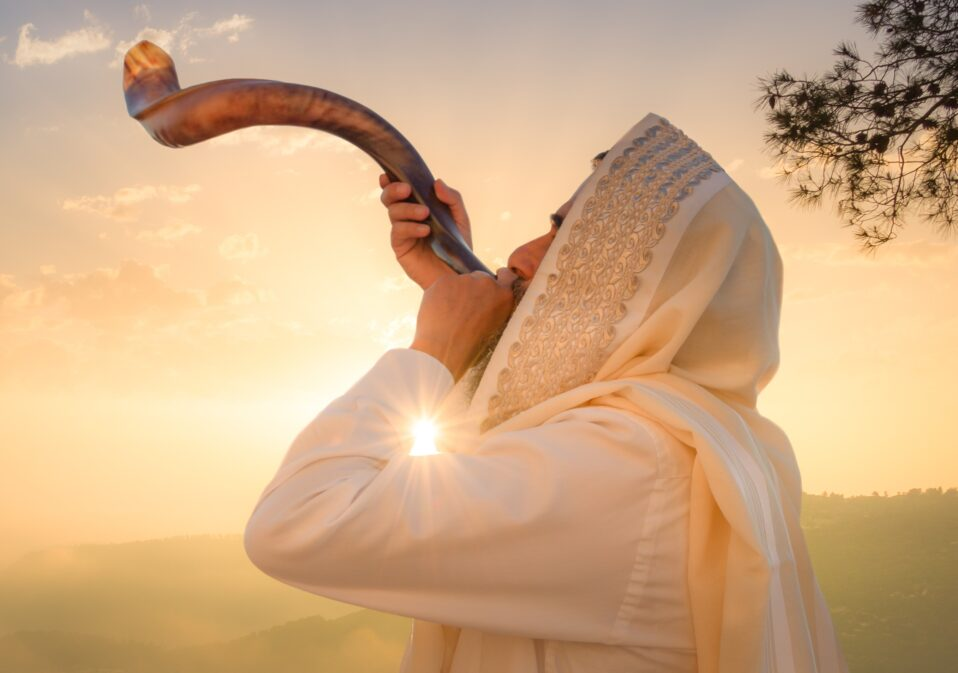 Good morning dear Reader! I do so apologize for the interruption. My husband had surgery and recuperation is extremely slow. Hopefully his healing won't be too much longer!I'm praying that you are enjoying this series. I love reading anything about my Saviour and how He is revealed, especially in the Old Testament. These feasts are a wonderful depiction of His salvation and His reign to come!
Today, we're going to cover the Feast of Trumpets. I love trumpets, don't you? They are so loud and when one is played, it gets your attention. This is exactly what they were designed to do. From my research, I've learned that this Feast comes each year in late September to October according to the Jewish calendar. As you've probably noticed, trumpets are used throughout the Bible for different purposes. A trumpet (this is called the shofar) would be blown to call Israel to assemble together, a call to march and a call to war. The Scripture above says it was to be:
As a Sabbath to Israel where they would do no work.
A memorial of blowing trumpets, a holy convocation which simply means an act of calling or assembling (according to Noah Webster's 1828 Dictionary).
To do no work
A time to offer a burnt offering unto the Lord.
The main point was to remember the Lord and to focus this time around Him and to "call" them to repentance. It makes sense since ten days later, they will be celebrating the Day of Atonement. Everything that happened to Israel at Mount Sinai set them apart as a nation – it was God's covenant with them. The Feast of Trumpets reminds Israel that they are God's people. This covenant (the Law) calls them to repent and seek atonement. We will cover that in more detail when we do the post on the Day of Atonement.
Some Christians believe that the Rapture will occur during the Feast of Trumpets. However, I'm not 100% convinced of this. If we look at 1 Thessalonians 4:16, we see that the Rapture trumpet is the "trump of God," not the manmade silver trumpets of Numbers 10:2. This phrase, "trump of God," is only mentioned once in the entire Bible. The rule of "firsts" would apply here. This trump is only blown when Christ comes in the clouds (1 Thessalonians 4:17). There is also the "last trumpet" spoken of in 1 Corinthians 15:52; in my findings, I take it to mean that it is the last opportunity for Believers to leads others to Christ – it is the Church's last call and the end of the Church age. Israel will now become the focal point of God's judgment to draw them to the Messiah.
The last trumpet blown in the Tribulation is for Christ's Second Coming so this is where lies some confusion. Will the Lord Rapture us during this Feast? Maybe. However Jesus said in Matthew 24:36 that no one knows the day or the hour except our Heavenly Father.
Don't these symbolic points of these Feasts excite your spirit? Do you know the Lord Jesus Christ, personally or do you only know of Him? He is the true sinless Lamb of God! I want to be sure that anyone who reads the posts on this blog can know beyond a shadow of a doubt that they are going to Heaven. Have you received Christ as your Saviour? If no, your sins are not covered by His sacrificial offering of Himself. You have not been redeemed by His blood. It is no coincidence that God has placed you here for such a time as this so that you may be saved if you are not already. Please click here and the link will open up in a separate tab to You Can Be Born Again and Know It!