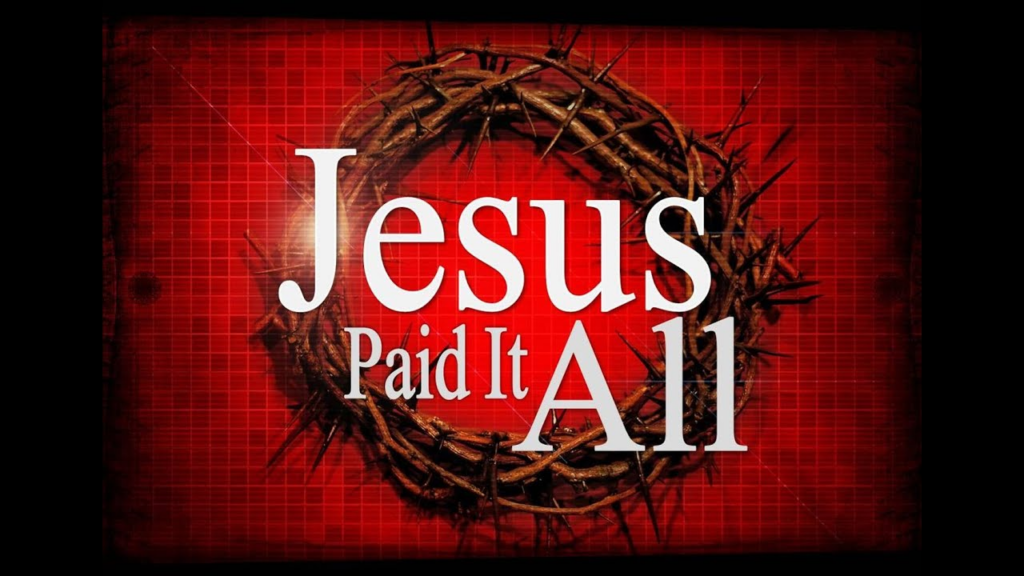 Lyrics (click here to hear instrumental)
I hear the Savior say,
"Thy strength indeed is small;
Child of weakness, watch and pray,
Find in Me thine all in all."

Refrain:
Jesus paid it all,
All to Him I owe;
Sin had left a crimson stain,
He washed it white as snow.

For nothing good have I
Whereby Thy grace to claim;
I'll wash my garments white
In the blood of Calv'ry's Lamb.
And now complete in Him,
My robe, His righteousness,
Close sheltered 'neath His side,
I am divinely blest.
Lord, now indeed I find
Thy pow'r, and Thine alone,
Can change the leper's spots
And melt the heart of stone.
When from my dying bed
My ransomed soul shall rise,
"Jesus died my soul to save,"
Shall rend the vaulted skies.
And when before the throne
I stand in Him complete,
I'll lay my trophies down,
All down at Jesus' feet.

Elvina M. Hall
The History Behind the Hymn
Did your mind ever wander during a Sunday service? Perhaps you started thinking about other things–maybe what occurred last week, or plans for the coming week or what you will be doing later that day. Something like that happened to the writer of a familiar hymn.

On a hot summer Sunday morning in 1865, Mrs. Elvina Hall (1820-1889) was found in her accustomed place in the church choir loft. But as the pious words of the Reverend Schrick's prayer droned on and on, her thoughts drifted to other things. She pondered the meaning of the cross, and the storied scene flashed before her mind's eye.

High upon a rocky crag, three crosses scarred the afternoon sky. On the outer gibbets, hung two notorious thieves. Below, Roman soldiers drank and gambled, waiting for death to overtake the poor wretches suspended above them. It was a public execution, but far more significant than they imagined at the time. Suddenly, the air grew dense and an eerie darkness invaded the scene.

As the soldiers gazed about them in superstitious dread, a triumphant cry pierced the gloom. It came from the figure on the centre cross. One word, in the Greek tongue: "Tetelestai!" Then He was dead. That shout of victory Christ uttered as He died is usually translated "It is finished!" (Jn. 19:30). But it had another meaning back then. It was an accounting term. When a bill was paid, it was commonly stamped with the word "Tetelestai," meaning Paid in Full.

https://www.independentbaptist.com/jesus-paid-it-all1/
A Lesson for Me
It is finished! Paid in full! Tetelestai! Tetelestai comes from the verb teleo, which means "to bring to an end, to complete, to accomplish." How appropriate that the Lord used these words, Reader! Do you see it? We've heard the phrase "Jesus paid a debt that He did not owe" but does it mean anything to you?
Someone has to pay the debt for all my sin, and that is ME! Each one of us cannot enter Heaven's gate unless that debt, that penalty, is paid. If there were a dollar value set to each one of my sins in my lifetime, I dare say there would not be enough money in the world to take care of that debt! Since tetelestai's meaning in Jesus' day was an accounting term, we can picture the Father in Heaven stamping "PAID" on our debt because Jesus paid for it all.
For nothing good have I
Whereby Thy grace to claim;
I'll wash my garments white
In the blood of Calv'ry's Lamb
Message for today
Friend, thank the Lord Jesus for giving us the opportunity to have our sins washed clean because of His shed blood on Calvary!! There is no other way that one can do this! (John 14:6) He is the only way. Buddha can't help you! Allah can't help you! Only Jesus.
What would you say if you bought a house when times were great and your income paid the mortgage with no problem. But then you fall on difficult times and you are now months behind with no hope to catch up. If the bank didn't foreclose on you, that debt would increase ever more with interest added to boot! It is no different with our sins, Reader. The only way the debt for our sins could ever be paid was for Jesus to take that debt upon Himself. We cannot pay that debt ourselves! There is nothing we can do either! All we can do is receive the consequences for lack of payment and that is eternal life in Hell!
Where are you at this point in your life, Reader? Are you so deep in debt for the sins you've committed that you feel there is no turning back? We all come to that place in our lives. Some receive salvation early in life, while others are more stubborn. The longer you wait, the harder your heart becomes toward that sin. Sin will no longer stir regret in your heart and it will become hard as stone. There will come a point where your heart will be so hardened you will be blind to sin altogether.
Don't get to that point, Reader. Surrender yourself to God's love and forgiveness. There is peace to be had and balm for your wounds! Jesus paid it ALL so you could have that peace and balm! However, judgment awaits the person who does not want his debt to be paid. The Bible shows us the way of salvation. Don't be ignorant but turn from your wicked ways.
Lord, now indeed I find
Thy pow'r, and Thine alone,
Can change the leper's spots
And melt the heart of stone.
A great wrath awaits the person who does not accept salvation. Zech 7:12  Yea, they made their hearts as an adamant stone, lest they should hear the law, and the words which the LORD of hosts hath sent in his spirit by the former prophets: therefore came a great wrath from the LORD of hosts. Is your heart set in stone? If you are not truly born-again, there is coming a time when it will be too late for you to repent and be saved. It is no coincidence that God has placed you here for such a time as this so that you may be saved if you are not already. Please click here and the link will open up in a separate tab You Can Be Born Again and Know It!