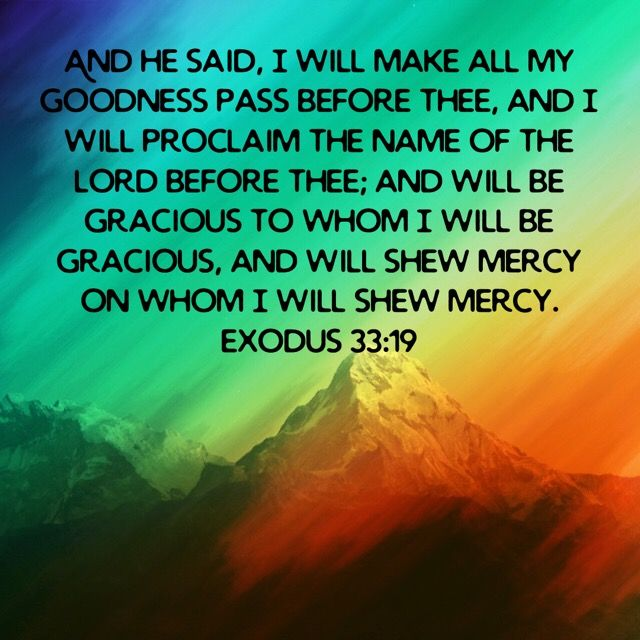 It's a new day and it's bright and beautiful on the outside. 😀 But how do you feel when it isn't so sunny or beautiful? Do you rely on your circumstances to guide your emotions? I praise God that we don't need to rely on our circumstances or ourselves to gain entrance into Heaven. It is only because of God's love that we obtain mercy through Christ's shed blood! God doesn't have to show us mercy, but His mercy is displayed all throughout the Bible as it relates to rebellious Israel. We also see it in full when we accept His Son as Saviour and Messiah!
An example of His goodness is when He passes before us and He proclaims His Name in our hearts. He does this through someone He sends our way, or maybe even by watching church services online. He knows what it will take to open your heart to Him and He provides the perfect opportunities. It is at this point that we hear the plan of salvation and we accept it and believe it through faith. At that moment, we see His mercy and believe on the Lord Jesus Christ. Praise God for His mercy upon my wicked heart! When my eyes were opened, it was as though a hundred pounds was lifted from my shoulders and I was no longer blind! The Bible, which was mumbo jumbo to me before that day, was now living and breathing. How exciting it is for me to discover God's truths in its pages! Oh reader, I pray you have come to the same place and are born again and saved from the fiery pits of hell! If you are not, please, I beg of you, continue reading. Salvation can be found on this blog if only you will seek it! You do not want to experience the consequences of rejecting His mercy but instead be at the hands of His judgments.
We see that Jesus fulfilled today's prophecy without a shadow of a doubt. In the Book of Luke, we learn that when Luke speaks of mercy, he is referring to Jesus, the Christ, the Messiah!
Have you received Messiah's mercy, reader? Have you experienced God's forgiveness for your sins? The older you are, the more sins accumulate in your life. The more forgiveness is needed for those sins. Just as the woman who washed Jesus' feet with her tears, much was forgiven in her life (Luke 7:44-48). Her repentance was evident; it was real and the Lord saw her heart and her need for salvation. Jesus Christ, the merciful, stands ready to show mercy. It is His nature to be merciful, loving and kind. No one else can claim this prophecy! Every human being reaches the end of his/her rope when someone sins against them repeatedly. But not the Lord Jesus! His mercies are plentiful and He is ready to forgive.
What a beautiful picture! Have you experienced the Lord's mercy? He will show you mercy if your heart is open to acknowledge your sin before Him. Jesus stands ready to forgive and save! Do you know Him personally or do you only know of Him? I want to be sure that anyone who reads the posts on this blog can know beyond a shadow of a doubt that they are going to Heaven. Have you received Christ as your Saviour? If no, your sins are not covered by His sacrificial offering of Himself. You have not been redeemed by His blood. It is no coincidence that God has placed you here for such a time as this so that you may be saved if you are not already. Please click here and the link will open up in a separate tab to You Can Be Born Again and Know It!