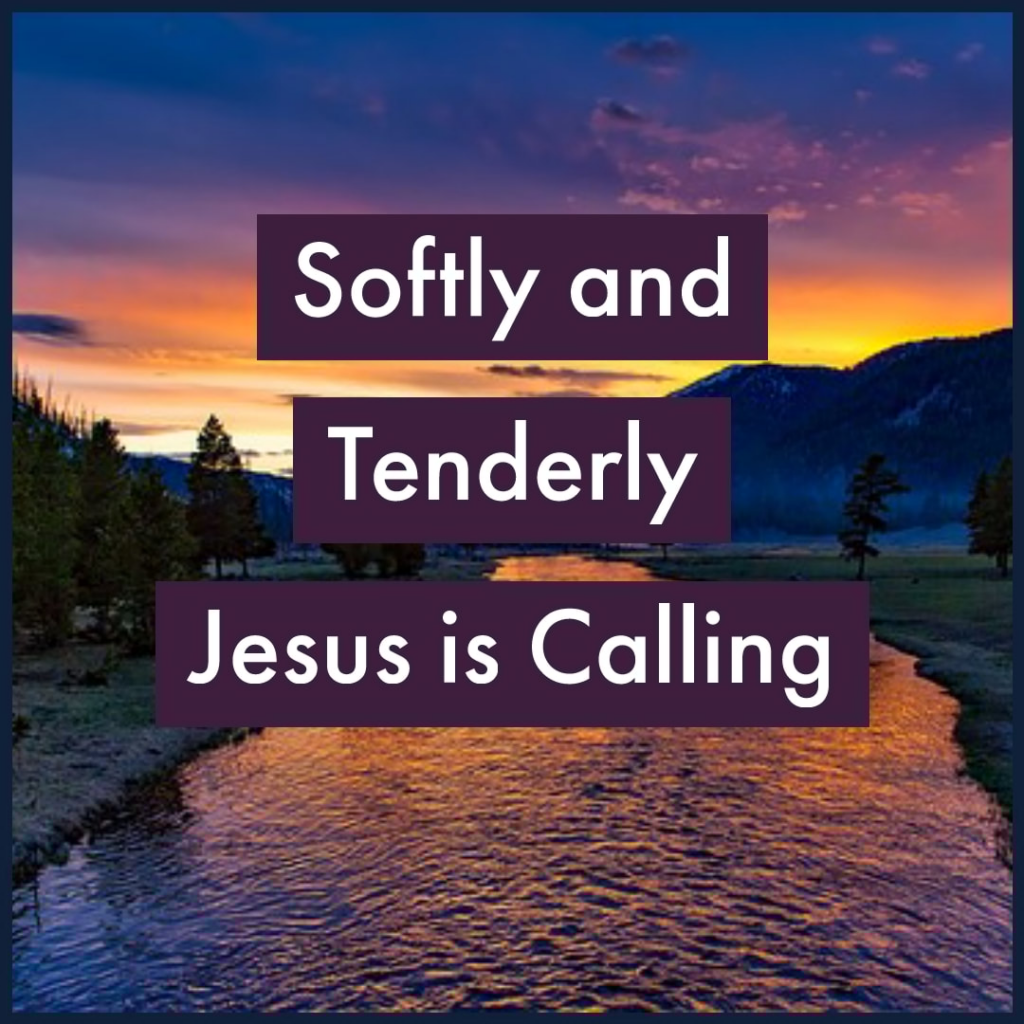 Lyrics (click here to hear instrumental)
Softly and tenderly Jesus is calling,
Calling for you and for me;
See, on the portals He's waiting and watching,
Watching for you and for me.

Refrain:
Come home, come home,
You who are weary, come home;
Earnestly, tenderly, Jesus is calling,
Calling, O sinner, come home!

Why should we tarry when Jesus is pleading,
Pleading for you and for me?
Why should we linger and heed not His mercies,
Mercies for you and for me?
Time is now fleeting, the moments are passing,
Passing from you and from me;
Shadows are gathering, deathbeds are coming,
Coming for you and for me.
Oh, for the wonderful love He has promised,
Promised for you and for me!
Though we have sinned, He has mercy and pardon,
Pardon for you and for me.

Will Thompson
The History Behind the Hymn
I didn't find anything in this hymn's history that related to "a story behind the hymn." However, I did find this:
Will Lamartine Thompson (1847-1909) was born in Pennsylvania and died in New York City. He attended Mount Union College in Alliance, Ohio, and the New England Conservatory of Music in Boston, before continuing his musical studies in Leipzig, Germany.

Hymnologist Ernest Emurian told a story associated with this hymn: "When the world-renowned lay preacher, Dwight Lyman Moody, lay on his deathbed in his Northfield, Massachusetts, home, Will Thompson made a special visit to inquire as to his condition. The attending physician refused to admit him to the sickroom, and Moody heard them talking just outside the bedroom door. Recognizing Thompson's voice, he called for him to come to his bedside. Taking the Ohio poet-composer by the hand, the dying evangelist said, 'Will, I would rather have written "Softly and Tenderly Jesus Is Calling" than anything I have been able to do in my whole life.'"

https://www.umcdiscipleship.org/resources/history-of-hymns-softly-and-tenderly-jesus-is-calling
A Lesson for Me
Although today's hymn revolves around salvation, the phrase "Softly and tenderly Jesus is calling" is what stood out to me. Jesus doesn't come out in full force, screaming to get your attention. We see in 1 Kings that the LORD (Jehovah) was not in the noises and frightful views. No, God was in a "still small voice."
Softly and tenderly Jesus is calling,
Calling for you and for me;
See, on the portals He's waiting and watching,
Watching for you and for me.
Message for today
Jesus doesn't force anyone to be born again. No! In fact, I have heard a saying that I love: "He is a Gentleman, not forcing Himself on anyone"! Reader, how many times has your heart been stirred in a message in church or something you've read? That's the still small voice! Did a long-lost friend come into your life and told you about the changes that came over him when he was born again? Did you feel a nudge? That's the still small voice!
Times are getting difficult in this world. Two significant wars are currently underway and rumors of wars on the horizon. There is no comfort to be had in this world at this moment in time.
There is a still small voice waiting to speak to you! You only need to crowd out life's noises and sit still. Hear and listen before it's eternally too late for you!
Why should we tarry when Jesus is pleading,
Pleading for you and for me?
Why should we linger and heed not His mercies,
Mercies for you and for me?
If you are not truly born-again, there is coming a time when it will be too late for you to repent and be saved. It is no coincidence that God has placed you here for such a time as this so that you may be saved if you are not already. Please click here and the link will open up in a separate tab You Can Be Born Again and Know It!