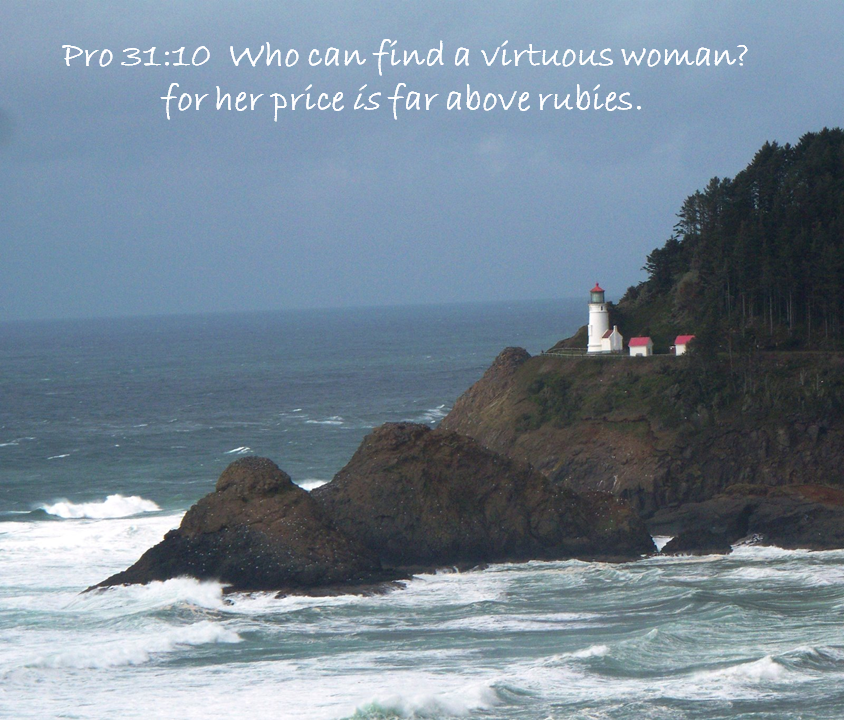 This study was originally done in June 2006. All scripture is from the King James Bible. As with all studies, take your time to do it. Get a notebook to record your thoughts. As you're reading, highlight or underline the verses that speak the most to you.
Let's start by reading Proverbs 31 together.
Verse 10 – Is my personal "virtue" worth more than rubies? Or is my personal "virtue" a fake like a cubic zirconia? Your walk speaks louder than your words because people are watching how you carry yourself in all of life's situations. Your actions reveals your true self in whatever God puts in your path.
Verse 11 – Does my husband know that I will be frugal with the money he works hard to bring home? Or do I spend it without prayer or forethought and end up with too much week at the end of my allowance/paycheck? There is nothing wrong in being thrifty and frugal. Noah Webster's 1828 Dictionary defines frugal as:
FRU'GAL, a. [L. frugalis. See Fruit.]
Economical in the use or appropriation of money, goods or provisions of any kind; saving unnecessary expense, either of money or of any thing else which is to be used or consumed; sparing; not profuse, prodigal or lavish. We ought to be frugal not only in the expenditure of money and of goods, but in the employment of time.
Verse 12 – Do I do my husband good ALL the time? Or do I just do my husband good when I feel like it? Doing "good" for my husband means that I can be trusted by him – so much so that he feels he can leave the care and management of his home to her without doubting her.
Verse 13 – Do I willingly work with my hands for the benefit of my family? Or do I complain of all the laundry that needs to be done or the mending that is sitting in the basket waiting to be mended. Our children are with us but for a short time, even though it feels like they will never leave home. Don't rush it – time goes by way too quickly. Enjoy them and do your work willingly so you will never have any regrets.
Verse 14 – Do I try to help out when finances are slim? Or do I complain to my husband that there's not enough money (all hubby hears in my complaint is that he is an awful provider!). Make do with what you have and think of innovative ways to contribute. There is always some way we can help our husbands with finances. What do you do best? Are you a good cleaner? Clean someone's home – it costs you only your time and helps out financially. Do you enjoy doing gardening? Do you enjoy baking? Sell your goods and wares.
Verse 15 – Am I in control of my schedule to the point that I can get up early to take care of the needs of my family before they rise and the hustle bustle of the day takes over? Or do I hit the snooze button a couple of times only to have my entire household in a rush. I am in charge of setting the "tone" in my home. If you just can't break that habit of oversleeping, take care of morning tasks the night before. Remember, your family is the one who suffers when the morning starts off crazy.
Verse 16 – Do I consider what I buy and spend the money I make from my "craft" (whether that be from my garden or sewing or whatever) wisely? Or do I buy something that I hide away in a drawer or closet and never use?
Verse 17 – Do I exercise to keep myself physically fit for my family's sake? Or do I indulge and overeat only to put on more weight? Too much weight reduces my stamina, adds stress to my heart and my legs, and plays havoc with my blood pressure. My family needs me strong and healthy to be able to meet their needs. If genetics puts you in this category, then be sure to strengthen your body with proper nutrition.
Verse 18 – Do I make sure that the products I sell are done to the best of my ability? Or do I try to get away with providing lesser quality for the same amount of money? Let's face it, that's deceitful, amen? I love the use of the word candle here. The scriptures usually refer to "God as the light" when using candle. So even though nighttime came, the Proverbs 31 woman had God's light shining in her. As Christians, we have God's light within us and are anointed with oil, a symbol of the Holy Spirit. Am I so well organized that I do not run out of oil for my candle during the night? Or does my lamp go out at night and my family is left to wander through a dark house?
Verse 19 – Do I learn to use the talents that God has blessed me with faithfully? Or do I make excuses that I simply just can't learn? I have seen some women say that they have no talents and can't help out with finances when times get rough. With today's technology, one can learn virtually anything on YouTube!
Verse 20 – Do I care for the needs in my own church as I should? Or do I turn my head and hope that someone else will take care of those needs? My husband doesn't allow me to reach out to the needy on the street because of the "way of the world" today. However, there are needy people in my church. We all have neighbors and can be observant as to whether or not they need help.
Verse 21 – Do I plan ahead and buy winter clothes on sale in the Spring to prepare for the needs of my family? Or do I end up buying winter clothes at top dollar value in the Fall? This wife clothed her household with scarlet.
Verse 22 – I find it interesting that this verse came next. This tells me that she spared no expense for her family – she put them first. She also made sure to be well dressed so she could represent her husband well. Am I watchful as to how I dress? Or do I leave the house to go shopping wearing my grungiest jean skirt and no make-up?
Verse 23 – Are my deeds such that someone who knows my husband would say "He sure does have a good wife!" Or do his friends see a man whose shirt has not been ironed and his pants look like they sat in the dryer for a few days?
Verse 24 – Are my creations done to the best of my ability where they are a wonderful example of Christ through my work? Or do I create things half heartedly and say "it's good enough"? Her wares were excellent and she knew her clients. She sold to as many different people as possible and, therefore, learned how to make items for each of those. We see that she knew the merchants needed a girdle (a belt of some kind) so she learned the trade and sold her wares to them as well. You could say she was a smart businesswoman.
Verse 25 – Am I clothed inwardly as well as I am clothed outwardly? Or am I guilty of hypocrisy? We have to nurture our spiritual life first. The amount of time we spend with the Lord will be reflected in all that we do: spend little time with Him, produce little for Him. As well, she strengthens her physical body as well so she can keep up with the tasks of the day.
Verse 26 – Do I think before I speak making sure I have a kind response? Or do I blurt out the first thing that comes to mind and have to clean up my mess later? Today's social media has made people speak their mind, which is not always a good thing! People have gotten mean. Wisdom is no longer spoken but we, as Christian women, must be sure to practice this. Notice that in her tongue "is the law of kindness." We all need to show kindness and to let kindness flow from our lips.
Verse 27 – Do I make sure that my list of chores for the day are completed? Or do I procrastinate on a few of those chores so I can watch something on TV? There's nothing wrong with taking breaks. But I dare say that more would be accomplished if we stayed away from whatever distracts us from our tasks. I have a dear friend who is rarely idle and it shows in her home and outside her home.
Verse 28 – Do my words and actions warrant receiving praise from my family? You may very well have a family who doesn't show their appreciation or praise you. But don't let that stop you! Look to the Lord and leave it with Him.
Verse 29 – Do I strive to excel in my spiritual walk? Or do I do just enough to get by? My mother-in-law was always doing something with her hands. She crocheted, knitted, sewed, cooked and baked. Her fingers were very rarely idle. I always admired her diversity of skill. But her generation grew up without television or distractions. The young girls were taught all these things at a very early age. Why should we be any different?
Verse 30 – Do I fear (and honour) the Lord enough for it to guard all my words and actions? Or do I leave those things undone and concentrate only on appearing spiritual? My spiritual life is more important than anything. Everything else will follow.
Verse 31 – Do I let my spiritual walk and work speak for itself? Or do I look for praise from others? Looking for praise will always end in disappointment. Humbleness of heart seeks God's approval.
Kate Plourde
June 28, 2006